By Sam Humphrey and Will Senar
"Sometimes the best man for the job is a woman," Martha Coakley told about 50 people at the latest installment of Suffolk University Law School's Rappaport Center's Gubernatorial Roundtable series, recalling the plaque her father gave her upon graduating law school.
Coakley, currently Massachusetts' Attorney General and a Democratic candidate for governor, had plenty of ideas when she spoke at the roundtable event.
During her tenure, Coakley has sued both Goldman Sachs and Fremont Investment and Loan for misleading homeowners, "holding them accountable for their mistakes." She claimed that the lawsuits helped to keep over 30,000 Massachusetts homeowners from bankruptcy.
Coakley also sued the Department of Health and Human Services over the constitutionality of section three of the Defense of Marriage Act, which was deemed unconstitutional by Judge Joseph Tuaro of the United Sates District Court of Massachusetts, and in later appeals, she said.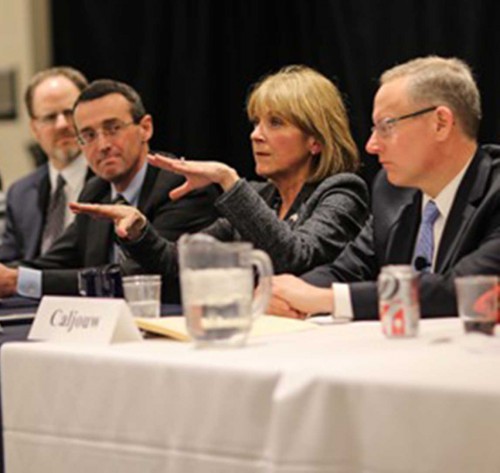 Regarding education reform, Coakley supports expanding access to pre-kindergarten and education reform that focus on training students for jobs in new industries, which she hopes will attract more business to Massachusetts. She also said that retraining older workers and veterans in the workforce is crucial.
Noting that many law school graduates begin their careers with lots of debt and low-paying jobs, Coakley suggested raising the wages of assistant attorney generals and public defenders. She also suggested loan forgiveness in exchange for public service in such low-paying legal jobs.
The attorney general also supports expanding access to healthcare for people with mental and behavioral problems, and decreasing the stigma for seeking treatment. She said she hopes that people will view such disorders as diseases like diabetes. De-stigmatizing mental healthcare is important to her, she said, because her brother suffered from bipolar disorder and refused to receive treatment because of the stigma accompanied by having such mental issues. He committed suicide after both their parents died.
She believes the future governor should look into the use of cost-effective energy sources, saying natural gas would have to be a part of the energy supply. She notes that Massachusetts is one of the leaders in the clean tech industry.
Investing in new energy sources can create jobs in the state, with innovation and the possibility of growth in the field. She hopes this will help the state reach the 2020 goal to reduce the use of carbon and other greenhouse gases.
She also wants to educate the workforce because she believes that the state's greatest resource is not natural resources, but the workforce.
There has also been a boom in establishing new micro-businesses, particularly in the Cambridge area. Many recent graduates would rather start their own businesses than look for jobs in corporations. Coakley said firms that start in Massachusetts should also grow in the state and she will have to constantly communicate with micro-business owners to learn about their needs and how government policy affects their businesses.
Despite her support for an increase in spending, she claims that raising taxes is a last resort.
Coakley also said she believes in creating a more efficient trial process that keeps pre-trial offenders out of jail, noting that most of them probably need rehabilitation rather than punishment.
"The next governor has to lead a prosperous and fair Massachusetts," Coakley said. "We need to turn the economy around for everyone."