Former AD Jim Nelson enjoying new job
For the first time in 47 years, Jim Nelson can hit the snooze button on his internal alarm clock at 5:45 a.m. After serving almost half a century as Suffolk University's athletic director, the school awarded him Emeritus status and Nelson finds his workload a little lighter these days.
Working just three days a week now, Nelson spends most of his time in his new office working on special projects for the university or ways to improve his history of sports in the Olympic games course.
"There [used to be] times I was scrambling to review my notes for class but this gives me more opportunity to go into more detail on each topic that we speak of."
"I still get up at quarter of six without an alarm clock thinking 'okay, why am I awake?' I'm [at Suffolk] at 8 a.m. and answer emails, do a little background work on my class and look into some things for admissions and the alumni advancement office," Nelson said.
The former athletic director has used some of his extra time to travel throughout the state taking pictures of statues honoring famous athletes for his Olympics course.
"It's allowed me to travel to a number of locations across the state to continue to do some research on them and take photos as well. I'm not so sure my wife is happy that we're going out to Springfield or Worcester but I've been accommodating her interest as well," said Nelson.
In order to compromise for the long drives out to Central and Western Mass., Nelson takes his wife to the notable museums in the cities they visit.
"It works for both of us. We combine our mutual interests, that's been the trade off. [We'll go] to a wonderful museum in Worcester after I visit the Bob Cousy statue at Holy Cross," Nelson said with a chuckle.
From Cousy's to Bill Russell and Rocky Marciano's, Nelson has been able to visit several of the state's noticeable statues and discuss them in his course. He even has his students give their own presentation a statute as part of his latest installment for the course.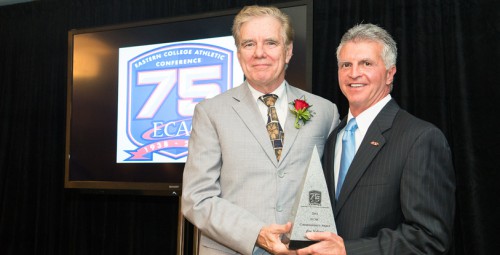 When not working on projects for the university or fine-tuning his class, Nelson can still be found in the stands at most Suffolk home games in all sports. Attending now as a fan, Nelson stated that last semester he did not get to as many games as he would have liked.
"It was my Modus operandi to be at every home game that each team participated in [the fall] … I was at a number of home games but I was a little selective on it. I wanted to avoid the presumption that I was looking over the shoulder," said Nelson.
The longtime AD is very impressed with the work of his successor and interim athletic director Cary McConnell has done and would like to see the"interim" status removed at some point.
"I hope that it would be Coach McConnell as athletic director but whomever it is will come in with new and exciting ideas and that's the way it should work," Nelson said.
Some habits like waking up early in the morning and putting the warm up gear laundry in the wash upon coming into work die hard, but still being at Suffolk three days has helped Nelson adjust to his lighter schedule.
"The fact that I've been able to come in three days a week [has helped me] make that transition. I didn't cut myself off completely from my former life for 47 years, I think that would have been difficult," he said.
Whether it is traveling around the state on the lookout for sports statues or watching games featuring players he has gotten to know so well around Ridgeway, Nelson couldn't be happier with his new role at Suffolk.