New Spike Jonze release introduces moviegoers to a new age type romance
There is something inexplicable about the joyous, introspective nature of Spike Jonze's most recent film Her. It is not a movie that is simple to summarize, I have sat and pondered my response which, from the minute I exited the theater to the moment I sat down to type this out review, has remained the same: this film caught me by the heartstrings and pulled and pulled until the movie ran out of time and I was utterly wrecked by the innovative, romantic and virtuosic spell of the film cast.
Set in the distant future, the film is a genre hybrid comprising of a science fiction atmosphere, the beats and hits of drama, moments of unexpected comedy and the underlying heartbeat of romance.
The movie centers on Theodore Twombly (Joaquin Phoenix) who has become a mild recluse after the breakup from his wife Catherine (Rooney Mara). However he is soon fixed up with a highly advanced operating system, Samantha (Scarlett Johansson), and falls head over heels for her.
That is as much plot as I am willing to give away about the narrative too significant and too moving to hear about anywhere other than the theater yourself.
Joaquin Phoenix is in fine form as Theodore especially when compared to his feral and debauched performance in last year's The Master. In Her Phoenix manages to play quiet and withdrawn in an upbeat manner; he is not morose, he is not giving up and he still has some hope for his future – he plays it with a unique flavoring, giving nuance to a likeable, pleasant but flawed character.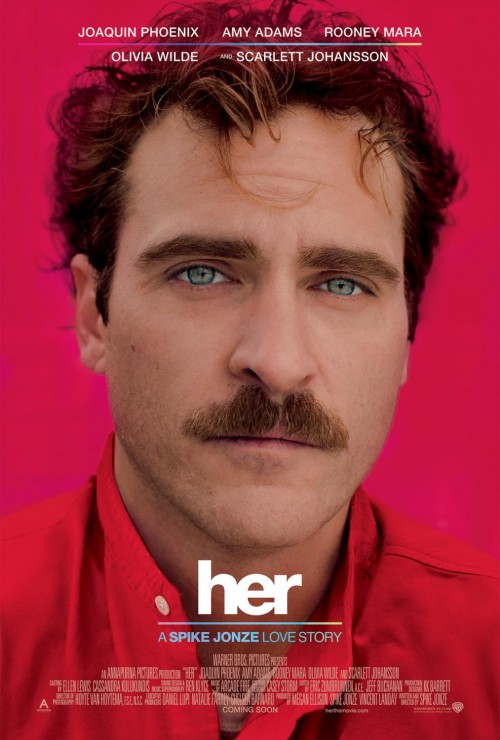 The true heavy weight of the film, however, is Scarlett Johansson who never once appears onscreen, only ever lending her voice to the character Samantha. Samantha is like a child who is growing into her own, discovering each and every new facet of her personality as well as seeking out life and what it has to offer. It is a difficult task to imply that all with just your voice, and Johansson does it with ease.
We have to understand why Theodore would grow to love her in the all-encompassing manner that he does and we all do, audience members understand entirely within minutes of her introduction. She is infectious, she is humorous and thoughtful – it wouldn't be a stretch to say Samantha's role in Her is Johansson's best work to date.
The supporting cast is strong as well with some nice scenes with Rooney Mara, Oliva Wilde, Chris Pratt and Amy Adams, who arguably delivers her best performance of the year. But ultimately this film is all about the story and how it manages to resonate with the viewer.
Every few years a film comes along that is definitive of the culture that it is born from, representing a larger ideal and scope that seems otherworldly compared to the small worlds we have all individually built ourselves. Such as David Fincher's The Social Network, Her masterfully projects the modernization of our current society but it does so with a hopeful spin. The distant future does not seem to be overcome by criminal activity, destroyed by greed and egos, nor does it sport some George Jetson inspired flying cars.
In the future that Jonze has constructed the buildings are taller but spaced out, the color palette is more likened to a Wes Anderson film rather than the typical gray and black hues. People are healthy, friendly and informed. It is a positive and artistic spin on what technology to can do.
Her is about a lot of things, things that I have hardly scratched the surface at, but ultimately it is about the human connection and what it means. Is Theodore's connection with Samantha, an operating system, any less significant than his relationship with his ex? What draws the lines between who and what is the recipient to a being's kindness?
Samantha was a sentient being with whom Theodore fell in love with-how can the connection ring false? The theme of the movie, from the love and loss explored to Theodore's profession, is about how people interact, how humans evolve throughout time and the ramifications a relationship can have and the growth it can inspire.
It is a love story, a love story that I urge everyone to see and soon as they are able.
Leave a Comment