New Hampshire takes to Boston with coffee and a yetti
The city of Boston has had plenty of snow days over its history, but none were ever powered by their neighboring state to the north until now. Over the past three weeks, the New Hampshire Division of Travel and Tourism Development, Visit NH, has been keeping Bostonians warm by handing out free coffee at "NH Snow Day" events while explaining the state's many winter tourism attractions.
Visit NH team members were armed with jet pack coffee brewers, hundreds of cups and even a Yeti suit as they traveled to the Prudential Center, Park Street, Government Center and South Station throughout the early part of this month.
As Visit NH Communications Manager Tai Freligh noted though, the weather certainly impacts how friendly people can be.
"The two weeks were very different. The first week, temperatures were cold and bitter so nobody wanted to stop. It was so cold our coffee lines in the backpack kept freezing up," Freligh said.
When the weather got warmer though, so did the people of Boston to their northern visitors.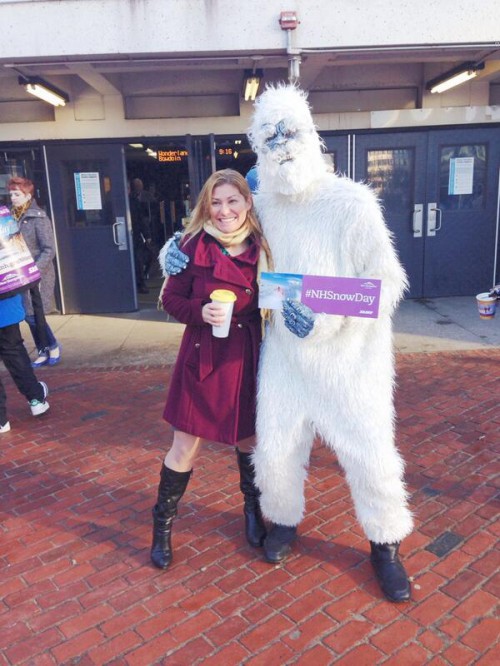 Rumble Tree President, Visit NH's advertising and marketing partner, Charles Yeaton noted that things went a little differently than the first week when the team visited Government Center.
"A lot of people [took] coffees. It's gone really well. Everybody has a favorite story, a favorite place they like to go or thing they like to do [in New Hampshire] so it's been really well received," said the Hampton native.
The teams handed out 4,000 cups of coffee between all four events.
"We've had a high amount of traffic and [talked to] some friendly people," Yeaton said.
These events were the first ever by the state and Freligh noted it was important to engage the Boston market not just in person but on social media.
"Boston is a big market for us. Massachusetts is actually our biggest New England market for New Hampshire visitors per year," said Freligh.
During each event, the Visit NH Twitter handle tweeted out pictures of Bostonians with their coffee or with the NH Yeti using the #NHSnowDay hashtag.
Freligh explained that even days after the events concluded, people were still using the hashtag to tweet photos or experiences from visiting the team. There is also a contest Visit NH is holding on its website with prizes ranging from SkiNH season passes to winter         gear that is going on until March.
"Considering this is the first year we're trying something like this, in terms of engagement and exposure it was very successful," said Freligh.
Due to the success of the "Snow Day" events, Visit NH is currently planning on a return trip to the Hub with a new concept in the spring.
"It's still on the drawing board but it's easier to give out free ice cream than free coffee," said Freligh with a chuckle. "Maybe we'll do something with New Hampshire maple syrup or ice cream [next time]."