Michael Zapruder fuses poetry with music, hits up Church
"People hear the word 'poetry' and they get scared that they'll get trapped [at a reading]," said Michael Zapruder, a singer-songwriter who performed in Boston last week at an event sponsored by the Association of Writers and Writing Programs (AWP) conference, "Putting poetry to music is a way for me to bring poets to these people's attention."
Zapruder's newest album, Pink Thunder, is a compilation of songs with lyrics that come directly from the works of contemporary, living poets. It was important to Zapruder not to change a single word in the poems he used, as he transformed them into "songs that are in the shapes of poems."
Between readings by authors from publishers Black Ocean, McSweeny's, and Wave Books, Zapruder sang some pieces off of Pink Thunder. The bright pink vinyl edition of the album was also available to purchase at the event along with a hand-lettered book of the poems Zapruder sings on the record.
"They're like us," Zapruder said of the poets who enthusiastically let him use their poems on his record. He stressed that the average person could connect to the poet's words. "They write funny, cool poems," he said, "Their poetry isn't flowery bullshit."
Zapruder has made two other musical albums in the past, but the fusion of poetry and instruments on Pink Thunder provided him with new creative challenges. Zapruder "reverse engineers" the poetry songs, as he works to find the right melodies to go along with the poet's words. "I just start singing the lines as I read them," Zapruder explained, "You can't force the poems to fit pre-written songs."
While Zapruder still celebrates basic, traditional song formats, he says his next album will most likely be another of sung poems. "There's a lot more that songs can do and be. There are a lot of other ways to make songs."
Matthew Zapruder, Michael Zapruder's brother and poet, exposed him to the poetry and literary scene. Michael Zapruder loved the atmosphere he felt at poetry readings and wanted to bring that feeling over to pop music and live shows.
"There's this feeling in the room [at poetry readings], everyone's thinking about death, and truth, and deeper thoughts," Zapruder said. "I want my songs to be of more use. I want them to communicate the same things poems are expressing."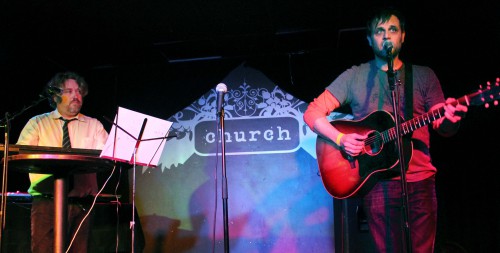 Leave a Comment