Wax on Felt Records presents: V-day show 'Felt Up!'
As many of you know Blizzard Nemo was the snowstorm heard 'round the world. While many of us filled our time indoors avoiding the awful set of snowflakes falling from the sky, there were a select few that braved the snow mounds Sunday evening to attend record label Wax on Felt Records' most recent event 'Get Felt Up!' at Emerson College's 'the Cabaret' in honor of Valentine's Day. Taking place during the 55th Annual Grammy Awards, it was a pleasant surprise to see a great deal of students and attendees favoring live young talent over the glitz and glam. Although these young musicians did serve a slice of inspiration for their audience, they also managed to deliver the very aspiration that may one day make it to the famed Grammy Awards.
While the award show made history welcoming fantastic talent like Frank Ocean and the Black Keys, Wax on Felt celebrated their annual Valentine's Day show with an impressive lineup presenting a few Boston's finest budding talents including band Ripe and songwriters Miranda Inzunza, Micah Schure, and Hailey Rowe along with a few other young acts. The annual celebration attracted a diverse crowd of students, friends, and lovers.
"It was a good show. We love playing with Wax on Felt, they are currently our label and it's always a good time playing over at Emerson," said Ripe guitarist Kevin Basko, a student at Berklee College of Music. "The fact it was a snowy Sunday show celebrating an early Valentine's Day, I thought there would be 10 or 15 people but there ended up being about 40, 50, maybe 60 people. Regardless of the amount of people in the audience we will always put our best foot forward and play a great show."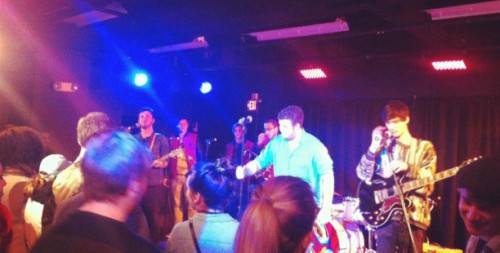 Displaying nothing but smiles and sing-alongs, the multi-colored spotlights shining on members of the audience in the intimate venue added a special unpracticed effect that served to be more fulfilling than the illuminating LCD television screen. From soft acoustic performances delivered by Schure and Rowe to the live heartfelt band Ripe, the artists performing each served a sweet friendly set of tunes that set the perfect atmosphere in the spirit of Valentine's Day.
"I enjoyed trekking out to the show, we got to hear real music! It wasn't the played out and we had the opportunity to see raw talent instead of the same music we always hear," said New England School of Art Design student Nielle Alfred. "Ripe was great, they gave a lot of energy, people were dancing and moving and were not shy to participate. The lead singer went out into the crowd and pulled someone up on stage, where as at the Grammys if a celebrity did that security would arrest someone."
Despite the low temperatures outside the doors of the venue, witnessing members of the audience either tapping their feet or snapping photos of the performers provided an extremely welcoming and warm environment making for an extremely warm evening. Thanks to Wax on Felt Records students and attendees enjoyed sweet acoustic sounds just prior to hearing instruments bumping loud, allowing for a diverse yet fulfilling night of young talent. Warming up the evening Schure and Rowe serenaded the audience with their melodic voices and affectionate self-composed song lyrics, sharing fun stories of life and love inbetween tunes. Ripe closed the show with a surprise, inviting the crowd to dance and sing along to Lion King's "I Just Can't Wait to be King" which went over well and welcomed everyone to put on their dancing shoes.
"There is more appreciation listening to live music, you can walk away from the Grammys or turn the channel whereas at the show you have the live experience, you get to stand there and listen to the music," said Alfred. "At the Grammy's you don't get to see the artist's raw talent, whereas at the show the artists seemed to be putting their hearts out on the stage."
Following a long uneventful  weekend filled with snow and more snow, music enthusiasts had the grand opportunity to escape from their homes in search of live great tunes and warm spirits.  Setting a great note (literally) to the new week, 'Get Felt Up!' not only spread just the right amount of love leading up to the special holiday, but also sent music lovers home Sunday evening with a warm feeling to get through the week.
View Comments (1)