Christian Gnonlonfoun Shows Promise for Ram's Soccer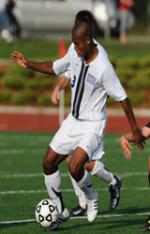 It is early in the season for the Suffolk Rams Men's Soccer Team, but they have already shown promise with the play of their junior forward, Christian Gnonlonfoun. Suffolk is leading the GNAC in goals scored, with their leading scorer being Gnonlonfoun. Last week's GNAC Player of the Week, Gnonlonfoun, from Porto-Novo, Benin, managed to score all six of his goals in a two-game span. He scored four goals against Anna Maria to cap off a 9-0 beat-down, as well as two more goals he scored the game before to win a 4-1 victory against UMass Boston. The Rams made a 3-0 start, but have fallen to 3-3 since Gnonlonfoun's four goal game a week ago.
The positive way to look at this is that the Rams have a very talented offense that has proven to be a strong and lethal force. Gnonlonfoun did not play in the previous loss to Norwich, but the team still put up three goals, losing 6-3. The Ram defense has proven to be a little shaky in all three losses. When the defense produces, they perform better than average while being able to push for more goals. In the first three games, the Rams only gave up two goals.
The key to Suffolk's success in the future is to have Gnonlonfoun lead this team being the attacker that they need to win. This is a talented team, but could still use a spark on offense in order to focus on improving the defensive game. Gnonlonfoun would open more opportunities to other extraordinary players like senior Ben Rollins and the freshman who has a chance to become the future of Suffolk soccer, Alberto Benhamu. If Gnonlonfoun is leading the charge as far as shot attempts, the Rams will become a top threat in the GNAC.
Suffolk takes on Emmanuel Wednesday at 7 P.M.
Leave a Comment