Lady Rams Stumble Out of Gate Without Graduated Star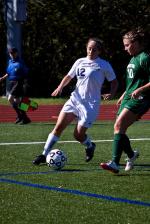 Gone are the days of now Suffolk alum Leslie Hayden harassing the opposition's goalie and the Lady Rams lighting up the scoreboard in 2012, as the team has lost each of four of its first five contests this season.
For anyone who followed this team last season all the way to the Great Northeast Athletic Conference title game last year, Hayden is a name that came up early and often on the Lady Rams box score.
Over her four years playing for Suffolk, the team's 2011 top goal scorer finished her career with the most goals scored in the regular season by any woman soccer player in GNAC history. It's obvious to see that her former team is missing her uncanny ability to rack up goals in 2012 considering the less-than-ideal start.
The Lady Rams did finally end their early season losing streak thanks to junior Gabrielle Balestrier scoring against conference rival Norwich last Saturday.
Even with that victory however, the offense has shown a lack of firepower out of the gate and that must change soon. Suffolk has just three goals to its name compared to the five scored by its combined opponents.
This is a team that scored 55 goals against its opponents last season. If they are to reach that mark again in 2012, then the offense will likely need Balestrier to lead the way.
The three-year team member has already recorded an assist, the aforementioned goal and had five shots in a single game against Gordon earlier this season.
Defensively the team has shown that this is its strongest asset so far, with sophomore goal keeper Melissa Brouillette picking up right where she left off last year as one of the best at her position in the GNAC.
This defense needs to continue its strong play early in the season and limit opponent's opportunities while the offense finds its new identity without Hayden leading the way. Luckily for the Brouillette and company, head coach Ernst Cleophat is in charge of helping this offense find its way.
Cleophat has been in charge of Suffolk's women's soccer team since its incarnation in 2007 and helped the team go from newcomer to the conference, to one of its most respected squads. If anyone can help this offense and team as whole find its identity, it's the Suffolk University Athletics Hall-of-Famer.
The team may be without Hayden this season, but it still has the same stingy defense and talented head coach that lead them so far last season. 1-4 is not the ideal start the Lady Rams wanted five games into the season, but with another 11 to go this team still has plenty of time to climb the GNAC rankings and find its way into the playoffs for the third straight season.