Women's soccer qualifies for GNAC playoffs
Alex Hall
Journal Staff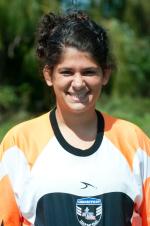 The Suffolk University women's soccer team continued their October success and finished their rally to qualify for the Great Northeast Athletic Conference playoffs.
The Lady Rams had a tough start to the 2011 season, but since the calendar has turned to October, this team has yet to lose a single game. Suffolk's record over the past month stands at 7-1-1 in what was the most important stretch in this season's schedule.
All of the aforementioned games came against GNAC conference opponents, and the only way for the Lady Rams to qualify for the playoffs this season was to run the table. Coach Ernst Cleophat's team needed to find the spark that led them to first in their conference just a season ago and live up to 2011's expectations.
This squad was able to do just that and finish eighth in the standings, securing the last playoff spot with a victory over arch rival Emerson College with a 4-2 victory on the Lions' home field.
The game featured many of the typical faces on the score sheet for Suffolk, with Senior Lauren Cameron driving in the first goal of the match in the 14th minute of play, followed later on by fellow Senior Leslie Hayden and Sophomore Gabrielle Balestrier, who scored two goals on the day.
With Hayden's goal, she pushed the GNAC career goal scoring record to 70 with at least one more game in the senior's career to increase that number.
The Lady Rams also defeated Rivier College this past Saturday in order to keep the playoff hopes alive, shutting out their opponents on Suffolk's senior night.
Cameron would be the only senior to score in that game however, with the other two goals coming from sophomore's Meghan McHale and Balestrier.
The GNAC tournament brackets have yet to be disclosed, but the early round matchups will take place this coming weekend. Suffolk will most likely be involved in one of the opening bouts due to their last place seed in the tournament.
Coach Cleophat was confident in his team's ability to qualify for the playoffs during an interview last week and he has every reason to feel the same heading into the tournament. There is an old sports cliché that states, a team can be deadly in the postseason if they get hot at the right time and that's what Cleophat's team has accomplished in October.
With Suffolk coming into the playoffs 7-0-1 in October, there is reason to believe this team can win the GNAC title in just their fifth season as a member of the conference.
Women's soccer freshman Melissa Brouillette was named Defensive Player of the Week by the Eastern College Athletic Conference (ECAC) for Division-III New England on October 18. The Rams goalkeeper maintained a scoreless streak of 497 minutes and posted five consecutive shutouts.