Boston 'Embraces' dubstep, whomp; whomp
Article By: Angela Bray
Underground or not, the "whomps" and "wobbles" of dubstep, a popular form of electronic music, are packing dance floors and selling out around the city. From jungle to tropical jungle, grimy to filthy, the genres and subgenres of dubstep are continuously reinvented as the scene grows.
The deep and usually dirty beats are hitting the younger crowd, specifically college-aged. The kids keep stepping, although Boston doesn't favor those under 21. Granted, there is "Wobble Wednesdays" at Wonderbar, "Bassic" at Good Life and nights with Basstown Productions, but The Middle East, specifically the "Throwed" party on Tuesday nights, is the only consistent scene for those short of 21 to swarm the dropping sounds they crave.

"I think Boston's nightlife for 18+ students needs a lot of improvement as far as clubs go; we have a whole lot of bars and 21+ places, but not many 18+. Many clubs have [scattered] 18+ days… and that can get confusing," said Eryn Gordon, 18, a fan of dubstep parties particularly because of the "phenomenal" music joining students who can't get enough of it. "You're always guaranteed to meet some cool people from surrounding areas."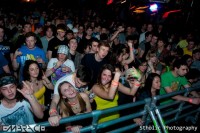 Caitie Sullivan, director of the Boston branch of Embrace, a live-music production company, acknowledges the thrusting popularity of dubstep at 18+ events, noting that the lack of 21-under venues in the Boston area are more or less confined and usually limited to smaller places. This crunches ticket sales, preventing a number of clamoring partygoers to get in.
Kicking up killer parties in the city, Embrace Boston has the crowd's back. Its crew has recently brought Wolfgang Gartner, Laidback Luke, Annie Mac, Excision, Datsik, 12th Planet, Hot Pink Delorean, Nero, Caspa, and Borgore to The Middle East. They have also brought acts like Designer Drugs and Jack Beats to Boston and teamed up with the renowned Throwed crew to ensure complete ragers.
"Embrace is one of the biggest promoters in North America," said Sullivan. She has been with Embrace since March 2005, first doing parties for the company in Miami during Winter Music Conference before bringing it to Boston in 2007.
Since it formed eight years ago, the Embrace company has thrown together over 500 concerts, festivals, and sponsorships in North America. Embrace boasts past partnerships with Red Bull, Bacardi, Orbitz.com, and Nokia, and has produced the Embrace Miami Festival, TIME Festival and Rogers Picnic Festival.
According to Sullivan, they used to do more shows featuring the house genre, like Steve Porter and Mark Knight. "[Dubstep] is all new to me- the music was entirely new to me a year ago," she said. "It's very different than house music, and I'm learning a lot. It's crazy how it blew up almost out of nowhere just last spring/ summer."
"That music… what I love is that there are no rules when it comes to dance moves," said Ariel Mateo, 20, who, no doubt, moves to the thrashing melodies at weekly dance parties. "You can do anything you want. You don't even have to dance with a girl to have a fun time; you can go by yourself and still have a good time," he said.
Sullivan said they still book techno and house, but prominently dubstep and electro here in Boston. "It's something we need; doing dubstep in Toronto has done really well. We poll a good number of people to see [which artists] would do well. It also depends on who's killing it right now."
"I enjoy going to [dubstep-like] shows because of the incredibly lively and energetic atmosphere. I think kids our age are drawn in since no matter what our differences may be, it's a common scene for people who enjoy the music to come together and have fun," said Emily Whitlow, 18, a regular at events like Throwed and Campus Fridays at RISE.
"[Embrace Boston bringing these shows] is amazing!" she added. "I think it's really good motivation for the smaller underground [dubstep DJs/producers] to keep working at it too, knowing one day it could be them."
And Embrace's crew sure does support aspiring talent. "I usually go through the people who reach out to me, as there are so many kids who want to play," said Sullivan.
In fact, the recent mix contest allowed entrants to create a 30-minute mix to be judged by a panel of people in the scene. Of 30 entries, the best were selected and posted on Facebook, where the two receiving the most "likes" sniped opening spots for the Feed Me & Skism party.
"That's also why I'm supportive of [Embrace]," said Whitlow, "and I want to encourage them by going to the shows."
If only it was reasonable to go at it on a nightly basis. "It's tough to do weekly because the demographic is similar to Throwed, and we don't want to compete for crowds or over-saturate the market," said Sullivan.
But, some kick-ass bass is on its way with the upcoming shows generating hype for Mt Eden, Feed Me, Skism, and Crookers.
Leave a Comment