'Together' celebrates Music l Art l Technology
With flyers, event pages and download cards everywhere, the Together festival has now kicked in and blown minds after day one. It was no joke when Mayor Thomas M. Menino proclaimed Sunday, April 17, 2011 to be Together Boston Day in the city of Boston during the VIP event at the Foundation Room.
Just as it's hyped, Together is compilation of events in the Greater Boston area plugging electronic music, art and technology in the same pool.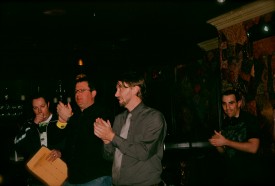 "We're about to embark on an incredible journey," said David Day, co-founder and creative director, as well as the editor-in-chief of DigBoston.
Uniting the scene for at least a week, "it's kind of overwhelming to see the community get together as it has," he said. "[We're able to] meet each other face to face with the knowledge that we're all doing something extraordinary."
According to Managing Director Alex Maniatis, the impressive selection of artists and shows is a sole base of what everyone wants to see. "The list has gone from the biggest of the game to the smallest of the game," he said. "This festival is all about you, the community. It's your festival."
"It's just been an incredible experience," said Koren Bernardi, director of production, at the press conference last Friday. And it's only day three of the festival's second year.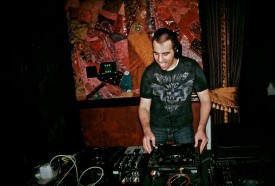 The "Get Together" planned for this Saturday won't deny when it comes to things to see, hear and do. Breaking away from the initial idea of a record fair, the gathering sparks and expresses creativity.
"The Get Together is a unique, fusion event," said Ariana Paoletti, manager of the event. "I kind of brought together elements that are related to electronic music."
Adding a line of fashion and art aspects "opens up electronic music culture to other people," she said.
The festival's tag line has upgraded from "the New England electronic music festival" to "Music l Art l Technology." Maniatis said there will be all sorts of art installations at every venue, spreading over 80 events throughout the week. Who would have expected traveling photo booths?
"We're looking to expand," he said; this year's panels include everybody from media to city counselors to professors.
Yesterday, day one of Together's discussions and technology demonstrations at Northeastern, began with a panel concerning the community, relationships and scene established by electronic music.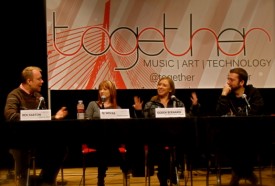 Dubbing this "an exciting and involved time for all of us," Joe Grafton, director of operations, moderated the discussion tossing around ideas including people, places, technology, and innovation.
"Electronic music was so well-represented here," said Ben Garton (aka Schwilly B, Green), founder of the Circle party, reminiscing the scene 10 to 15 years ago. "I could not get enough of electronic music. I came up with this idea of Circle because a circle is kind of equal. All people have a place, all people can participate. With Circle, a lot of our lifestyles started to change. A lot of [our community] was growing and changing together."
Garton also said he feels those who like electronic music are open minded, and their involvement is driven by passion for the music. "I think the concept of Together is awesome," he said. "I think the Together festival is just so needed, like, wow, how come no one thought of this before? The unity is really key. [In the future], I'm excited to see it get bigger."
"I do love the goals of this festival, bringing more genres together," said DJ Shivar, Ceremony Boston. Piggybacking off the integral art and fashion and dress, she continued on to the many fractures and genres of electronic music. "Boston is great with mixing the genres together, I'm all for it."
Bernardi, also on the panel, explained the way Together itself is a common ground, a reason and place for people to meet. "Every time you meet someone, you'll have one person in common, then your circle grows bigger," she said. "I get influenced from so many people and so many different things. Even just in the past year, my perspective has been expanding. The more people you know, the more people will know you, or know of you."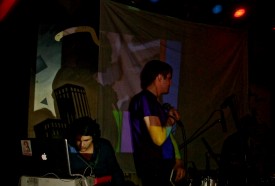 Considering the major local, national and international talent lined up for the rest of the week, in addition to all of the daytime events, Bostonians not coming together (pun intended?) will be in denial after scrolling through phasing party photos and thorough blog posts. Those late on the lowdown can scour the schedule.
"For those people don't know what x, y or z is, this is the week to find out," said Day. And with a combo of as many elements as possible, "at the end of the day, it's all music- music, art and technology."
Video: LINKS soundclash at TT the Bear's
Video: DrumLab demo
Leave a Comment