Baseball team has keeper in Assistant Coach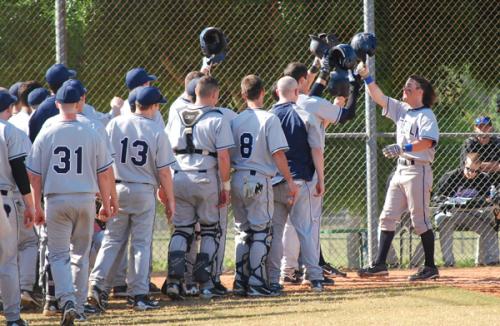 Hang on for a minute...we're trying to find some more stories you might like.
Del Prete looking to make improvements as year goes on
The weather is changing, April is approaching, and that could only mean two things: spring and baseball are finally here.
The Suffolk University baseball team started the early portion of the season  with a record of 7-6. More importantly, many players seem to have improved their game from last season. One of the reasons for this growth among the players, especially the pitching staff, is due to the hard work of Assistant Coach, Anthony Del Prete. He has put many hours into working with the Rams' pitchers, and it seems like it is beginning to pay off.
Coach Del Prete is a former pitcher for Suffolk, having played for the team during his time at the university before graduating in 2004. Since then, Del Prete has spent his post-college years playing with several different baseball clubs, including a stint with the Melville Braves in Australia.
"Playing in Australia was a good experience, but the baseball over there was a lot different than baseball in America, [especially] on how people treated the game," Del Prete said of his time as a Melville Brave. "Most of the teams were made up of Australian players who were in the farm systems of [Major League Baseball] teams playing winter ball or guys who just like playing the sport."
Although his time with the Braves would prove to be an interesting experience, it was not his most memorable. Del Prete explained that his favorite team to be a member of since his time at Suffolk was the Evansville Otters of the Frontier League.
"We won the league championship in 2006, and it was the second season I was out there," he said. "We ended up playing something like 104 games in 110 days during that season."
Del Prete would eventually return to Boston and his alma mater and gain his current title with the team, specializing in working with the team's pitching staff.
"After I finished playing, coaching is what I wanted to do to stay involved in the game."
This season, the coach has seen the rewards of a hard offseason program. Now, the Rams are off to an impressive start and will look to sustain that success throughout the long season.
"We've got a lot of depth offensively, both in our lineup and off the bench," said Del Prete.  "So far this season we've done a good job battling in our at bats, working high pitch counts and forcing pitchers into hitter's counts."
The Suffolk alumnus also explained that he feels that the team has an impressive pitching staff on the roster, one that can continue to improve throughout the year.
"We have a pretty deep staff this year lead by Senior Alex Torres. Junior Tim Belanger and Sophomore Matt Sliney have been added compliments to our rotation and Junior Brian Svensson and Senior Charles Kilgore have done a nice job out of the bullpen so far this season," he said.
"We are only going to go as far as our pitching takes us and it's important these guys come ready to go every day."
The Rams are going to need their pitching staff to be on top of their game at the beginning of April when the team has its first taste of conference play against the likes of Rivier and Emerson College.
"One of our goals is to finish as one of the top two teams in the GNAC standings so we avoid that play-in game in the first round of the league playoffs," the coach explained. "Next weekend will be a big weekend for us to get off on the right foot and show we're one of the teams to beat within the GNAC."
With a pitching staff tutored by someone the caliber of Del Prete, and a high scoring offense to boot, the Rams look primed to accomplish their goal of reaching the top of their conference.