The Hard Rock's Cavern Club space debuted its makeover last Friday at the official grand opening party of REWIRED, the new Hard Rock Boston night club.
Inside REWIRED, dance replaces rock over a killer sound system as a new lighting system bounces off the walls. Plush booths say no to tables. Having its own side entrance, soundproof doors separate the club from the restaurant. Word is a "green [VIP] room" room will open eventually.
Boston-based international DJ Joe Bermudez holds the spot of resident, spinning dance, house, top 40, and remixes. Those familiar with the guy, who remixes for Rihanna and Katy Perry, won't pass up a rock-less Hard Rock.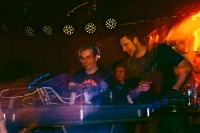 "Most people in the area have no idea that Boston even has a Hard Rock, let alone a Hard Rock with a dedicated club room featuring a state-of-the-art 25,000 watt sound system that thumps down the block," said Bermudez.
Sharing the decks was guest DJ Greg Picariello, whose resume boasts such clubs as Avalon, UnderBar, Rise, Roxy and Pacha NYC.
"It was also nice to see how much dance music Greg and I were able to play, considering it's located in the heart of Faneuil Hall where the bars are notoriously known for playing Journey and Bon Jovi mash ups. I think we might actually be onto something," said Bermudez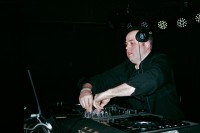 Only at its first night, REWIRED was InstantNightlife's featured event for the evening. The Boston startup provides realtime deals within the city's nightlife scene, covering venues including Caprice, The Estate, Rumor, Umbria, and Royale. InstantNightlife President Kayvan Zainabadi repped the source as he scoped the scene, blasting live updates on the line wait, dance floor activity, male to female ratio, and crowd type.
Recording artist/songwriter Scott Jamison released his track 'Take It' last week, and considered the night at REWIRED his unofficial release party. "It's definitely refreshing for Boston to have a new night, especially one like this to keep dance music alive in Boston," he said. "A lot of people have been around house/dance music for a while and want to feel it. Lansdowne isn't really what it used to be; clubs are constantly changing in Boston. I hope this is my new Friday. I'll be here supporting Friday nights."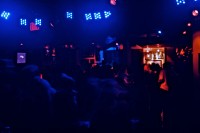 "When I heard Joe was going to be the resident DJ, it gave credibility because of his reputation in the music scene," said DJ Mario Leon. "Boston is such a tough city to play because you have so many different nationalities and it's such a college town. Whenever you play a room, you have to play to everybody at one point. House music caters to all of them, and it's working tonight. The international crowd doesn't listen to all top 40 and Ke$ha's 'Tik Tok.'"
Young people on the dance floor favored the DJs and sound system even before the venue bustled full. Trendy sounds varied from Swedish House Mafia to Taio Cruz and Pitbull to Ke$ha and Lady Gaga. No surprise if the bartenders' ears are ringing until this weekend.
REWIRED at Hard Rock Boston, Fridays, 10 p.m.