SoundCloud meet-up gives fair criticism and fun
Finally given a chance beyond the Internet, local SoundClouders scored the opportunity to test their mixes on a bumping club sound system, gain fans and network, at Boston's official SoundCloud meet-up. Hosted at RISE, Boston's after-hours nightclub on Stuart Street, DJs and producers connected in a milieu of beats and chatter.
Initially not intended to be genre-specific, electronic music dominated. Masters and mixers of house, tech-house, minimal, progressive, electro house, and pop/dance were joined by some who threw in hip hop, indie and rock.
"A lot of people are stuck in the bedroom producing," said Sonja Todorović, meet-up organizer. "I think electronic musicians need a more intermediate realm; somewhere you have the freedom to be at the level you're at. You need people with similar expertise, people who can critique you and give honest feedback."
Boston-based DJ/producer Blake Harper uses SoundCloud daily. "It's a vital part of promoting my music." Harper placed third in Together's DJ competition last year.
"I [organized] expecting this to be a small event with mainly friends. Based on the Facebook response, it was made bigger," said Todorović. "The majority here is on SoundCloud and submitted their work, which is mostly original, to our DropBox."
Featured artists included Ambalogic, André Obin, AstroDuck, Blake Harper & Victor Radz, Bobroyale, Casey Desmond, and Dark & Stormy. Established and from the area, their submitted tracks and sets ripped the speakers of the venue's second-floor lounge. Also streamed in the playlist were DJ Chadley, Eeklo, Jeff Keenan, Loopus Amadeus, The Planets Won't Let You Sleep Tonight, Provocateur, Symbion Project, and Secret School.
A nightclub party in a promotional gathering setup: DJ/producer John Isaac considers the scene a second market. "[Meeting local SoundClouders] is cool; it's personal. I like finding people nobody's heard of yet. You don't run into these musicians every day."
Developers and company reps connected to the industry made their way to RISE to check out what was up with users. "It's great for everyone, both SoundCloud users and music-related companies," said Henrik Lenberg, SoundCloud business developer. Lenberg was joined by Johannes Wagener, SoundCloud developer, Victoria Kane of iZotope, Owen Williams, hobbiest DJ and developer for Mixxx, and Guarav Mehta, hobbiest DJ and developer of Dirty Water Labs (Andriod SoundCloud and SoundGarage apps).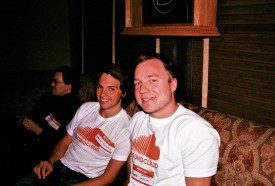 "It's targeted toward producers and local DJs; they can play tracks and get feedback," said Evan Langley, the guy behind the scenes of the next meet-up. "[Sonja and I] started off with two separate events, but now we've joined and are going for one every month."
"There are a lot of people who DJ, and it's good to get them out of their houses. I want to get this group together and see what's there," he said. "[Boston's scene] is really growing. A lot more people are doing events and parties, taking it to the next level. This really helps."
As if it can't get better than passionate sounds over a state-of-the-art sound system, it does. Kedaar Kumar, Arthur Inasi (aka M-Cue), Chris Carchedi (aka Eelko), and Justin Hunt held down the tables with a live electronic jam of pre-planned and improvisational mixes. Kumar and Inasi even featured the monome.
"There is this community of certain people- you know their names on SoundCloud, but not their faces in person," said Carchedi. "[Boston electronic] is a good scene because there's a lot here, but it's not as big as it could be. Some people think it's all house, which it's not."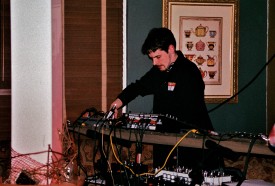 Also feeling out the informal bash: DJ/producer Joe Bermudez, Zack Daoui, Andrew Sutherland aka Secret School and Dylan Castaldi aka Creative/ Common. "Most of the people here are DJs and/or producers," said Sutherland. "It's a great place to talk to people who are into the same thing."
"[Producing] is an art form. I use SoundCloud to get my produced tracks to others for feedback," said Hunt, who dropped the last live set. "This is great, getting musicians together for exposure and hearing what everyone is doing."
"It was great to see so many inspired and motivated artists come together at RISE to share their music," said Mike Swells, resident DJ and "general jack-of-all-trades" at RISE. "There is a wealth of talented producers in this area, and events like this will help foster the learning, collaborations, and creativity that will continue to put Boston on the map."
SoundCloud Boston Part II throws down tonight at Good Life on Kingston St., 7 p.m.
View Comments (4)