Boston Calling brings new sounds to the city
Boston's biggest music festival is back and busier than ever. Though this year's Boston Calling lineup was less impressive than in previous years to some music fans, the crowd showed up for the festival's 10-year anniversary. 
While Boston Calling had its usual splendor of fun fashion and food, this year's lineup may have been the most lackluster yet. Especially in comparison to last year's impressive lineup that had music lovers excited from the moment the festival began to the moment it ended, many fans had no idea who most of this year's performers were beside the headliners.
Though this year's lineup seemed less enticing than before, this all depends on the perspective of those attending. While there is the valid argument that it wasn't the best lineup of all time, one could also argue that the fun in music festivals is discovering artists unknown to them before and giving smaller bands a platform to get their music out there. Though there were some bands I'm a big fan of and would've loved to see, it was exciting to see artists I haven't heard of before. 
One fan favorite in this regard was Canadian girl band The Beaches, who performed on the first day of the festival. While the rock band may not be as well known as previous acts, they put on an exuberant performance and had a big crowd rocking out with them, with people noting they were a favorite of the festival's first day. 
From the minute the foursome got on stage, it was obvious how happy they were to be there. Throughout their performance, they encouraged the crowd to sing along and sprinkled in some flirty and funny commentary between songs. As far as the 2023 festival goes, The Beaches put on one of the most energetic and passionate performances.
The band, consisting of Jordan Miller, Kylie Miller, Leandra Earl and Eliza Enman-McDaniel sat down for an interview with The Suffolk Journal the following day to talk about their performance, what's coming for them and how exciting it was to perform here in Boston. 
"We couldn't have even guessed what the crowd would be like. It was beyond our wildest dreams," said Jordan Miller.
The band shared how exciting it was to perform at a festival for new people and to have a new audience come check them out. 
"It means so much to make new fans here. Being Canadian girls, it's easy to get stuck there, so it means a lot to us," said Enman-McDaniel.
The girls also spoke about how excited they are for their upcoming album, "Blame My Ex," out on Sept. 15. The band detailed how they're exploring some new perspectives on the upcoming record and how proud they are to be able to release it independently. 
"I think it's gonna be really good therapy for all of us, but also to fans, to anybody who's going through a breakup," said Earl and Enman-McDaniel. "It's a really kind of powerful piece of work. There are a couple of queer songs on the record, a couple of breakup ballads, it's a really fun mixed bag." 
The Beaches look forward to continuing touring and spreading their music to new corners of the world. The band will be returning to Boston Oct. 18 at the Crystal Ballroom for their upcoming album. 
Among other standout performances on day one were Celisse, Niall Horan, Chelsea Cutler and The National. 
Celisse put on a short and sweet set, spreading love through her words as well as her impressive guitar skills. 
Cutler drew a big crowd for her set, as this was a hometown show for her, which she paid tribute to as she wore a Patriots jersey for her performance. Though she did perform her popular sad anthem "Your Shirt," Cutler's set brought an overall bright pop sound to the day. 
The National was another crowd-drawing set as the band put on a passionate performance. I don't think I've ever seen a lead singer more into their performance than The National's frontman, Matt Berninger. 
My personal favorite was Horan, who put on an amazing performance and made it abundantly clear he was just so happy to be there. The singer also let the crowd know this was his first music festival performance ever, making it a special moment for many fans attending the set. The singer performed beloved oldies like "This Town" and One Direction's "Story of My Life" as well as some new songs from his upcoming album, "The Show."
There was another letdown during the festival's first day, as one of the most anticipated headliners, Yeah Yeah Yeahs, was unable to perform due to an illness in the band. Rather than have a double performance from another headliner like last year's cancellation with "The Strokes," the festival brought in a band near and dear to Boston's heart, the Dropkick Murphys, to replace the original set. 
The band brought a huge crowd of fans to their set, with a noticeable amount of Dropkick Murphy's t-shirts present on day one. They brought very hyped energy to the festival playing many fan-favorite songs and expressing their gratitude to be able to play, and of course, closed their set with "I'm Shipping Up to Boston."
Finally, fans got to the most anticipated act of day one and possibly the whole festival, the Foo Fighters. This act was huge for this year's festival in multiple ways, and not just because many excited fans bought tickets just to see them. 
The band was originally set to perform at 2022's festival however, they pulled out a few months before due to the death of their beloved drummer, Taylor Hawkins. It felt special for fans to experience such a sentimental performance and the band even brought out Hawkins' son, Shane Hawkins, to play a song with them during their set.
Follow Abby on Twitter @astreabbs
Leave a Comment
About the Contributor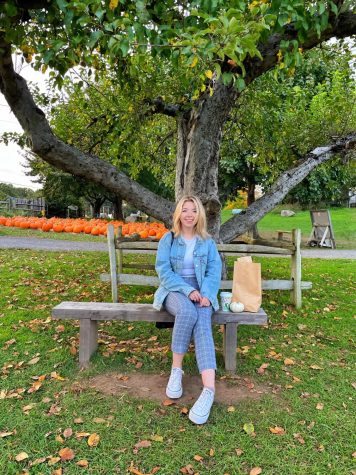 Abby O'Connor, Arts & Entertainment Editor | she/her
Abby is a senior majoring in print/web journalism and minoring in english. When she's not writing for the Journal, you can find her sipping a cup of coffee either reading or playing video games. She also enjoys spending time with her dog and going on hikes. Music and arts is her passion and she hopes to find a job writing about what she loves.
Follow Abby on Twitter
@astreabbs
Email her at
[email protected]