Five years ago, Suffolk University's women's hockey was a brand new, inexperienced team.  Today, they're the Commonwealth Coast Conference champions, led by the five remaining players from that inaugural team.
Prior to the 2018-19 season, coach Taylor Wasylk was tasked with assembling an entire team from scratch, with no players already on campus to build around.
"I started in the spring of 2017 and then I spent the entire calendar year from spring of 2017 to spring of 2018 building the roster. We had zero kids, that was a little crazy, we didn't even have a club program to start," said Wasylk. "Most schools when they start a new program, they have a club team and you can keep the players you want and use some for fillers, and we had zero so it was a bit crazy."
This year, there were five remaining players from the original team Wasylk constructed going into the 2018-19 season: Madison Duff, Shana Cote, Jesse Kennedy, Kiley Searles and Natasha Savage.
"My idea was I wanted to compete right away, so I just went out looking for the best kids. A lot of them said no because they were nervous about a new program or were scared to be the first, but the right ones said yes," said Wasylk.
While some recruits may have been worried about playing for a brand new program, some saw it as a great opportunity where they didn't have to sit on the bench behind upperclassmen during their first season.
"The thing about those established programs is that you have to compete for a spot and it's really hard to make the lineup in your first year," said Duff. "So the idea of a new team wasn't scary to me, it was just an opportunity to make an impact."
"A lot of them said no because they were nervous about a new program or were scared to be the first, but the right ones said yes," said Wasylk.
Going into that inaugural year, there was some uncertainty among the players about what to expect because, after all, the team was brand new.
"No one had any idea what to expect. I didn't know a single person, there were a couple people who knew each other prior [to being on the team], but none of us played together," said Savage.
The inaugural team was majority freshmen, but Savage notes how veteran leadership helped make the team so good right away.
"There were a few upperclassmen such as Tess Adams. She was a senior when I was a freshman. She played three years of college hockey before coming to Suffolk and she really set an example to a bunch of 18 year olds on how to be a leader, how to lead and how to win," said Savage.
Part of the recipe for long-term success for this team was a culture that allowed them to grow closer while still competing to their best ability on game day.
"We like to have a lot of laughs. We take things seriously when game day comes around and when we get on the ice, but once we get off the ice we like to have a lot of laughs and keep things light," said Duff.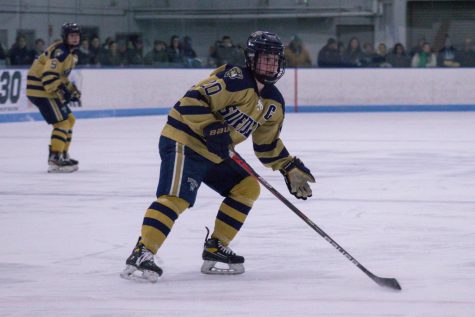 Suffolk ended its successful inaugural season with a 15-9-2 record, good enough to place second in their former conference, the New England Hockey Conference.
"I knew that there were a lot of other good teams and that we were so young and just so inexperienced. That was kind of a big surprise when we were all able to pull through in tough situations," said Kennedy. "Throughout the years I really noticed that one of our strong suits now is that we do pull through in those situations, so even though we were pretty good at the beginning of the season it's actually really cool to see how much we've grown over the past five years."
The 2019-20 season would show just how well the team was at adapting to tough situations. Although they ended the regular season 8-14-3, they would end up pulling off an NEHC Championship appearance after upsetting multiple teams in the playoffs.
"Honestly I think a lot of our success was because we were all so young, so we all kind of related a lot more than other teams where you come in and you're a little bit nervous to be around all the older girls, so I think we all had a really close bond from the start," said Kennedy. "We were all just really excited to play because we had no expectations for ourselves because we were so new, so it was great to push past anything we could've imagined."
Beginning in the 2020-21 season, Suffolk moved to the Commonwealth Coast Conference. However, their season would be cut short by the COVID-19 pandemic.
Despite the pandemic, the team wasn't sitting back for a year without going on the ice; they were still putting the work in hoping to come back in their next season better than ever.
"We still had practices every day and still had games most weekends I think, so it really didn't feel like a COVID season. I felt like for us not that much was canceled, but everyone was disappointed obviously," said Searles.
In the 2021-22 season, Suffolk skyrocketed to an 8-0 start and would go 19-6 on the year. Unfortunately, their CCC Championship hopes were dashed with an upset to Curry College in the CCC Quarterfinals.
"I didn't know I was going to come back for a fifth year, so when we lost to Curry, that was probably one of the worst days of my life. I cried for like a week after. It was just a horrible feeling, it was just terrible," said Searles.
While losing to Curry was a crushing upset, it was something the team vowed to never repeat.
"We just knew that couldn't happen again. We did all the same things. Everyone knew that was not going to happen again, we're really good and we have so much skill. I just don't know how we could've let that happen, that would've been horrible," said Searles.
The fifth year players knew they had one year left to win the CCC championship before graduating, and they managed to do just that.
With a 2-1 win over Endicott, Suffolk's women's hockey went from being a nonexistent team five years prior to CCC champions who were NCAA tournament bound.
Being in the NCAA tournament was a rare opportunity that this team didn't take lightly.
"We were on the ice three times in two days. So it was a lot of ice time, everyone was exempt from class," said Cote. "Being together and traveling together one more time, even though we would've wished for a couple more times, doing that one more time was a great feeling."
For a lot of teams, winning their conference championship and making the NCAA Tournament is something that they can only dream of doing, but members of the Suffolk women's hockey team made it their goal early that one day they'd accomplish this feat.
"After the first season, I was like 'this is a possibility, this is absolutely something that we can do and something we should strive for'," said Cote.
They eventually fell to #7 Middlebury in the NCAA tournament, however, they walked away with an experience that not many student athletes can say they have: being able to compete at the highest level in Division III women's hockey.
"I know future teams at Suffolk are going to make it to the NCAA tournament again and probably make it further than that, but being a team of firsts, it's just another first that I'm so happy and honored that I could've been a part of," said Cote.
While they may be graduating this year, the five remaining players from the inaugural team had some advice for players who will be picking up where they left off.
"Enjoy every second of it because you'll blink your eyes and then you have one game left in the regular season. Work hard and have fun with it," said Duff.
To Kennedy, part of enjoying the limited time you have playing is making memories with your friends and teammates, no matter your role on the team.
"I would just say it goes by so fast and to just enjoy every minute of it," said Kennedy. "Just play your absolute hardest no matter where you are in the lineup, no matter what your role is on the team. You should cherish the moments you have with all your teammates."
While it's very important to enjoy the time you have playing, Savage believes that it's equally important to never stop believing in yourself while you play.
"Never take one second for granted, never take one game for granted, every game's important, every little lift, every little moment in the locker room off the ice is important," said Savage. "Never lose the drive to win. Even if you're not the most talented team, if you want it more, if you just believe in your team and believe in yourself you can still find success."