Annual Spring Ball sets sail
Suffolk University Program Council's annual Spring Ball took to the waters of Boston Harbor April 13 aboard the Boston Odyssey cruise ship. Guests set sail from Rowes Wharf at 9 p.m.
Attendees dressed up in semi-formal attire and enjoyed an evening of food, dancing and skyline views of the city. Light snacks and desserts were served throughout the night. Guests ages 21 and older could purchase drinks from the bar on the boat's upper deck.
"I really loved how creative everyone was with their outfits," said Casey Wells, a freshman broadcast journalism major and a member of PC, who attended the event. "Everyone got so dressed up and formal … it felt like going to prom again!"
While Spring Ball was initially set to take place aboard the Spirit of Boston cruise ship, that ship was damaged in a fire on March 23. But this didn't put a damper on PC's plans — the cruise ship company offered up a larger vessel as a replacement for the event.
Traditions Chair Alessandra Rera was tasked with planning Spring Ball this year, and she wanted to add an extra fun element by holding the event at a unique venue.
"Traditionally, Spring Ball [has been] held in hotels and things like that. Last year, it was taken to a new level, being held in the Museum of Science, so I also wanted to think of something that would kind of take it outside of the box," Rera said. "Seeing as the freshmen boat cruise in the beginning of the year was canceled, this was a great way to bring that type of event back and really let the entire student population get a chance to enjoy it."
The Boston Odyssey features four levels, which include both indoor and outdoor areas. Spring Ball attendees were able to eat, drink and dance on the inside of the ship. A DJ and colored laser lights got the crowd going on the middle deck, as well as a photo booth featuring props provided by the club and ship on the lower level.
"Everyone was all together on the dance floor, that was really fun to see," said Rera.
Guests could also step outside for some fresh air, and the weather cooperated perfectly. The day of the event was Boston's first 80-degree day of 2023, and the first since Sept. 18. As the ship cruised up and down Boston Harbor, picturesque views of downtown and East Boston could be seen.
"I think it went really well. Everyone seemed to have a great time. The boat was excellent, and it was a fantastic day out. The weather was super nice, it was on our side," said Rera.
The venue offered something for everyone throughout the two-hour cruise.
"Spring ball was a nice way to get together with everyone and have a good time before the semester winds down," said Nick Woods, a junior finance major.
Leave a Comment
About the Contributor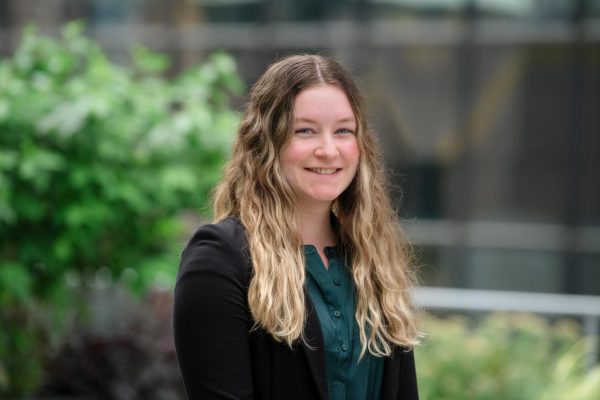 Grace MacDonald, Graduate Copy Editor | she/her
Grace is a graduate student from Seekonk, Mass., majoring in communication with an integrated marketing communication concentration. Besides having a passion for writing, she enjoys listening to Taylor Swift, watching movies and exploring the city. She loves to travel and rock climbs in her free time. After graduating, she hopes to work in corporate communications.
Follow Grace on Twitter
@GraceM123456