Suffolk University poll of USVI uncovers truths about life in the territory
Suffolk University students in the Spring 2023 section of Political Survey Research conducted a survey of residents of the U.S. Virgin Islands, paving the way as the first political research survey conducted on the population of the territory by a college or university. 
Overwhelmingly, the survey found that residents of the USVI feel like "second class citizens," according to a press release of the survey results. Upwards of 70% of surveyed residents agreed with this statement. 
Currently, residents of the USVI cannot vote in presidential elections, despite their American citizenship. More than 90% of the 500 surveyed residents expressed the desire for the right to vote in presidential elections. 
The topic for the poll was proposed by graduate student and Assistant Director of the Moakley Center for Public Management Rae'Niqua Kierra Victorine. Victorine was born and raised on the island of St.Thomas in the Virgin Islands, a background that inspired her to advocate for the poll. 
"I always wanted to be able to help U.S. territories and I've always, since I was a child, wanted to help the underdog. The people being bullied, the people who didn't have a friend to play with. I'm always the one playing with those people because I want everyone to have fun and smile and that's always been me," said Victorine. "I want people to be able to be happy. Part of that is advocating for communities that do not have representation."
The poll found a pairing of unlikely public opinions: a large majority of residents surveyed categorized infrastructure, such as electricity, health care, roads and education, as poor while also expressing high approval ratings for both local and federal government officials.
"Behind those smiles and behind that great feeling that they give you about how it's paradise, it's not paradise in terms of their lives. There was a sort of a pathos that sort of emerged from this poll for me and a sadness that they mustn't expect their politicians to fix the roads, to fix the bridge," said David Paleologos, who teaches the class and is the director of Suffolk's Political Research Center. 
The dissonance between the two perceptions found in the polling creates a political environment in which politicians representing the people of the USVI can either step up to the plate for their constituents, or not, according to Paleologos. 
"If I'm a politician, there's two ways I look at this data. I say, 'okay, I don't care about what's going on locally, they still liked me a lot. They think I'm popular, so I don't need to do anything.' Or they say, 'I could be even more popular if I improved life,'" said Paleologos. 
Students agreed on polling the residents of the USVI's interest in becoming a nation independent from the U.S., as well as interest in becoming a U.S. state. Independence was opposed by a majority of polled residents, but nearly two-thirds of respondents expressed desire to become a state. 
"I feel like the fact that so many people want to become a U.S. state was so inspiring and really got my gears turning as to like, wow, if this doesn't show you that these people want rights, and they want their equal rights, I mean, I don't know what else is gonna show that to you," said Victorine. 
Both undergraduate and graduate students in the course are placed in the driver's seat of conducting political polling, from topic selection, to writing questions, making phone calls, writing a press release and analyzing results. 
For students in the course such as Victorine, receiving the results of the poll was a culmination of a semester of passionate hard work. 
"Getting the polling results actually brought tears to my eyes, seeing the first tangible poll from USVI residents, and it was a testament of all of our hard work," said Victorine. 
Leave a Comment
About the Writer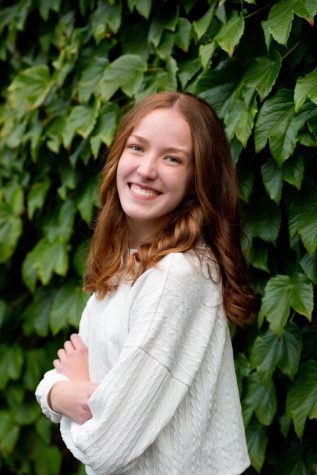 Maren Halpin, Asst. News Editor | she/her
Maren is a sophomore print/web journalism major from Milford, Massachusetts. In addition to writing for The Journal, Maren is a member of Suffolk's track and field team. In her free time, she loves to go to her favorite coffee shops, listen to Noah Kahan and Taylor Swift on repeat, explore the city and spend time with family and friends.