NASA announces crew for second moon flyby mission, Artemis II
The National Aeronautic and Space Administration announced the official crew for their newest moon flyby mission, Artemis II,  April 5. This crew and the mission will mark some of the greatest accomplishments of the space agency.
The Artemis mission is a sequence of three individual lunar missions. Artemis I launched early on Nov. 16, and involved no astronauts. This launch was conducted using the Orion spacecraft, which will be used for the other Artemis missions. The first mission was a test flight to ensure Orion's safety and success as it pushes the boundaries of NASA's space travel capabilities.
The Orion has already successfully broken records set by the agency. The spacecraft utilized the strongest rocket launch system in the world and traveled and stayed in space longer than any man-made spacecraft intended for astronauts, according to NASA.
Its flight lasted just over 25 days before returning into Earth's orbit safely, where it was recovered in the Pacific Ocean and inspected for any heat damage or other structural stability.
The success of Orion's flight passing the initial step of Artemis I has allowed NASA to pursue their next flight, Artemis II, a 10-day moon flyby with four astronauts on board.
"Artemis I was a resounding success and Artemis II will leverage that by putting humans in the loop," said Norman Knight, director of Flight Operations Directorate at NASA.
The astronaut crew of four will make strides for a more inclusive space initiative. This crew includes the first person of color and the first woman to be involved in a lunar mission.
Victor J. Glover, a previous legislative fellow, is the first person of color to join a lunar mission crew. He served as pilot and second-in-command on the Crew-1 SpaceX Crew Dragon, which made its way to the international space station. Glover's experience and time with NASA earned him the title of Pilot on this historic mission.
The first woman involved in a lunar mission, Christina H. Koch, was initially appointed as a NASA astronaut in 2013. She currently holds the record for the longest space flight conducted by a single woman, staying in space for 328 days. She also was part of the first all-women spacewalk in 2019. She was appointed as Mission Specialist One for the Artemis II flight.
The mission also features G. Reid Wiseman as the flight's Commander and Jeremy Hansen, a secondary Mission Specialist. 
Wiseman has proven himself to not be the cookie-cutter astronaut archetype that many expect. Wisemen grew up in Baltimore and worked towards joining the Naval Academy after high school. His initial rejection from the Naval Academy opened up the opportunity to receive a bachelor's in computer and system engineering at Rensselaer Polytechnic Institute. 
Hansen is the first Canadian to conduct a NASA astronaut class, where he was entrusted with the training of both Canadian and American astronaut prospects. He has been involved in the European Space Agency's CAVES program, as well as training in the NEEMO-19 program, where prospects spend time underwater in a laboratory to simulate the effects of space. 
Hansen's involvement is only one of NASA's steps to be more inclusive internationally. The United States-based operations have also received much help from the European space agency. The Orion's main source of propulsion is a service module that was provided by the ESA.
The flight will take off from NASA's Kennedy Space Center in Florida. The flight will involve a lunar flyby and a four day reentrance sequence to ensure safety according to the ESA and NASA.
The damage made initially to the Orion upon its reentry and to the launchpad upon liftoff has already been scheduled for rehabilitation. With all of these initiatives in action to revive the lunar aircraft and prepare it for a manned mission, it is expected that this flight will be conducted by late 2024.
The team is expected to yield great success for NASA as they continue to make strides toward space colonization for humans. NASA has established that conducting research to better understand how humans can exist in the intense environment of space.
"It's more than a mission that has to happen before we send people to the surface of the moon. It is the next step on the journey that gets humanity to Mars and this crew, we'll never forget that," said Glover in an interview with ABC News.
NASA stated on the Artemis III information page that the mission " . . . will usher in a future in which humans consistently access the Moon, and human planetary exploration missions are within reach. Each Artemis mission will increase our knowledge, refine our operations and prove our technology as we prepare for the first human mission to Mars."
The astronauts hope that their work with this flight will only mean plenty more opportunities for all in the future.
"The first isn't important if it doesn't come by a second, and so I'm really excited that this is a continuation of humans exploring deeper into the solar system," said Glover in an interview with collectSPACE.com.
Leave a Comment
About the Contributor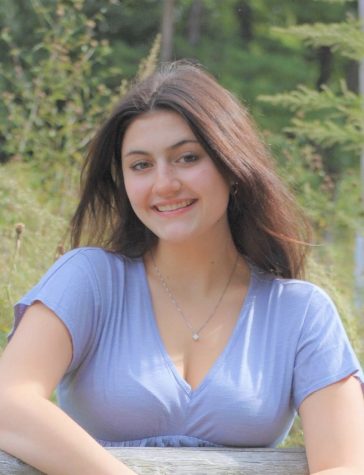 Julia Capraro, Editor-at-Large | she/her
Julia is a sophomore broadcast journalism and psychology major from Canton, Massachusetts. She loves animals, 0.5x pictures and making art. When she isn't working as a part-time barista or writing for the Journal, she likes watching movies and then obsessing over the film for at least 72 hours afterwards. Her favorite Celtics player is Payton Pritchard and her favorite song is "The Gold" by Phoebe Bridgers. In the future, she hopes she won't need Google Maps to get around Boston.