SGA discusses funding, dining, hears concerns surrounding TPUSA
Suffolk University's Student Government Association honored Ramadan, discussed the Ram Box dining option and approved partial funding requested by Fusion Dhamaka for its Holi celebration at its March 23 meeting.
After the meeting ended with only seconds left for open forum, junior Anthony Coviello, president of the Suffolk Democrats, spoke of his efforts in creating Students Against Turning Point USA.
Asma Akbar, the scholar for the Interfaith Center at Suffolk, senator for the Class of 2025 and chair of SGA's dining committee, presented options available for students observing Ramadan, including dates and water for students breaking their fast and the ablution area in the Interfaith Center where students can cleanse themself before they pray.
SGA collaborated with Dining Services for the second year to provide food boxes for students observing Ramadan to have options outside of dining hall hours. 
Akbar encouraged students observing Ramadan to utilize the resources available on campus during the month.
"If you know anyone who is Muslim on campus who needs to find a community, please point them toward the Interfaith Center, or even me. I'm happy to show them around," Akbar said.
SGA President Angela El Jazzar announced the Ram Box dining option, also known as "unlimited seconds," is currently in a trial period. The made-to-order option is $8.99 and the unlimited seconds are available for an hour after ordering for an additional $3.
"The cool thing about the Ram Box experience is that it's kind of similar to FiRE+iCE where you actually go and pick your portions yourself," said El Jazzar.
Following reports by Vice President Tara Maltese on the Student Judicial Review Board and Treasurer Clinton Oreofe on initiatives approved by SGA, Fusion Dhamaka gave a presentation asking for $5,070 for transportation to performances at UMass Lowell and Bentley University, as well as a Holi event set to take place April 11. 
The club had previously presented its request to the finance committee prior to spring break before presenting to the Senate as a whole.
The Senate approved funding for the Holi event with 20 in favor and four abstentions but did not approve the transportation funding, citing it would not be able to secure the transportation in time for the events. 
"I think we are happy with the approved number. SGA was very helpful in providing us with recommendations and information to make sure everyone has a good time on our Holi Dhamaka event," said Jorge de las Fuentes, treasurer of  Fusion Dhamaka, in a comment to the Journal.
Open forum began at 1:44 p.m. with the meeting end time set to 1:45 p.m. Coviello asked any senators willing to stay after the meeting to listen to his prepared statement. 
Coviello cited his concerns regarding Suffolk's chapter of Turning Point USA and what he described as "disgusting" comments by Charlie Kirk, the founder of the national group. Earlier this year, the Anti-Defamation League listed the national organization of TPUSA under "Extremism, Terrorism & Bigotry" on their website.
"We are asking Suffolk University, as a private institution, to use its own right to free speech, to not espouse these views and statements with the Suffolk name and Suffolk funding," said Coviello.
Harry Murphy, president of Suffolk TPUSA and a contributor to The Suffolk Journal, said Coviello's remarks did not reflect the true nature of the organization. 
"If Anthony came to a meeting he would learn about our chapters' individual history, that we were founded by people of color, and some of our current, most active members are also members of the LGBTQ community. We look forward to further dialogue as we look to make Suffolk a more welcoming campus for those of all political and social backgrounds," Murphy said. 
Murphy spoke at SGA's Feb. 16 meeting to defend Suffolk's chapter of TPUSA against allegations that the club was a hate group and encouraged senators to protect the right to free speech.
Leave a Comment
About the Contributors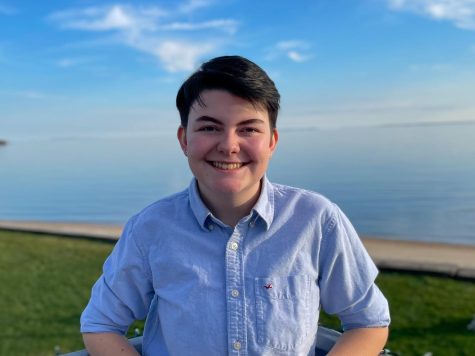 Leo Woods, Photo Editor | he/him
Leo is a senior political science major with a minor in journalism from Clinton, Conn. When he isn't writing for The Journal, you can find him walking around Boston with his camera taking pictures of the city. He is passionate about politics, Mexican food, and Dungeons and Dragons. In the future, he plans on attending law school and permanently moving to Boston.
Follow Leo on Twitter @leowoods108
William Woodring, News Editor | he/him
Will is a senior majoring in public relations. He is originally from Medway, Ma. In his free time, he enjoys listening to music, writing, reading, and running. He is interested in political journalism and hopes to go into politics after graduating.

Follow Will on Twitter @woodringwill