New CAS dean shares future plans for the school
Suffolk University's College of Arts and Sciences brought in Dr. Edie Sparks as its new dean in Aug. 2022. In her first semester at Suffolk, she established goals and changes with the hopes of improving the university for the betterment of students and faculty. 
As CAS dean, Sparks has taken on a fundamental role in the functionality and structure of classes. This is only a small part of the job, as she also notes she is responsible for delegating resources to ensure that students and faculty are able to progress in their respective educations and careers. 
Sparks' position in the role is still in its early stages, but even in her first semester, she is proud and ecstatic to be joining such a dedicated network in the College of Arts and Sciences.
"I am so impressed with the CAS faculty and students — the more I meet the more excited I am to be here. I see great opportunities to continue and deepen the high-impact experience we provide by expanding access to education and focusing on having a positive public impact in our communities," Sparks said.
Sparks works with the other faculty members and executives in the administration to supervise and manage the functionality of the institution. This includes reviewing course scheduling and graduation requirements as they pertain to the individual students and departments as a whole.
The technicalities of the job are not all that Sparks' job entails. Sparks shared that she was brought onto Suffolk's board for some more long-term goals the university has in place.
"Suffolk called for a new dean of the College of Arts and Sciences who would develop a bold vision and plan for the future, prioritize diversity, equity and inclusion, build resources and build community," said Sparks.
Sparks has already taken the initiative to begin working towards these goals. She started this push toward improvement already by establishing an expansion of the CAS leadership team. This plan includes three newly appointed associate deans, whose terms will begin in July 2023; Lauren Nolfo-Clements will be associate dean of administration, operations and planning, Micky Lee as part-time associate dean of the core experience and Marjorie Salvodon as part-time associate dean for experiential learning, global education and public impact.
Another important piece of Sparks' plan is Assistant Dean Sharon Lenzie and her role in the growth of the programs at Suffolk. Lenzie will continue with Suffolk to address the university's continued areas for improvement, according to Sparks.
"[Lenzie] will continue in her role supporting student academic advising, degree evaluation, academic standing and academic misconduct and other student processes and policies as well as working closely with the CAS Honors program and Boston Public School program," Sparks said.
Course availability is a concern among students that Sparks is eager to mend in her new position. One of Sparks' main goals is working on retention in the institution, which works in tandem with her aims to make higher-level courses more available to students. 
"One aspect of this is evaluating where our most critical need is for hiring additional faculty.  When we hire additional full-time faculty, I want to be sure we are addressing needs in our highest enrolled programs while also retaining the breadth of opportunities offered in a College of Arts and Sciences," said Sparks.
She assured concerned students that this issue is actively in discussion across the university. Sparks articulated that she and Suffolk as a whole are committed to collaborating with all moving parts of the institution to improve experiences across the board.
Sparks also mentioned that the communications, journalism and media departments' needs are also being looked at by the dean's office. Although no changes have been made currently, she is aware of shortcomings that need to be addressed.
"I know the department has equipment needs and staffing needs and we are looking carefully at those and strategizing about how best to meet those needs in the context of the full needs of the College of Arts and Sciences," said Sparks.
This commitment to collaboration also involves some more large-scale changes in CAS. The institution plans to update the core curriculum in the upcoming years and Sparks hopes to open this up as an opportunity for student involvement in the education process.
"I think incorporating student input and collaboration into how we design learning experiences could be an exciting dimension to the way we think about curriculum design in the College of Arts and Sciences," said Sparks. 
Sparks hopes that by being an advocate and vessel for student and faculty needs, she will be able to ensure that the university provides members with the ability to continue through the rapidly shifting world with confidence in Suffolk's merit and intentions.
Leave a Comment
About the Contributor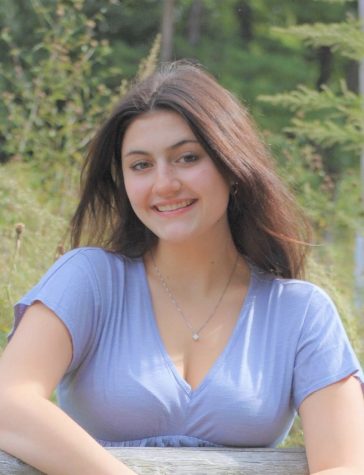 Julia Capraro, Editor-at-Large | she/her
Julia is a sophomore broadcast journalism and psychology major from Canton, Massachusetts. In addition to writing for the journal, she is President of Suffolk Visual Arts Club. She loves cooking, crochet and reading in her free time.