The rebirth of 2010 pop music
Carly Rae Jepsen and Meghan Trainor both recently dropped singles after a long hiatus from the pop music circuit. These artists are at the forefront of a 2010 pop icon renaissance, which is all possible because social media sites like TikTok are bringing new and old audiences back to these beloved performers.
Jepsen had her claim to fame when her lead single "Call Me Maybe" was released in March 2012. A few months later, in June, Jepsen released "Good Time," featuring Owl City as the second single promoting her second studio album. Her album "Kiss" dropped in September that same year.
"Call Me Maybe" was by far the most successful song on the album. It was given the title Song of the Summer by Billboard Magazine, after sitting at number one for nine weeks straight on the Billboard Hot 100. It was the best-selling single of the year and the song received nominations at the 55th Grammy Awards for Song of the Year and Best Pop Solo Performance. "Good Time" also received its time in the limelight, hitting number eight on the Billboard Hot 100. 
This album defined the year 2012, but this is where Jepsen seemed to peak. None of her other albums had as much of an impact as "Kiss." Jepson's last Billboard Hot 100 hit was in 2015 for her song "I Really Like You," which peaked at number 39.  
Jepsen seems to be making a big comeback this year. Her song "The Loneliest Time" featuring Rufus Wainwright has been gaining traction on TikTok. The segment has everyone buzzing about Jepsen, commenting on her videos that she is "saving pop music" and is "the princess of pop." This is a big change from the past few years of her career. While her releases were still thriving, this is the most attention Jepsen has generated in a while. 
She isn't the only artist making a major comeback though. Trainor, who took a hiatus from music for health reasons in 2020, is making her way back to it.
Trainor's first hit was "All About That Bass," released in July 2014. The song hit number one on the Billboard Hot 100 and stayed on the charts for 50 weeks. Trainor continued churning out popular songs afterwards too. Hits such as "Like I'm Gonna Lose You" featuring John Legend and "Dear Future Husband" made it to the charts in 2015.
Her last song that hit the Top 10 was "No" in 2016, and since then, her releases and style seemed inconsistent. In an interview with News.com in 2020, Trainer revealed her lengthy disappearance from music was due to the strains her workload put on her both physically and mentally. 
She came back to music in early September of this year releasing the single "Don't I Make It Look Easy." Trainor's newest single "Made You Look" was also just released a few weeks ago, and has been gaining popularity on TikTok.
This song is drawing in a lot of new and old listeners. Trainor's brand has been about body positivity since "All About That Bass" dropped. The singles leading up to her newest album are bringing that positive, happy-go-lucky energy to the pop scene once again.
However, Trainor and Jepsen aren't the only two pop icons making a long-awaited return. The indie-pop band The 1975 is also coming back onto the scene after two years. The band, although a bit less mainstream, has been gaining ground with a newer audience. The 1975 has had their fair share of virality, starting trends with their songs since TikTok originally launched.
Even though Taylor Swift has been in the media consistently for the past few years, her newest album has brought many old fans back to her work and has turned more people into "Swifties" by the day. The release of "Midnights" on Oct. 21 broke records and set a new precedent for the future of pop releases.
The music industry is on a perpetual cycle that is difficult for artists to maintain. This cycle is different though. While the music industry is often looking for a fresh new sensation, the scene seems to be shifting to more nostalgic sounds and artists.
All of these artists of the 2010s are being brought into a whole new generation by their growing fans, with social media giving them a new platform. 
Trainor came back strong with more self-love anthems like "All About That Bass," joining the likes of artists like Lizzo who spread nothing but love for other women and their own individualism.
Swift is one-upping her own unbridled talent that she's been spreading with her re-recorded albums. With a new addition to her discography about her best and worst nights, she is bringing a sense of belonging and love to her fans, new and old.
Jepsen's song has people clamoring to hear more, as her vocal performance and joyous persona have fans transported back to the days of "Call Me Maybe."
This is all possible due to TikTok. It has been bringing together communities through music. The nostalgic appeal of these songs, and the new delivery method, are just growing the exposure the artists are able to maintain.
The command over an app is no small feat, and as the trending page of TikTok is topped by the words "The 1975," "The Loneliest Time" and "Midnights," it is evident these artists are revamping the pop industry once again with the help of loyal fans. The pop renaissance is now in full swing and hopefully, we will see it define the charts in the upcoming weeks.
Follow Julia on Twitter @Julia_Capraro.
Leave a Comment
About the Contributor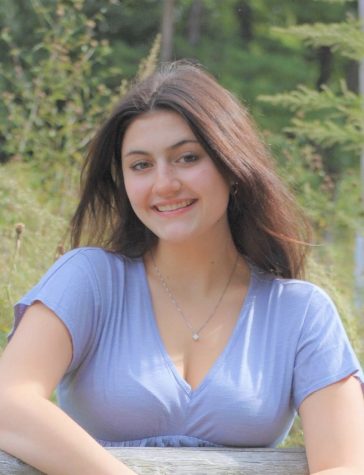 Julia Capraro, Editor-at-Large | she/her
Julia is a sophomore broadcast journalism and psychology major from Canton, Massachusetts. In addition to writing for the journal, she is President of Suffolk Visual Arts Club. She loves cooking, crochet and reading in her free time.