Midterm Madness: Ballot questions take the spotlight
Eligible voters have tough decisions to make this upcoming Nov. 8, as the four Mass. ballot questions bring about confusion and controversy across the commonwealth. Here's some information to help you make your decision.
Question One
Question one on the ballot, otherwise known as the "millionaire's tax," asks whether Mass. should implement certain taxes on high earners. The amendment would implement an additional 4% on all income above one million dollars. This tax increase would be fluid, shifting as incomes individually change, and as costs of living fluctuate, according to BallotPedia.org.
 Groups like Fair Share Massachusetts and Coalition for Social Justice Fair Share 2021-2022 are encouraging voters to choose yes on question one, stating that the increase in taxes is necessary for  Mass. transportation and schools to continue to improve. According to Fair Share for Massachusetts, this type of tax increase could help end teacher shortages and provide funding for reliable public transportation.
People opposing the tax increase say there is a potential loophole that will block the money obtained from going back to the community. There are some who worry this will make it more difficult for small businesses and retirees to maintain current lifestyles and business practices.
The Coalition to Stop the Tax Amendment shared testimonials from some supporters of the initiative, who expressed a fear that this new amendment will not follow through on improving infrastructure and will hurt certain groups and communities.
"Millionaires are not the only people affected by this tax. Small businesses, retirees, homeowners, and other Massachusetts residents will be impacted every year," shared Leo Cakounes in a statement from the Coalition to Stop the Tax Amendment.
Question Two
Question two on the 2022 ballot aims to improve patient coverage under dental insurance plans. If passed, question two will implement a minimum medical loss rate of 83%. The medical loss ratio is the percent of revenue spent on patient care.
While medical insurance is required to have a medical loss rate of 85% to 88% mandated by the Affordable Care Act, dental insurance has fewer regulations. According to a study conducted by the National Association of Dental Plans in 2019, dental insurance companies on average have reported a medical loss ratio of 75.9%. 
Initiatives that are encouraging voters to vote yes are in favor of more regulation on dental insurance providers, hoping to ensure that the money these companies gain will be used on a client's needs. This would give the average Massachusetts resident more options and access to dental health care. The Boston Globe is encouraging voters to choose yes, reflecting on the amount of Americans who don't get necessary work done due to a lack of coverage.
"More than half of Americans delay getting medical care or avoid it altogether because of burdensome costs, and the most frequently skipped form of care is dental work," said The Editorial Board of the Boston Globe.
Two committees are in opposition to the dental care regulation; the Committee to Protect Access to Quality Dental Care and the Committee for Competitive Dental Plans for Consumers. These groups argue that there is potential for dental insurance companies to raise premiums in an attempt to not see a difference in profits with the potential regulations. This would make dental insurance even more expensive for residents.
"With consumer prices soaring to all-time highs, the Commonwealth doesn't need this added regulation that will only increase costs and decrease choice for patients across the state," said the Committee to Protect Access to Quality Dental Care on their website.
Question Three
Question three on the ballot intends to reform alcohol laws across the state. It plans to decrease the maximum number of liquor licenses available within individual towns, decreasing licenses on full-liquor from nine licenses to seven while increasing the maximum licenses for beer and wine from nine to 18 by 2031. If passed, the measure would make it illegal for establishments to allow self-checkout purchases of alcohol, while also establishing that out-of-state driver's licenses are valid for alcohol purchases.
The 21st Century Alcohol Retail Reform Committee encourages voters to choose yes. 
"Balance will be restored by decreasing the number of full liquor licenses allowed by an individual or corporation from nine to seven, while progressively increasing the number of beer and wine licenses from nine to eighteen . . .The initiative petition also helps the entire alcoholic beverages industry by allowing for valid out-of-state IDs to be relied upon. Massachusetts is the only state in the U.S. that does not permit a retailer to reasonably rely on valid out-of-state IDs," said a statement on their website.
In addition, if the law does pass, there could be changes to fines and license suspensions for selling alcohol to people who are underage. The fines will be determined by gross sales rather than only alcohol sales according to BallotPedia.org
Groups opposing the ballot question believe that such laws will limit the competitive business of alcohol sales, as it makes it harder for stores to carry a variety of products. Food Stores for Consumer Choice has openly come out in opposition to this reform, believing that companies who wish to carry a variety of options for consumers will be restricted from doing so. 
Total Wine & More,  a Maryland-based company with several liquor stores around Mass., is concerned about how this law will target small liquor businesses like themselves. 
"The proponents of Question 3 have singled out Massachusetts package stores, especially Total Wine & More, for a reduction of licenses as a means of stifling competition. Less competition only harms consumers," said company spokesperson Edward Cooper in an interview with WBUR.
Question Four
Question 4 on the ballot asks whether a law passed earlier this year that allows anyone to obtain a driver's license, regardless of documented status, will remain on the books. The law was passed by the legislature in June of 2022 after Governor Charlie Baker vetoed it. If the question passes, the law will remain intact and immigrants will continue to be able to obtain driver's licenses. Voting no would repeal the law.
Groups like the Massachusetts Immigrant and Refugee Advocacy believe that allowing the law to remain intact will benefit immigrant communities and the economy. The fight for this law to be enacted has been in the works for nearly 20 years and groups that are encouraging voters to choose yes want to see the step forward be maintained. 
Baker, one of the biggest opponents of the law, said such a law will reduce the reliability of somebody's license to actually verify their identity, and believes that the Registry for Motor Vehicles is not equipped to distinguish documents and verify somebody's residency. Groups opposing the decision also worry this change could result in undocumented immigrants getting licenses.
Other states that have passed similar laws are already seeing some benefits. States like Conn. have seen a decrease in hit-and-runs. This change is attributed to immigrants being able to legally drive and obtain insurance as a result.
A research study done by Suffolk University shows a favorable outcome for yes on question four, as about 59% of people surveyed shared they would be voting yes.
Leave a Comment
About the Contributors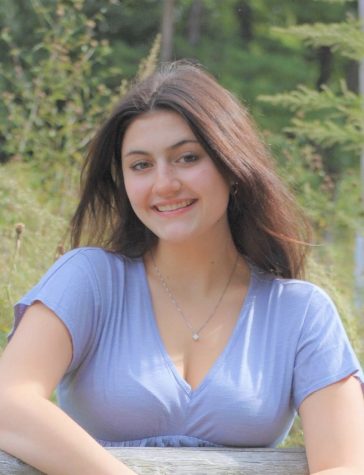 Julia Capraro, Editor-at-Large | she/her
Julia is a sophomore broadcast journalism and psychology major from Canton, Massachusetts. In addition to writing for the journal, she is President of Suffolk Visual Arts Club. She loves cooking, crochet and reading in her free time.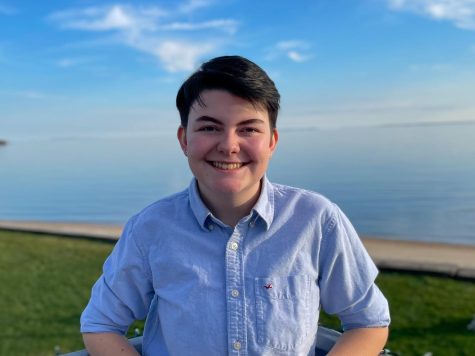 Leo Woods, Photo Editor | he/him
Leo is a senior political science major with a minor in journalism from Clinton, Conn. He has photographed political events, protests, performing arts groups and documented Boston Pride for the People for the History Project. Outside of Suffolk, Leo is an avid Dungeons and Dragons player and podcast listener. After graduation, he plans on attending law school and working in politics.
Follow Leo on Twitter @leowoods108