SOCCER PLAYOFFS: Rams triumph over Salve Regina in shootout 
The Suffolk University men's soccer team triumphed over Salve Regina in a Commonwealth Coast Conference quarterfinals matchup on Oct. 29. 
The Rams secured the victory in the shootout period after a tension-packed game led to double overtime, with Carter Van Buskirk securing the winning shot for the Rams. 
In a tension-packed game from start to finish, officiating played a heavy role in the outcome of the game. Players from both squads expressed their frustration with officiating throughout the course of the match. 
It did not take long for controversy to turn into points. Salve Regina opened up their scoring on a penalty kick after Suffolk was called for a handball, putting the Rams down 1-0 in the 26th minute.
Suffolk wasted no time in responding, with Van Buskirk striking several minutes later.
The Rams, however, were not even close to the end of their officiating woes. Another handball call landed Suffolk a red card with seven minutes to play in the first half, leaving them a man down for the rest of the game. 
"Going down to ten men really early was tough emotionally, especially since it wasn't a call we agreed with," said team captain Dai Podziewski. "Having questionable calls go against us, to be able to come back from that, twice, and then overcoming a goal in overtime, coming back three times, it's crazy."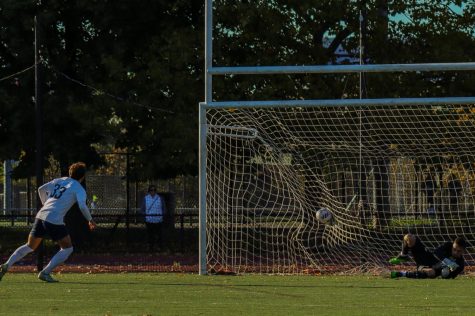 The score remained 2-1 for the majority of the second half until Suffolk's Jeremy Cooke was able to keep his team's season alive with only 3:05 remaining in regulation. Cooke scored off a head pass from Brady Sorenson, sending Suffolk fans in attendance into a frenzy.
The first overtime was uneventful, with neither team being able to find the net. With 3:44 remaining in the second period, the Hawks were able to sneak one past Suffolk goaltender Xander Balog. 
Salve Regina players were quick to celebrate, one ripping off his shirt while his teammates mobbed him. But Sorenson was having none of it, making it a tie game once again a minute and a half later.
Coming into the shootout, Matthew Belluardo, Pierre Willis, Jack Phelps, Taj Jensen and finally Van Buskirk with the killing blow, all made their shots for the Rams. Van Buskirk's kick sent his teammates running onto the field where they mobbed him and went to celebrate with fans in attendance. 
"We went down three times and we tied it. We haven't done that this year. So it's good to not just come back but win," said Podziewski. 
The Rams' goalkeeper Balog was named the CCC Defensive Player of the Week for his performance in Saturday's win. Balog tallied four saves in a game where his skills were key to victory, especially in the shootout. Balog tallied a career-high 14 saves against Salve Regina in the Rams' final regular season game which occurred on Oct. 25.
The Rams are set to battle nationally-ranked and the number one-seeded Endicott Gulls on Wednesday evening. A fan bus will be departing from the Ridgeway building at 5:15 PM for fans wishing to attend the game. You can sign up to attend here: https://docs.google.com/forms/d/e/1FAIpQLSeHJOowVxVDfytf5xKMHCoZ1KxiCtpo1YQf5UnqwI1MHO5u9g/viewform?urp=gmail_link\
Follow JD on Twitter @jdconte617
Leave a Comment
About the Contributor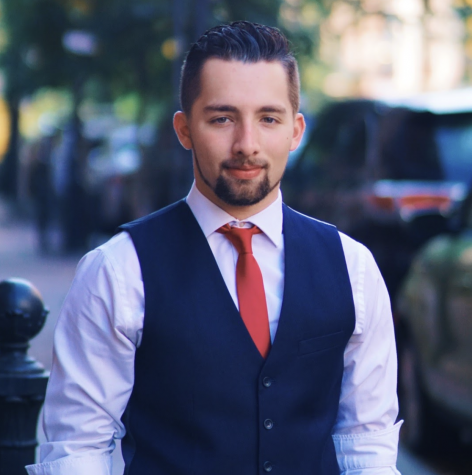 JD Conte, Sports Editor | he/him
JD is a senior from Wallingford, Conn. double majoring in political science and broadcast journalism. Aside from writing for the journal, JD can often be found in Studio 73 working on his broadcast skills. Off-campus JD can be found watching all the Boston and UCONN sports teams. He enjoys spending time with his family and friends in various spots around the city, especially in East Boston and the North End. After graduation JD hopes to work in a newsroom full-time or pursue a career in the sports industry.
Follow JD on Twitter
@jdconte617
Email him at
[email protected]