After a tumultuous year for the Suffolk University dining service, students' thoughts about Chartwells are rolling in yet again, one month into the fall semester.
Freshman Gabriel Lebold told The Suffolk Journal that he used to go to Smith Cafe but has since stopped and only goes to Sargent Cafe. When asked why, Lebold shared his experience at Smith Cafe, which changed everything for him. 
"I was eating my soup, and I found hair in it," he said.
He quickly posted it on social media, and Suffolk Dining's Instagram account responded within 5 minutes of his post. 
"They offered me a $13 refund for my food," Lebold said. 
However, Lebold's concern went beyond his dining dollars. He believes Chartwells must put sanitary measures above all else.
"I feel like they should have re-evaluated how they are preparing food for students because there is no way that any clean dining hall should have hair in their food," he said.
Freshman Kara Sickle is a vegetarian who has had a somewhat different experience with Chartwells this semester. Sickle often finds herself eating at Samia or 73 Tremont Cafe.
"I love 73, and I feel like it's a fancy restaurant when I order my sandwich. I feel like I'm just in a different world. It's like a luxury," said Sickle.
Sickle expressed that she hasn't had any issues herself yet, but remarked on a few things that have improved since the start of the semester.
"I've seen other people post their concerns about it. For me, the only thing was that originally, with the veggie burgers on the grill at Samia, they didn't do anything to cook it, but now they do. They added a whole aluminum piece on the grill, so it doesn't touch other things," Sickle said. 
Sickle said she doesn't mind her food touching the grill by itself but said, "It shows they are trying to go the extra mile to ensure there's no cross-contamination."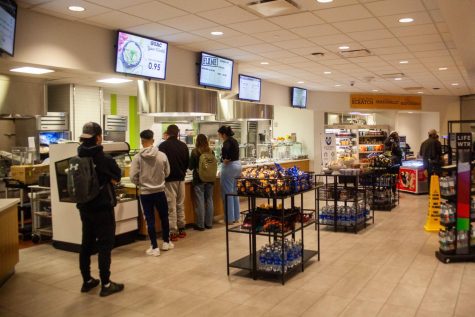 Sickle added that dining halls are still struggling to diversify meals for students with dietary restrictions, resulting in repetitive meals.
"In Samia, they normally have a main vegan entree every day, which a lot of days it's just tofu. Other than that, you just kind of have to find the things you can have," she said.
One positive for Sickle this semester has been Samia's kitchen staff.
 "Just interacting with them and trying to get to know them more, that's definitely been a highlight of having to go get food there," she said.
Freshman Christopher Bell also had words of praise for Suffolk's Sargent Cafe.
"I like that I get to watch them make the food in front of me, but they don't have a lot of diverse options. However, there's always at least one thing I like," Bell said.
Suffolk's General Manager of Dining Bob Cirame said Chartwells is always striving to satisfy the needs of students, though unplanned supply challenges are more common than ever.
"Our team is constantly working to improve the student dining experience. Like many in the food service industry, we have encountered challenges with product delivery schedules. We appreciate the campus community's patience as we get creative in the kitchen when ordered ingredients do not arrive," said Cirame.
Cirame added that they have been facing staffing challenges but are working hard with new management to support hiring more food service workers.
"There's nothing more important to our dining team than the health and safety of the campus community. In addition, all of our managers, supervisors and associates have been Serve Safe certified at our welcome back meeting in August," Cirame said.
Cirame also shared areas they feel they have grown and improved on since last year, commenting on their latest additions to some of the dining halls, such as rotating dinner stations that feature two culinary concepts at Samia and Sargent Cafe. 
"Our team has continued training for our associates around our avoiding gluten, vegetarian and vegan identifiers for each station. In addition, students can customize pasta to fit allergies, as we offer gluten-free pasta and vegan sauce upon request," said Cirame.
Suffolk dining shared that their team will be gathering additional student feedback on Oct. 17 and Oct. 18 at their annual Voice to Vision Survey tables, where students are encouraged to provide feedback in person or via the survey online.