SoWa art market displays the works of local artists
Boston's South End market, SoWa, opened its doors to customers every Sunday in April, allowing artists to showcase their work to the public. 
Artist studios take up the second, third and fourth floors of the large warehouse space. Not all artists were in attendance, but those who were were able to generate foot traffic and make day-of sales. 
The SoWa Artists Guild has expanded over the years, going from 20 artists to over 80. Some artists, like Sandy Belock-Phippen, have been in the building and part of the guild for over 16 years.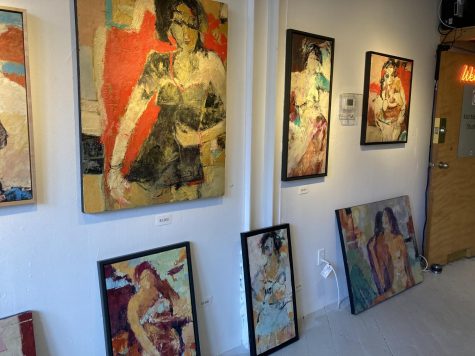 Belock-Phippen shares her studio space with Mae Chevrette, each artist's work taking residence on opposite walls of the studio. The styles and colors contrast one another, with Chevrette leaning toward blue and grays, while Belock-Phippen's bold colors play across the room. However, thematically, the pieces work in tandem to create an enticing environment.
Both artists noted how the guild helped every artist in the building get exposure. 
"The guild consolidates artists' interests and works together to keep visitors coming in while making people more aware of the art and the studios," Belock-Phippen said. 
The guild utilizes SoWa's "First Fridays" and the summer market to showcase their artists, but they also offer opportunities outside of SoWa. Guild members have been invited to showcase their work at Endicott College in the past and use members' dues to create a guide to the South End that features their work. 
"Having your door open is a great way to get people in and even if they don't buy a piece right then and there, more eyes and feet in the building get more sales," Chevrette said. 
Kat Masella, a Gloucester-based artist who has a second studio in SoWa, is a newer member of the guild. Masella's paintings are abstract versions of the body as she said she is getting more into the abstract side of things. 
"I like people and figures that speak to me, just the emotions that we all experience, love and joy or contemplation and meditation," Masella said. 
Masella works with oil based paint and uses beeswax, marble dust and pumice to give her paintings more texture and depth. 
Another artist, Donna Caselden, is a contemporary artist who works with mixed media. Though nature and water are featured heavily in her paintings, she often begins her creative process without an end goal in mind. 
"I'm very intuitive, I don't always know how a painting will end up. I start and it evolves into something I like," Caselden said. 
Artist Sarah Schwartz has a unique medium: wallpaper. Schwartz offers hand painted wallpaper for her clients. She originally trained as a textile designer and started doing custom work in fabrics and wallpaper for interior designers with her partner, Ruby Geisler.
"We wanted to launch our own line and we were doing digital printing but we wanted a more organic process, one we could control from beginning to end," Schwartz said.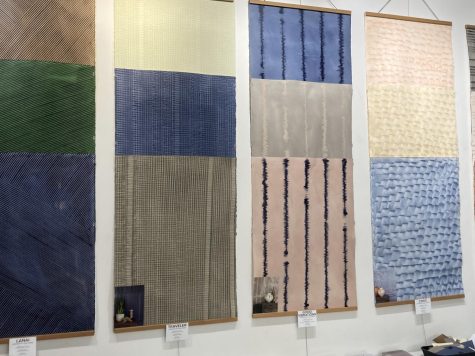 The duo experimented with different chemistry and found the most doable and durable option for their clients. Each item is made to order to reduce waste and Schwartz utilizes any scraps of paper by creating journals, business cards and more. 
She also notes that wallpaper is not what it used to be and that the process of using wallpaper has evolved over the years. 
"It's not the big production it was before," Schwartz said. "It just becomes this beautiful, textured and layered backdrop, it's not the star of the show but it gives a lot of visual interest to your space."
The studios will continue to be open as the summer market runs. They will also be doing a fundraiser on May 6-8 to benefit Ukraine. 
Customers can donate $122 to the WCK website, show the receipt in the lobby to pick a piece of art and the foundations will triple each donation made, sending $488 for each purchase. 
The summer markets will be every Sunday from May 1 to October from 11 a.m. to 4 p.m. 
Follow Ashley on Twitter @ashleyfairchi14.
Leave a Comment
About the Contributor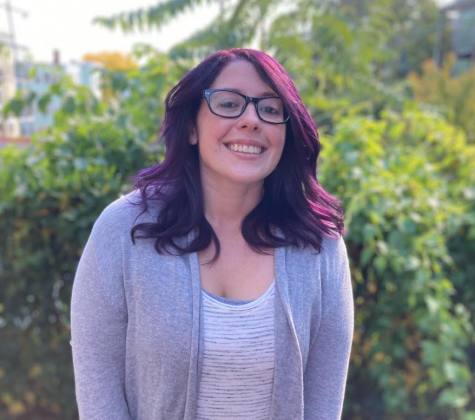 Ashley Fairchild, Asst. Copy Editor | she/her
Ashley
is a senior majoring in print/web Journalism. Outside of Suffolk, she can typically still be found with her nose in a book and her hand wrapped around a coffee mug. She enjoys lifting weights, finding new cafes and most importantly, playing with her dog, Pepper.
Follow Ashley on Twitter @AshleyFairchi14