'Minx' nearly misses the mark, Jake Johnson's got it covered
From clogs with flare jeans to pantsuits with half unbuttoned shirts, there was no shortage of '70s vibes in HBO Max's new comedy, "Minx." 
There's a lot to say about one of HBO Max's latest originals, and the storyline is definitely an interesting take. Competing with so many streaming services, it's difficult to come up with an original idea. Despite this hurdle, writers do just that with their unique angle on 1970's feminism. Viewers see rigid feminist Joyce Prigger (Ophelia Lovibond) team up with porn magazine publisher Doug Renetti (Jake Johnson) to get her magazine idea out in the world – just not in the way she wants it. 
Before I get into the show, I feel compelled to point out the amazing job in the costume design department. While watching I fell in love with every outfit, and this aspect alone really pulls viewers into '70's Los Angeles. The Yoko Ono and Goldie Hawn references scattered throughout the show also added to the immersion.
Though not the intended focal point of the show, Jake Johnson undoubtedly becomes the shining star by portraying a confident, lovable boss, making viewers swoon whenever he walks into a scene. Honestly, Johnson being a part of the main cast was what led me to tune into the show in the first place. After playing beloved Nick Miller on "New Girl," I'm sure I'm not the only one who would watch any show he stars in, and his performance in "Minx" only added another charismatic acting performance under his belt.
Johnson's chemistry with both Joyce and his assistant, Tina (Idara Victor), is palpable, and though his unwavering confidence in his own abilities could be misread as narcissism or blind optimism, he pulls it off well. Doug never comes off in an irritating way.
The plot of the show is certainly entertaining, using just the right recipe of comedy and a little drama to keep viewers entertained while not feeling too overwhelmed. Though I certainly didn't find myself bursting with laughter, the show gave me plenty of chuckles to keep me satisfied. I particularly enjoy that, similar to the characters, the show doesn't seem to take itself too seriously. It's not trying too hard to be anything other than what it is: an original, light-hearted comedy. 
The publishing company throughout the first season has to overcome hurdle after hurdle, with each episode giving them a new issue to tackle. Where this trend can get somewhat repetitive or annoying, the characters somehow always figure it out and the show has a knack for pulling it off in an entertaining way. 
Though the series has a lot going for it, "Minx" is one of those shows that has a pretty unlikeable protagonist. To be frank, Joyce is annoying. Her character is stubborn in the worst way, and it's almost embarrassing to watch her react the way she does to people and problems in the show. That being said– I think that's why this show works. 
Though some may argue they want the main character of a show to be likable, I find it to be a refreshing and realistic rendition. Moreover, this is where the supporting cast shines. Joyce's stubborn and arguably poor personality traits give room for her peers to carry the weight she lacks. Her sister, co-workers and friends are always trying to help, even when Joyce doesn't deserve it. To viewers' satisfaction, they take her down a few notches on more than one occasion.
I personally found myself enjoying Joyce's abrasiveness in contrast to the way her peers call her out on her bullshit. It's nice to see a multi-dimensional character in television come in too hot, but in the end is able to accept her mistakes, learn and take accountability. That kind of character growth and design isn't easy to come by in today's world, so this is one thing the show is doing right.
The writing team also excelled in the task of giving the supporting characters enough depth that they aren't bland without drowning out the leading characters, either. 
Those who watch will fall in love with Bambi (Jessica Lowe), the surface-level, blonde bimbo that deep down has depth and a want to do something more with her life, and who is also really supportive of her friends. Not to mention Richie, the typical "token gay character," who for once has a personality beyond just being there to represent the LGBTQ+ community. Lastly, Doug's fiery assistant, Tina, goes above and beyond holding her own, proving time and time again exactly how she's the glue holding their publishing company together.
I also wouldn't be reviewing a TV series without mentioning the music, and the music in "Minx" did not disappoint. The soundtrack had me smiling every time a new song came on, from Steely Dan's "Dirty Work" to  The Stone Poneys' "Different Drum," I once again felt like I was immersed into their '70's world. 
The comedy has been a hit amongst critics, currently holding an impressive 96% rating on Rotten Tomatoes. There are eight episodes available to stream on HBO Max now, and the final two episodes of the season will be released Thursday.
Follow Abby on Twitter @astreabbs.
Leave a Comment
About the Writer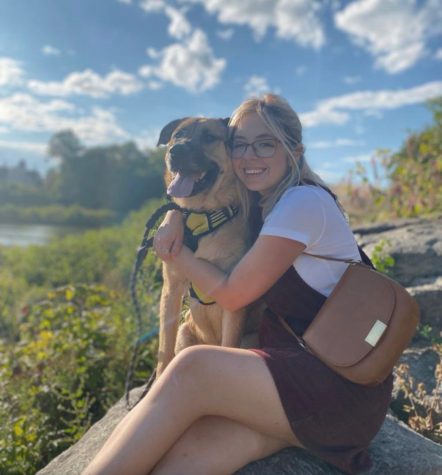 Abby O'Connor, Arts & Culture Editor | she/her
Abby is a senior double majoring in print/web journalism and English literature with a minor in classics. Usually running on at least two cups of coffee per day, you can usually find her lounging about on campus whether it be with a book in hand or computer in lap looking at dog pictures. You'll usually have to wave to get her attention as she always has earbuds in. Music and arts is her passion and she hopes to find a job simply writing about what she loves.
Follow Abby on Twitter
@astreabbs
Email her at
[email protected]