New ICA exhibit 'A Place for Me' gathers inclusive artists work together
A new exhibit at Boston's Institute of Contemporary Art brings eight artists' work together in a safe and accepting space.
"A Place for Me: Figurative Painting Now," includes oil paintings, photographs and donated items to create a full scope of daily life as seen through the eyes of their subjects.
The artists all use the revitalization of figurative painting to depict the reality of today, which includes a platform for LGBTQ+ subjects.
According to the ICA website, the artists painted what they love. "Their friends, lovers, and family; studio spaces and homes; and the scenes that make up their every day. Evoking intimacy, community, and the personal in the power to represent oneself in painting, these artists consider the politics of seeing and being seen and how the process of painting might register care, tenderness, fragility, empathy, and resilience."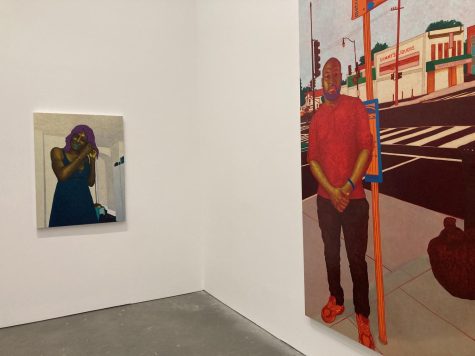 Gisela McDaniel, a Detroit-based artist, uses not only oil paints to amplify her subjects' realness, but personal items they donated to give her work an intimate feel, as well as adding texture to the canvas.
According to the ICA website, McDaniel's work "engages processes of healing for 'womxn' (a term the artist uses for inclusive identities) and nonbinary people of color." Her paintings are stunning, as her subject's realism often jumps off the canvas. The use of bold colors and determination to show the reality of "womxn" and their strength is compelling and allows the eye to linger on each painting.
McDaniel also utilizes a podium with an arrangement of seashells molded together to create an immersive experience. The seashells sit atop a speaker that plays interviews McDaniels did while painting her subjects. Hearing the truths of the subjects while looking at their portraits creates a beautiful experience.
David Antonio Cruz, a Boston and New York-based painter, brings a sense of family into his work. Cruz asks his subjects, most of whom he knows, to bring those closest to them to their sessions.
The plaque beside his work stated that Cruz encourages his subjects to "gather with their chosen kin as a way to express the nonbiological bonds queer people form out of mutual support and love."
Cruz utilizes the bond between his subjects to make colorful and sometimes gravity-defying paintings. Most of Cruz's work shows his subjects in positions that go against traditional sittings. His subjects can be upside down, hanging off of furniture, or, more intimately, entwined with one another.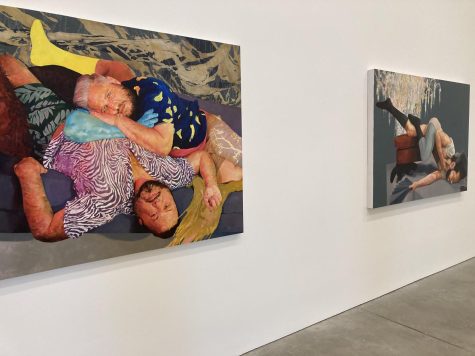 Arcmanoro Niles, based in New York, is one of the only artists in this exhibit who uses self-portraits. The portraits are often taken from pictures and re-imagined with vibrant tones and an uncanny use of glitter. His ability to draw focus away from the background and onto the subjects with the use of vibrant hair and makeup, covered in colored glitter, is a fun and intriguing spin on the exhibition.
Isreali-born painter Doron Langberg shows the more intimate details of life through his featured work. His paintings often depict the quiet moments, such as two lovers in bed together, to create a sense of intimacy that is difficult to look away from. Like the other artists, he uses vivid colors, but somehow the bright colors act in a way that enhances the details without stealing the show.
The other works of art range from large-scale, ghostly paintings to everyday items, like the only floral piece on display. Overall, the sense of acceptance and strength, as well as intimacy, shines throughout this exhibit.
"A Place for Me: Figurative Painting Now" will be on display until Sept. 5 at the ICA. Tickets need to be reserved in advance and are $10 with a valid student ID.
Follow Ashley on Twitter @AshleyFairchi14.
Leave a Comment
About the Contributor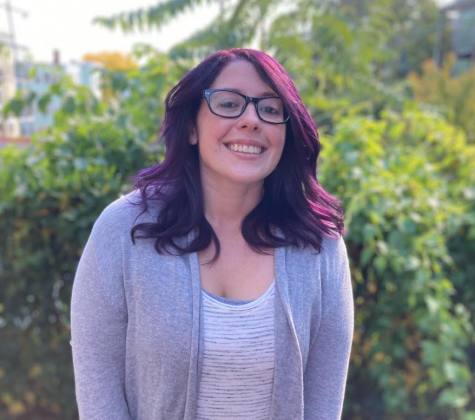 Ashley Fairchild, Asst. Copy Editor | she/her
Ashley
is a senior majoring in print/web Journalism. Outside of Suffolk, she can typically still be found with her nose in a book and her hand wrapped around a coffee mug. She enjoys lifting weights, finding new cafes and most importantly, playing with her dog, Pepper.
Follow Ashley on Twitter @AshleyFairchi14