'Turner's Modern World' pays homage to great British artist
The Museum of Fine Arts' newest exhibition displays over 100 works from one of Britain's greatest artists, J.M.W. Turner (1775-1851), many of which haven't been on display before, making this exhibit a milestone for the MFA.
"Turner's Modern World" is a love letter to the artist's life work. The exhibit doesn't merely include the artist's famous paintings, but it also includes his sketchbooks, drawings, video studies of how he used watercolor and even books for visitors to read that examine the thought behind his work. 
In the museum's effort of including these different components, the exhibit becomes a much more well-rounded study of the great British artist, allowing viewers to see beyond the scope of the sunset paintings he's widely known for. 
The multi-room exhibit has a very cohesive set up, the work easily moving from one room to the next. Every room is intentionally painted a different color in order to represent the era of Turner's work it was exhibiting, making it clear with these intentional choices that a lot of care was put into representing Turner well on the MFA's part. 
The descriptions of the paintings are also well-written and do a great job of drawing the viewers in. Though the main point may be to admire the art, the vivid descriptions allow viewers to get a deeper understanding of the work as well, making for an overall thought-provoking experience.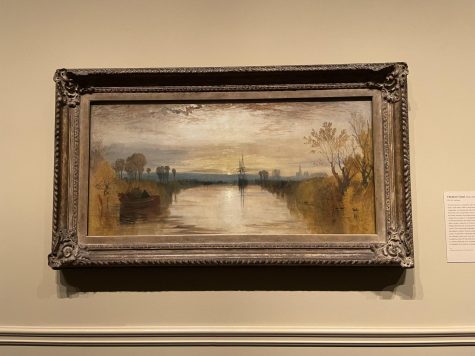 One of the most engaging features of "Turner's Modern World" is the historical aspect. It's no secret that Turner used his medium to make his social and political commentaries clear, as he lived through such a turbulent time marked by the Industrial Revolution, wars, the expansion of the British empire and more. His work represented the global turmoil at that time to such an extent that there's a timeline included in the exhibit's third room, expanding across an entire wall marking British and global historical events in time with Turner's life and works. 
Though Turner is quite well-known for his beautiful sunset and steamship works that draw viewers in, visitors will find at this exhibit that his body of work as a whole is much more widespread. 
One facet of Turner's work I found to be interesting is that much of it seems to reflect the professions of the patrons who commissioned him. One of my favorite pieces in the exhibit for its sweeping view of the sunset on the water and neutrality of colors, "Chichester Canal," is an oil sketch made in preparation for pictures commissioned by the 3rd Earl of Egremont, who helped finance the construction of the Chichester Canal.
Turner's work embodies a range of watercolor and landscapes while also encompassing themes of despair, devastation, industrialism and machine-power replacing manpower. His ability to use his medium to move with the changing times of this period is a very distinctive mark of his work, and this set him apart from other artists during this time period, making this exhibit a unique must-see for art lovers. 
The shining centerpiece to this large exhibit is undoubtedly "Slave Ship (Slavers Throwing Overboard the Dead and Dying, Typhoon Coming On)," which is only on view at the MFA. This lengthy title was not an uncommon theme for Turner, as he used these titles to make political statements. There's an entire room in the exhibit seemingly dedicated to this one work, even including a space for "Reflections on Slave Ship," with reviews from critics spanning from 1840 to as recently as 2019, proving how relevant his work still is today.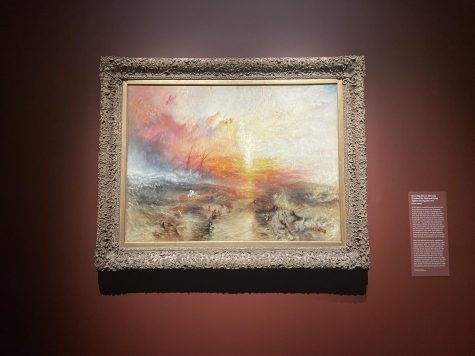 It's difficult to break such a beautiful and comprehensive exhibit down to merely an article, as there's so much to say about "Turner's Modern World." Turner was the groundbreaking artist of Great Britain, as stated in the last room of this exhibit. The work displayed in this exhibit has such a wide range, with his early work more fine and detailed and his brushstrokes opening up in his later work, anticipating the later artistic movement of impressionism. The revolutionary artist even has awards named after him to this day, and his embrace of forward-thinking remains inspiring. 
Visitors can see Turner's influence beyond the actual exhibit as well, one of the best parts being the post-exhibit wall outside the exit, filled with anecdotes from interns, MFA members, curators, artists and more on the impact of Turner's art. So if you're planning on visiting the MFA any time soon, this exhibit is a must-see. 
"Turners Modern World" is on view at the MFA until July 10 and tickets are an additional $7 for general admission.
Follow Abby on Twitter @astreabbs.
Leave a Comment
About the Contributor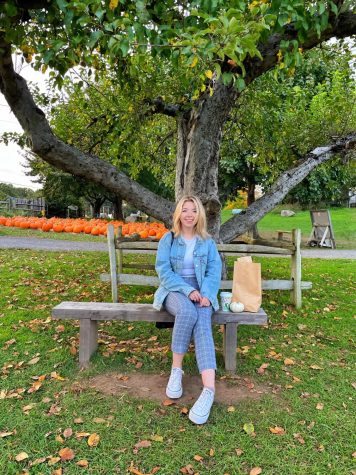 Abby O'Connor, Arts & Entertainment Editor | she/her
Abby is a senior majoring in print/web journalism and minoring in english. When she's not writing for the Journal, you can find her sipping a cup of coffee either reading or playing video games. She also enjoys spending time with her dog and going on hikes. Music and arts is her passion and she hopes to find a job writing about what she loves.
Follow Abby on Twitter
@astreabbs
Email her at
[email protected]