Harry is Home: Styles delights fans with lead single
Harry Styles has decided that it is time for your seasonal depression to move on.
On March 23, Styles announced via Instagram that his third studio album, titled "Harry's House," will arrive on May 20. The album announcement comes two years after his incredibly successful sophomore album, "Fine Line." 
Later on March 28, Styles delighted fans with the announcement of his first single off the album, "As It Was." The song is a burst of serotonin and sunshine, and a perfect way to melt away the remaining winter blues. 
Reminiscent of "Golden" from Styles' second album, the flow of the song is whimsical and fast-paced, with twinkling notes that shine in the instrumental backtrack. The drums drive the song forward, despite Styles's low tone throughout the first verse. 
Vocally, Styles has made leaps and bounds since his days in the boyband One Direction. Though this lead single doesn't provide much of a challenge for the seasoned pro, the overall quality and control of his voice is apparent as each chorus comes along. 
The bridge is a muffled verse that shows Styles's creative side, followed by deep church bells. It's an interesting combination and production choice, but it pulls the song together and shotguns the single to one of Styles's most inventive tracks, particularly in the production department. 
The single drop was accompanied by a music video, which premiered on YouTube the same day. 
The video follows Styles as he rejects the gray world of the everyday nine to five, and, dressed in a red, sparkling co-ord set, to be surrounded by the abstract. Styles's co-star and potential love interest within the video, dressed in a matching blue set, is constantly pulled away from him, and the pair reach for each other with nails painted the same color as their respective outfits. 
The nail polish is likely a reference to Styles's latest entrepreneurial adventure, a beauty and lifestyle brand by the name of Pleasing. 
The video was filmed across various artistic sets, including a swimming pool with ramps constructed above it, an abandoned ballroom that looks more like a gallery and a life-size turntable where Styles and his co-star chase each other in never-ending circles. 
Many fans have theorized that the single is about Styles's relationship with American actress Olivia Wilde, though it may be inspired by Styles's own experience in reference to his parent's divorce. 
In the cover for the new album, Styles stands right-side-up on the ceiling of an upside-down living room. A couch, side table and vase defy gravity above his head as Styles looks down at a hanging light fixture that rests at his feet. 
Between the abstract art style of both the "As It Was" music video and conceptual album cover, fans can expect big things from Styles come May 20.
Follow Emily on Twitter @emilyhbeatty.
Leave a Comment
About the Writer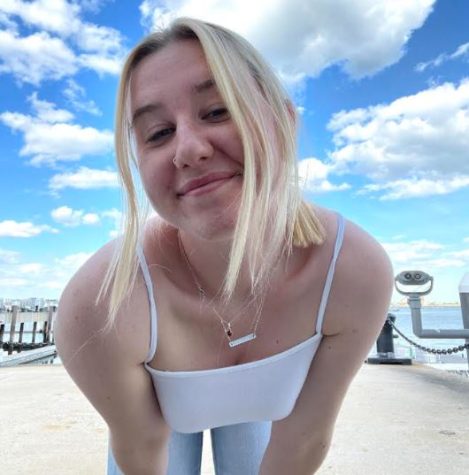 Emily Beatty, Arts & Entertainment Editor | she/they
Emily is a senior English literature and print/web journalism double-major from Canton, Mass. After joining The Journal amidst a pandemic, Emily can be found writing about all things music and pop culture. When not writing, she can be found working, listening to music (probably Taylor Swift) and with a half empty cup of iced coffee in hand. After graduation, Emily hopes to continue to cover music for local publishers in Boston.