'Bridgerton' season 2: Less sex, but plenty of sexual tension
Dearest reader, season two of the hit-Netflix series, "Bridgerton," aired on March 25 and viewers were less than pleased with the new take, or should I say the lack of a new take.
 The story starts more or less where we left off, with one Bridgerton daughter happily married and Lady Bridgerton (Ruth Gemmell) readying her second eldest daughter, Eloise (Claudia Jessie), for the upcoming season of matchmaking. 
However, this season did not focus on Eloise as some may have expected, the main suitor this season was Anthony Bridgerton (Jonathan Bailey), the serious and sometimes arrogant eldest son. Anthony is eager to find his perfect match, not in love, but, a match to his lengthy list of qualifications. 
Meanwhile, we are introduced to some new characters, the Sharma sisters. Both are equally perfect with perhaps the exception being that Miss Edwina Sharma (Charithra Chandran) is a pleasantly charming hopeless romantic while her older sister Kate Sharma (Simone Ashley) is bold and firmly against finding a husband, unless it is one for her sister. 
After being named the season's diamond, Edwina finds herself courted by Anthony. However, while the two look like the perfect match they will not end up together if Kate has anything to say about it, and you better believe that Kate has something to say.
Ashley and Bailey have a rocky relationship spending the majority of the series bickering away at each other, however, these scenes also captured moments of tenderness. Both characters were complex, they were stubborn and outspoken but had gentle sides born of painful pasts. Ashley stole the show as she perfectly emulated the feelings of vexing to yearning, all whilst conveying the intense pressure she bears for the sake of her family. She embraces Kate's daring nature while also catering to her hidden desires. 
While there can be no doubt that Bridgerton's second season brought the same terrific soundtrack, gifted actresses and actors, gorgeous sets and drama that left viewers wanting more, many were unhappy that it was just that; the same.
However, this Shonda Rhimes-produced series is not solely hers, it is based on the book series written by Julia Quinn. And what may surprise show viewers, book fans have already accepted: the plots are very similar.
That's not to say that the Netflix series did not take creative liberties, some that left book fans aghast. Kate's backstory being the biggest change made. In the book, she's from the English countryside, but the show has her from India. This decision received some negative remarks as the story neglects to portray cultural depth and is historically inaccurate. 
Of course, keeping to that story there are going to be similarities (and differences), but in ways that are important, it delivers. You want romance? Check. You want a period drama? Check. You want sex? Okay, maybe they missed the mark there, a mark which did not go unnoticed. 
For those viewers who tuned in for a steamy romance like last season's, they were left disappointed. However, this season circulated around a different type of romantic tension, a forbidden slow-burn. As Bailey described it, "they were naked in front of each other psychologically before they were physically." 
The second season of "Bridgerton" heightened the drama, and glimpsed into the other characters such as Eloise as she finally started breaking some serious rules and bending traditions. Even though the series does not circulate around Eloise, she still finds herself taking charge to uncover the identity of Whistledown and taking every opportunity to dodge potential suitors.
"Bridgerton" season two kept anticipation high until the very last second with many wondering if the two fated enemies to lovers would make it.
Follow Emily on Twitter @emilyrcollins7.
Leave a Comment
About the Writer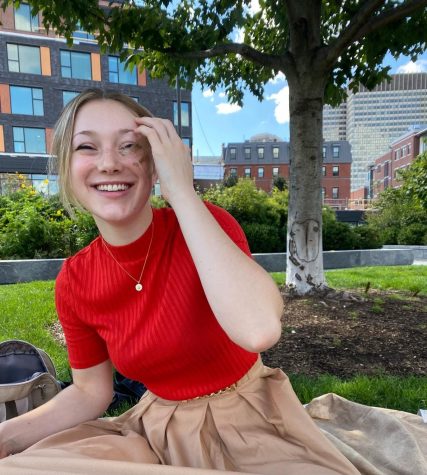 Emily Collins, Staff Writer | she/her
Emily is a senior majoring in print/web journalism and minoring in biology at Suffolk University. If she is not reading or writing, she can be found listening to music or spending time outside. Emily is also a member of Alpha Sigma Alpha and the Ramifications on campus. After college, Emily hopes to work as a wildlife journalist.
Follow Emily on Twitter at
@emilycSUCJN363
.