'Painted Alice' transforms Modern Theatre into a wonderland of color
Suffolk University's Performing Arts Office celebrated the 20th anniversary of the Pioneer Performance Series with "Painted Alice: The Musical" over the weekend.
"Painted Alice," directed by Kristin Baker, brought the nuances of life, art and music together in a musical that reimagines the beloved tale of "Alice in Wonderland," but for the 21st century.
The musical begins with Alice (Sarah Pollock) trying to work on her first piece of commissioned art for Parker (Annaleise Arnsten), but her inspiration is at an all time low. In the midst of panic, Alice decides to step through her blank canvas and enter a new world.
Prior to her leap into the canvas, Alice's girlfriend, Dinah (Emily Collins), walks in and asks Alice if she will stop working and go to bed with her. When Alice insists she keeps working, Dinah goes to bed alone and upset. 
The musical begins with nothing but Alice and her blank canvas on the stage, an incredibly underwhelming scene. However, the feeling did not last long once Alice stepped through and the curtains opened to reveal a large set of playing cards, the designs on them by visual artist Matt Baynes.
These colorful cards created the setting for the remainder of the musical and transformed the set to create the illusion that Pollock entered an alternate vibrant world.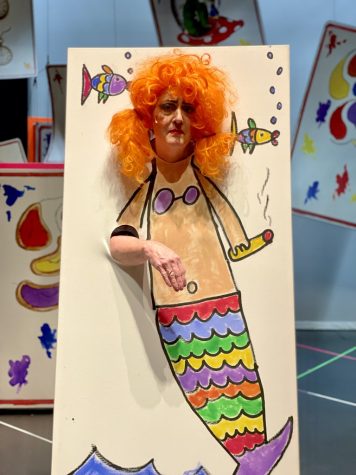 Pollock was extremely comfortable in her role as Alice. Her facial expressions reflected her character's mood and made a positive impact on the audience. Her singing was bright and energetic – any scene with Pollock singing was one to remember. 
The audience can see Alice stuck between the two things she longs for: making a name for herself with her paintings, and being happy with her girlfriend. She starts thinking negatively about herself and feels pressure to perform. With the majority of the audience being college students, the pressure to do well is something most could relate to. 
Music director Timothy Maurice and choreographer Sydney Grant's talent created a magical feel inside the theater and enhanced the performers' roles. The choreography matched the emotions in every scene, while the music lined up perfectly with their movements. It was noticeable that all involved worked together to perfect the musical.
Life inside the canvas was far from normal, as Alice did not understand what was going on. She eventually learned not to question it and allowed herself to listen to everyone's advice.
She first stumbles upon a mermaid drawing she made as a child named Fury (Vicki Karns). Fury confronts Alice on the drawing's flaws. Karns, a CJN associate professor at Suffolk, received a roar from the audience for her performance. She had genuine passion for her role as Fury and it was evident in her scenes. 
Alice then finds herself bombarded by three other characters, in a failed artist support group called "Artists Anonymous:" Sheldon (Sarah Burnham), Griffin (Sarah Smith) and Lori (Jules Barker), the therapist. Each failed artist shares their work that fell flat and Alice was not happy to be a part of this.
Once again, Pollock amazes the audience with her acting skills. She created a genuine sense of anxiety toward her career and the direction it could be headed if she doesn't find inspiration. 
Alice attends the "Society of Spirited Discussors" in Warhol-e, a pub in the canvas, where she meets Hattie (Emily Collins), Hasen (Kaylana Lancisi) and Mose (Sarah Smith). They encourage Alice to relax with a drink and a cannabis edible. Their realistic acting as if they were under the influence and script for the rest of this scene garnered genuine laughter from the audience. 
At this point, it has been a while since seeing Dinah. The viewers are anxious to find out what is going on with the couple, and where their relationship stands. There were moments where Dinah would walk by Alice in the canvas, possibly a figment of her imagination. However, it left the crowd with many questions.
Alice was met with Carol's (SungHee Lee) ghost, who had committed suicide at the beginning of the musical. Lee's voice in "The Answer" quickly filled the theater and captivated the audience. She maintained eye contact with the audience and glowed with confidence throughout her performance.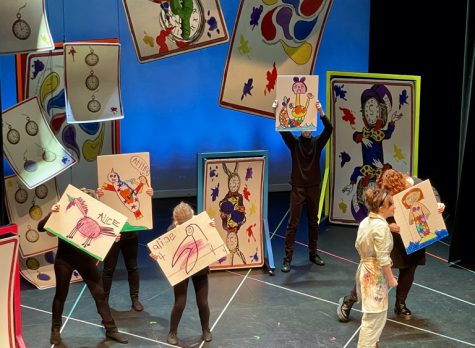 After her interaction with Carol, she sees Finn (Gio Cassella) and they perform "Married Life (A Lawn in the Shape of Nevada)." This was an audience favorite because of the comedic relief it provided, and Casella's utmost dedication to the role. It was evident that he enjoyed this number.
With two unforgettable scenes back to back, it was only right to continue the streak. Alice is able to confront Dinah and the pair sings "All Alright." Alice tells Dinah she makes everything all right and the pair reconcile, both inside and outside the canvas.
Just before Alice travels back to the real world, she meets one more individual who made a lasting impression. Prattolini (Annaleise Arnsten) sings "Make Room" to Alice, advising her to make room in her life for love. 
Pollock and Arnsten shared many scenes together and made a lasting impression on the audience every time they shared the stage. Their hard work paid off during their time on the stage and their scenes displayed how much they adored the show.
The musical ends with "Make Room (Reprise)," giving the audience perfect closure and providing Alice much-needed inspiration, so she begins to paint. 
There are many lessons to take away from this musical, the most prominent being to take a step back every once in a while. Sometimes it is easy to focus so much on one thing that anything else floats out of reach. Similar to when Alice focused on her painting so much that she lost sight of what is truly important to her: Dinah.
Follow Sarah on Twitter @saraherobs.
Leave a Comment
About the Contributor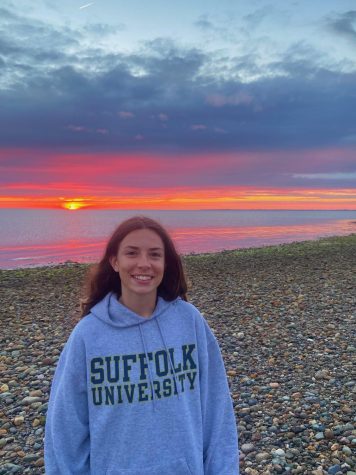 Sarah Roberts, Asst. News Editor | she/her
Sarah is a senior from Taunton, Mass. majoring in print and web journalism. She's on the cross country and indoor/outdoor track and field teams. When she's not running along the Charles or doing laps on the track in Eastie, you will probably find her in a coffee shop. Sarah is a coffee connoisseur and enjoys trying new coffee places frequently. In her free time if she isn't reading, she's watching some true crime shows or rewatching Gilmore Girls for the hundredth time. After college, she hopes to work in investigative journalism.