NESS'S NOTES: Say 'gay,' and say it loud
CW: This article discusses suicide and hatred towards the LGBTQ+ community. Please read at your discretion.
When it comes to the LGBTQ+ community, the Florida legislature is no stranger to raining on the rainbow parade, and it makes me want to use some colorful language. Its latest move is a stark example of that.
On Feb. 8, the Florida Senate Education Committee passed a bill that would prohibit school districts from encouraging discussions about sexual orientation and gender identity.
Masked under the guise of the "Parental Rights in Education" bill, this measure is nothing more than a stab at the rights and safety of LGBTQ+ students. School is supposed to be a place of learning and fostering individuality, not whatever this bill stands for.
Now, compare this to Massachusetts. Massachusetts law requires schools to respect individuals on the basis of sexual orientation and gender identity. The Safe Schools Program for LGBTQ Students trains, informs and provides professional development for school staff and administrators.
That is the exact opposite of the Parental Rights in Education bill. LGBTQ+ students in Florida will essentially be left to fend for themselves because not only would school staff and administrators not be trained to support LGBTQ+ students, but they would be prohibited from being supportive to them at all.
In so many parts of Florida, that already is the case.
I went to a high school with over 2,000 students with no club or organization for kids who were part of this vibrant community until my senior year. I ended up president of what my school called the "gay-straight alliance." It wasn't the most inclusive name, but it's what we had.
Our posters were torn down and had slurs written on them every week. When the school administration learned of this, we got nothing besides the comment, "We don't agree with your 'lifestyle.' Therefore, we can't do anything to help you."
When I came out at 14, I was lucky enough to have an overwhelmingly supportive family. But I know not every kid has that support. Shouldn't they feel safe at school?
When a supposed learning environment is barred from discussing gender and sexual identity, it's an assault on expression and freedom.
Florida Governor Ron DeSantis voiced his support for the bill, claiming that talk of LGBTQ+ identities is not "age-appropriate." He stated that instead, schools need to be teaching about topics like the U.S. Constitution and history.
How ironic.
What about freedom of speech and expression, as guaranteed in the First Amendment of the Constitution? Conversations about LGBTQ+ identities and experiences aren't harmful – they're enriching.
What about the innumerable hate crimes and historical events surrounding the LGBTQ+ community? In 1969, the Stonewall Riots took place outside the Stonewall Inn, a gay club that was frequently raided by police solely because there were gay people inside. Patrons were violently and inhumanely dragged out of the bar and thrown into the back of police vans.
In 1981, the first case of a gay man having AIDS was recorded. AIDS became a massive, deadly epidemic. Then-President Ronald Reagan didn't even publicly acknowledge AIDS until 1985, after thousands of gay men had already died. He didn't form any sort of commission to combat the disease until 1987.
Too little too late. By the end of 1986, over 16,000 people, predominantly gay men, were dead from AIDS.
In 2016, during Pride month, 49 people were massacred and 53 injured at Pulse nightclub, a gay club in Orlando, FL.
The "Parental Rights in Education" bill could very well render events like these as being "inappropriate" for discussion in school because they pertain to the LGBTQ+ community.
Before the argument of "a grade school student is too young to know their sexual orientation or gender identity" is thrown out there, it deserves to be knocked down for being the bogus idea that it is.
Many kids at very young ages know of their sexual orientation, even if they don't yet know the word for it. Many teens report having same-gender crushes during their childhoods.
How could these kids feel safe to express themselves at school when, under this bill, they quite literally would not be able to?
The American Psychological Association lists the "stress and stigma" of being an LGBTQ+ youth as a potential risk for developmental challenges. A bill that silences these kids fosters this stigma. The APA cites the importance of inclusive, supportive policies for all children in school.
Every 45 seconds, one young LGBTQ+ person tries to take their own life. Being told that it's "inappropriate" to talk about their experiences sends the message that there's something wrong with them. The thing that's wrong here is the bill.
Florida has the reputation of being a place that makes no sense, especially to folks who aren't from the state. That's understandable — it's an overheating peninsula full of climate-change deniers.
Kids go through innumerable changes growing up, including navigating the world and figuring out what makes them feel happy.
The least we can do for young people is give them safety and comfort to share who they are in school. This goes for everyone, including the boy who likes to play with dolls, the girl who has a crush on another girl and the kid who likes dresses and bowties.
The Trevor Project: 1-866-488-7386
National Suicide Prevention Lifeline: 1-800-273-8255
Crisis Text Line: Text HOME to 741741
Leave a Comment
About the Contributors
Ashley Ness, Opinion Editor | she/her
Ashley is a senior from Jacksonville, Florida. She is majoring in psychology with a minor in women's and gender studies. In her free time, she enjoys going to record stores, collecting funky socks, and playing solitaire. You can also catch her cracking puns. Ashley plans to become a mental health counselor one day.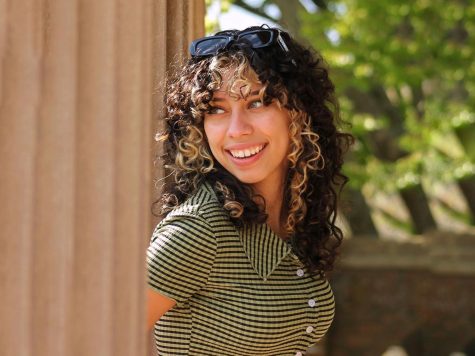 Julia Fusco, Graphics Editor | she/her
Julia is a senior from South Hamilton, Mass. majoring in media & film at Suffolk University. Julia is part of four student organizations and counting and is on the E-Board for three of them. When she isn't working at the Suffolk gym or in class, you can often find her taking time to engage in her hobbies, which includes photoshoots with her friends, graphic designing, dancing and grabbing some boba to go!