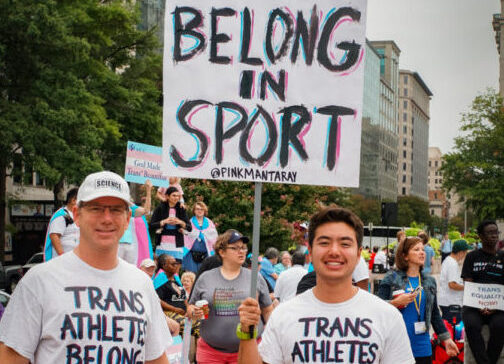 In the 2022 NCAA Division 1 Women's Freestyle, Lia Thomas won fair and square. Yet, her victory has been met with squabble and is a point of contention in sports. Her win shouldn't be regarded as controversial because it's not a controversy to begin with.
The event at the core of this so-called controversy is a 500-meter freestyle race. Thomas finished at just under four minutes and 34 seconds. Emma Weyant, the second place winner, finished just 1.75 seconds behind Thomas.
The argument is that Thomas had an unfair advantage as a transgender woman. But it only makes sense that an unfair advantage would equate to more than an under two-second difference.
The main principle behind competitive sports is fairness. Everybody deserves an equal chance to win. The main push back against the inclusion of transgender athletes regards hormones, arguing that transgender women have an unfair upper hand on their competitors because of being assigned male at birth.
But research has shown, on several occasions, that this is specifically not true. Transgender athletes do not have a physical advantage in competitive sports.
Many people recognize gender as being an entity with more facets than just being a strict binary. This is true of biological sex, too. Some cisgender women have higher levels of testosterone than other cisgender women. By that logic, wouldn't that imply that certain cisgender women have an unfair athletic advantage over others?
Florida Governor Ron DeSantis accused the NCAA of "perpetuating a fraud," which is rich coming from a politician who has repeatedly spread actual misinformation.
The fraud here is the perpetuated lie that Thomas had an advantage over her competitors. She didn't.
Further complicating the matter, 1976 Olympic gold medalist Caitlyn Jenner, a transgender woman who was not out at the time of her victory, released a statement regarding Thomas's win, voicing that it would be "common sense" to not allow Thomas to compete in women's sports. She also said that women's sports need to be "protected."
But in terms of transgender athletes in competitive sports, wouldn't "common sense" be to follow suit with reality–that transgender athletes hold no advantage over cisgender ones?
When the argument is made that transgender people have athletic advantages over those who are not transgender, this is two things: willful ignorance and transphobia. Nothing less. Why? Because the research and statistics regarding this matter are out there.
So there it is. Transgender athletes do not have athletic advantages over cisgender athletes and hormone levels vary greatly among cisgender folks of the same gender. There's nuance here.
It only makes sense that if it is so important that women's sports be protected, which it is, the women in them would be protected. This protection should not be under the condition that a woman is cisgender.
Competitive sports are about fairness. It's only fair that Lia Thomas is celebrated for the champion she is.
Follow Ashley on Twitter! @ashleyness2000