I had the benefit of being able to tour and learn about the Suffolk University Madrid Campus while I was in Spain for the Global Gateway trip, but I realized that most people don't have this opportunity: they go into their study abroad program blindly.
And while Suffolk Madrid does have a website with lots of information, it doesn't describe everything. So you may be left wondering, what's it like at the Suffolk Madrid Campus?
For starters, I think the one thing that people find most surprising when they get here is that it's really not a campus at all. It's just one building, with a few different classrooms. Like Boston, Madrid is a city, so similar to Suffolk Boston, there is no college "campus" like you would find at a regular school in the suburbs.
The Suffolk Madrid building is tucked away on a quiet side street in Ciudad Universitaria (University City), which is the university district of Madrid where most of the colleges are located. 
The class sizes at Suffolk Madrid are also very small – my history class has 11 people in it, including myself. This might seem weird to some people, but as someone who doesn't care about attending classes on a "real" college campus, I like it a lot.
I think the small size and singular building also makes for a more personable experience. The staff at Suffolk Madrid is very friendly, and it's easy to get to know them since you see them every day and there aren't hundreds of students. Professors and staff learn your name in days.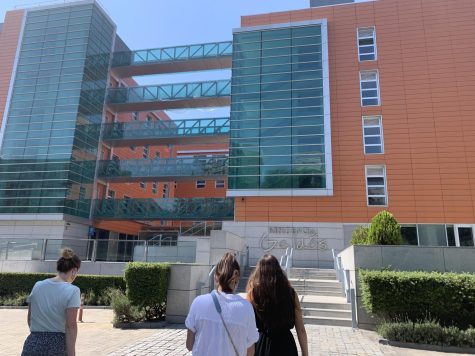 There are lots of opportunities to meet people and get involved. Several clubs are already established at Suffolk Madrid, and students are easily able to start their own. Suffolk Madrid also frequently hosts and sponsors different activities and day trips around Madrid and surrounding communities.
Another big difference at Suffolk Madrid is that the residence hall isn't a Suffolk dorm. Suffolk just pays to house their students there, and there are many other students from different universities living in the residence hall as well. So, you're surrounded by a bunch of different people, not just the students you know from Suffolk.
The dorm rooms have private bathrooms. There's a housekeeping service that comes into your room twice a week, just like a hotel, to clean, change your sheets and give you fresh towels. There's a mini-fridge, a microwave and tonsof cabinets and storage in the room. It's very nice, and I've been pleased with everything so far.
There's a dining hall in the residence building, where they serve three meals per day. This is included in the cost of going to Suffolk Madrid, and there are no meal swipes or dining dollars or anything like that. There are fewer meal options at the dining hall here compared to the Boston campus. There's usually a couple choices with each meal.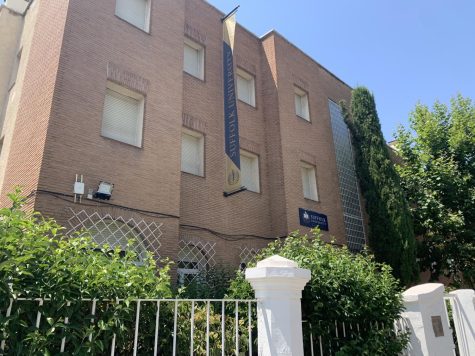 Also, the dining hall closes and doesn't serve food in between the designated meal times. This is definitely one of the (few) downsides of being here. If you're hungry during a time when the dining hall is closed for a few hours, or you have class all day and miss lunch, you're kind of out of luck. Thankfully, there's plenty of room to keep snacks in your room or you can go out and try all of the delicious food Madrid has to offer!
Lastly, I know that one of the big things I was concerned about before coming here was how I was going to be able to use data on my phone. Suffolk Madrid actually gives each student a Spanish SIM card, which is so great! We have 12GB of data to use per month and it works all throughout Europe, which makes traveling a breeze!
While life at Suffolk Madrid is certainly different compared to Boston, I found adjusting to things to be fairly easy. I haven't had any problems yet, and I would encourage everyone to step outside of their comfort zone and consider studying abroad!