I just got back from Lisbon, Portugal, which was the last trip I had booked for the semester. Lisbon was beautiful, the weather was sunny and warm and we ate some very delicious food. Lisbon has a lot of amazing brunch restaurants and it reminded me of typical American breakfasts, which I miss a lot.
However, this was my sixth weekend in a row traveling, and I'm so exhausted.
Pretty much every trip I've taken this semester follows the same pattern: taking an early morning flight to another country on Friday, starting sightseeing right upon landing, getting up early Saturday to continue doing all the touristy things and then flying back to Madrid on Sunday, once again usually early in the morning.
No one talks about how tiring that is! Especially trips like those, where there are so many historical sites to see and you walk miles and miles to get to all of them. 
I've never traveled this much in such a short period of time before, and the past couple weeks I could definitely feel myself slowing down. While in Lisbon, my friends and I agreed to take a slower approach, allowing ourselves to sleep in and doing some more relaxed things instead of running around all day hitting every major tourist attraction.
I definitely don't regret going on all of these trips and being that crazy tourist that woke up at 7:30 a.m. to do everything. I think it was necessary for cities like Paris and London, where there are dozens of iconic sites and monuments to see. Better do them all, because who knows if I'll ever have the chance to go back?
With that being said, I appreciated the more relaxed trips I took as well, such as to Morocco and Lisbon. I also definitely saved money on the less crazy trips, because I wasn't paying a ton of entrance fees or anything. 
This semester has definitely been expensive, easily the most money I've spent ever, but again, I have no regrets. The way I see it, once I leave Europe in a few weeks, it will cost me thousands of dollars to ever come back and just go to one country, never mind seven.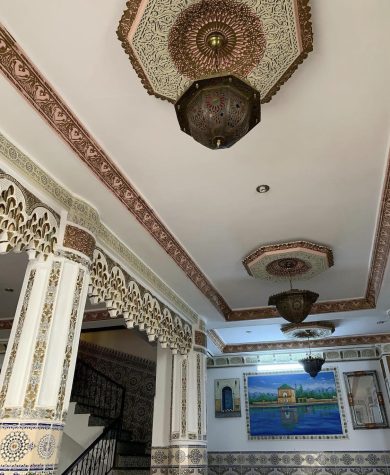 The other reality of visiting a new country virtually every weekend is that I didn't get to explore much of Spain itself. As much as I would've loved to, because I really enjoyed my trips to Barcelona and Valencia and I'm sure other parts of the country are just as beautiful, there just isn't enough time in the semester.
If you study abroad, you definitely have to consider what's more important to you: exploring the country you're staying in, or seeing as much of Europe as you can. Unless you're studying abroad for more than one semester, it's nearly impossible to do both.
Exploring Europe was more appealing to me, but if I ever have the chance to come back, I really want to visit other parts of Spain. 
I'm still in awe that I've been able to visit so many countries and see so many once-in-a-lifetime things these past few months. The time has flown by, especially the past six weeks where I was busy literally every weekend. 
I'm excited to spend my last few weeks in Madrid, relaxing and crossing off all the things I haven't done here yet. If you need me: I'll be in bed — I have some sleep to catch up on.