Going to and from class in the winter is already a challenge. The wind, snow and ice make most students cower while walking to and from class. 
However, despite these less than ideal conditions, many Suffolk students relish the chance to try out the new fashion trends that come with each season. 
Influences from TikTok, Instagram, celebrities and the city itself offer inspiration for Suffolk students. For better or worse, here are the top six winter trends making an appearance on campus this semester.
Big Patterned Scarfs
Not only do these scarfs provide a safeguard against the cold but they have also become a staple fashion piece. Adding one of these scarfs to an outfit for more of a unique look has become a common tactic used among Suffolk students. 
Skyler Overton, a Suffolk freshman, likes to style them with a basic outfit.
"I think big patterned scarfs are nice but I think they have to be with simple pieces," she said.
Chunky Boots
Chunky boots in recent years have become more common year-round due to brands like Dr. Martens, but no one can disagree that winter is without a doubt their time to shine.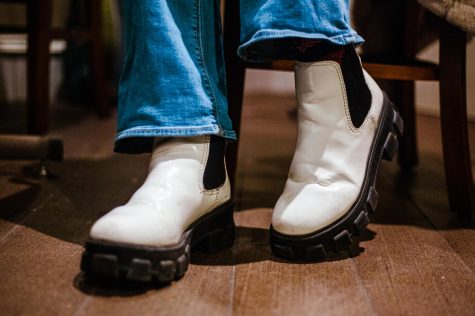 With many varieties and styles, these boots give an outfit a little extra edge. But for Suffolk student Ava Leombruno they aren't a style she personally prefers.
"I'm not a fan…Big black boots, I don't really like them. I don't like the big platforms. I like the regular Dr. Martens and I like plain black boots with a little bit of heel," Leombruno said.
However, Overton disagrees. 
"I love a good chunky boot. I'm wearing a chunky boot, I love her," she said.
Puffer Jackets
The puffer jacket has been a clear trend all over campus this winter and has been finding its way into practically everyone's closet. With influencers such as Emma Chamberlain and Kylie Jenner sporting the look on Instagram, it's no surprise that students have followed suit and discovered a new favorite fashion item. 
Student Elsa Edgar gushed about these trendy jackets.
"I do have to say I love them. I am a big fan," she said.
Leombruno is in agreement. Both of them love the style and own one themselves. 
Sweater Vests
Another popular look this winter are sweater vests. Often styled with a turtleneck or button-up shirt underneath, many outfits around campus have been utilizing this piece. 
However, it is not loved by all.
"I don't like the sweater vests, it just reminds me of a dinner party with people you don't like," Leombruno said.
Edgar said she finds sweater vests to be slightly intimidating. 
"I'm trying to get into those but I think it's going to take me a little while. Like, I like them on other people but I couldn't rock them myself," Edgar said. 
Overton also finds it difficult to get on board with the trend. 
"I try to be a sweater vest person. I like it on other people and then I try it on and I'm like, 'I look like an eight-year-old boy'," Overton said.
Perhaps the sweater vest can only thrive on Pinterest and Instagram. 
Faux Fur & Pom-Pom Hats
Fur coats and hats have been recently making themselves known in and around the city. With the extreme weather, many students have picked up this style, not only to stay warm, but to also make a statement. 
Edgar decided that she was on board with the fur coats. 
"I love the fur coats, especially Jennifer Lopez's in the movie 'Hustlers,' like I watched that movie and I was like, 'I need a fur coat,'" she said. 
Yet when it comes to any type of fur on hats, such as pom-pom hats, she ultimately decided that it wasn't for her. 
Overton is more indifferent when it comes to fur on hats. 
"It's definitely never going out of style, you saw it 10 years ago, you'll see it today," Overton said.
Shackets
Lastly, a newer piece that has gained more traction in the past months have been shackets – a cross between a shirt and jacket. 
Stores such as Urban Outfitters, Nordstrom, Zara, along with others have been placing them on the racks, ready for customers to partake in the new trend. 
Although she owns a flannel shacket herself, Leombruno is a little reserved about it becoming more trendy. 
"The trend will just die. I like staple pieces. I don't like things that die out and when I own it and it dies out, I'm like, 'I don't want to wear it any more'," she said.
With the winter 2021/2022 fashion season coming to a close, students have started to brighten up their wardrobe for spring. With trends constantly shifting and changing, it'll be exciting to see Suffolk students' new outfits for the upcoming season. 
Follow Lilly on Twitter @LillyMiron.