After 22 seasons in the National Football League (NFL), Tom Brady, seven time Super Bowl champion, five time Super Bowl MVP, three time league MVP and much more, has retired.
Brady took to Instagram on Tuesday morning to make his announcement citing his reason; he is no longer 100% competitively committed to football.
"I've done a lot of reflecting the past week and have asked myself difficult questions. And I am so proud of what we have achieved. My teammates, coaches, fellow competitors, and fans deserve 100% of me, but right now, it's best I leave the field of play to the next generation of dedicated and committed athletes," Brady said.
The 44-year-old quarterback is coming off of a season where he set career high and NFL best in yards and touchdowns. Brady and the Tampa Bay Buccaneers eventually lost in the Divisional round to the Los Angeles Rams 30-27.
For 20 years, Brady led the New England Patriots franchise to a level of success that is seldom seen at the professional level. After being selected 199th overall by the Patriots in the 2000 draft, Brady-led squads amassed 17 AFC East titles, eight AFC titles and six Super Bowl rings. 
The problem some Patriots fans are having is that nowhere in Brady's eight slide retirement post did he mention his time in New England.
"Brady has always been a class act," said Suffolk senior Devon Distefano. "But not mentioning or showing appreciation to the city and franchise that you shared countless memories with for two seconds didn't seem fair, it felt like a stab in the back."
Brady later added a message to his Instagram story saying, "Thank you Patriots and Patriot nation, beyond grateful and love you all…couldn't have dreamed of a better ride"
The Patriots and owner Robert Kraft released a statement this morning following Brady's announcement.
"Words cannot describe the feelings I have for Tom Brady, nor adequately express the gratitude my family, the New England Patriots and our fans have for Tom for all he did during his career. A generation of football fans have grown up knowing only an NFL in which Tom Brady dominated," said Kraft.
One thing is certain: Tom Brady still has New England and American fan's emotions in his grip. 
"Brady has made football so fun for me to watch. From his fourth quarter turnaround during the Super Bowl when he played for the Pats v. Falcons, and his recent Super Bowl win," said Taylor Hamparian, a junior at Suffolk. "He was the 199th draft pick during his drafting season and look at him now. I don't think he's fully done yet. He wouldn't retire over a loss, I think he has more to achieve."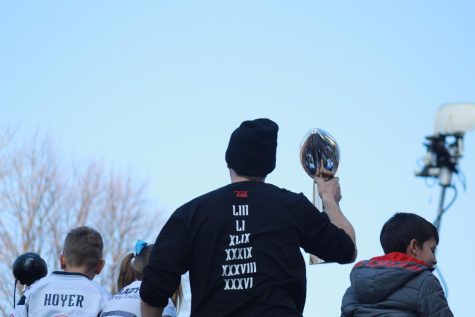 In another blow to Patriots fans, the Las Vegas Raiders held a press conference on Monday to introduce Patriots offensive coordinator Josh McDaniels as the team's next head coach. Joining him in Vegas will be Dave Ziegler, the Patriots' director of player personnel, who will become the Raiders' general manager. 
McDaniels and Ziegler will look to take their history of building top-tier offenses to an already playoff-level Raiders team, who Derek Carr led to the postseason this year before losing to the Bengals 26-19 in the Wildcard round.
McDaniels will have his work cut out for him in an organization that has been subject to controversy over the past year, including the resignation of head coach Jon Gruden over past emails with racially insensitive language. The Raiders AFC West Division is arguably the best in football, with the Kansas City and Las Vegas Raiders both making the playoffs this year, and the Los Angeles Chargers missing out by only one game.
"I'm clear in the vision I have for this role, for this job, for this team." McDaniels said . "I'm going to be myself and I think that's really important for me and this organization as we go forward."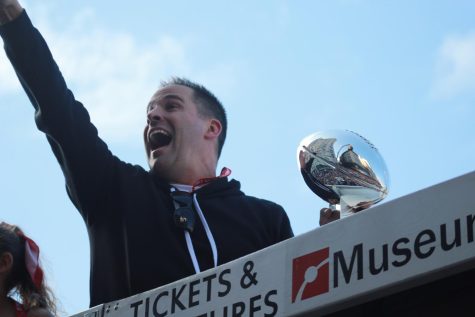 This is not the first time McDaniels has been offered a head coaching position. In 2018, McDaniels verbally agreed to become the next coach of the Indianapolis Colts before agreeing to stay as the offensive coordinator for the New England. But this time, McDaniels will be leaving Foxborough for good. 
McDaniels' departure comes at a unique period for the Patriots. With the development of Mac Jones and an offense powered by last offseason's big signings, the next coordinator will have the difficult task of picking up where McDaniels left off, with a core that many argue still has much untapped potential. 
It's still unclear who will replace McDaniels, but ESPN's Adam Schefter has said to keep an eye on the University of Alabama offensive coordinator Bill O'Brien. 
O'Brien, a Dorchester native, was the Patriots offensive coordinator from 2007-2012 before taking the head coaching job at Pennsylvania State University.
Follow Nick on Twitter @NFrieburger
Follow JD on Twitter @jdconte617