The Suffolk University's Ram's Men's and Women's hockey teams are off to hot starts for 2022.
The women's team is 5-2 after Suffolk's winter break while the men's team is 3-1.
The women's team's impressive play since their return to the ice in January mirrors that of the first half of their season, where the team went 9-1, including an eight game win streak to start the season.
The Rams limped into winter break on the heels of a loss at Western New England and a tight overtime win at Trinity College in early December. After the month-long break, the Rams came out flat against Connecticut College, getting shut out to start off the new year.
"We started off with a loss which wasn't ideal by any means, but it was kind of a good way to get our feet moving," head women's hockey coach Taylor Wasylk said. "We historically came out a little slow in that first game.  It's an out of conference game, that's why we have those. We kind of use them as a tune up."
The Rams would shut out Western New England in their next two games coming off the loss, as well as two more wins against Nichols College the following week.
"That was really good for us," Wasylk said. "I felt like we really grew up a lot that weekend and it really prepared us for Endicott (College)."
Suffolk would go on to beat nationally ranked No. 8 Endicott with a late game goal on the road in the first game of their series.
"The kids did every single thing we asked of them," Wasylk said. "All the little non-talent things were really what won us the game."
Wasylk had high marks for her team on both ends of the ice, crediting much of her team's recent success to goals from players that aren't her usual goal scorers, as well as the play of first-year goalie Lily O'Neil.
"She's been on kind of a hot streak so we've been rolling with her," Wasylk said. "We have three great goalies … It's nice to have three people back there that you can fully depend on."
O'Neil, who was awarded Ram of the Week and CCC goalie of the week honors, credits a lot of her team's success to their ability to go into every game fresh.
"We don't think of games as winning streaks or anything," O'Neil said. "Every game is a clean slate."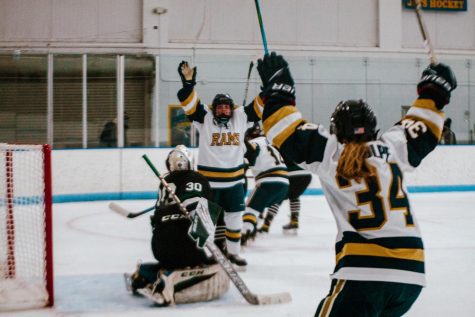 O'Neil also credits her success to the play of her teammates who've been able to score a high amount of goals.
"They have my back if I let in a goal or two," O'Neil said.
The women's team would drop game two of the Endicott series in a close 3-2 loss on Monday.
The men's team bounced back from a lackluster first half record to win three straight games after a loss to Salem State University in their return to action in January.
"I wouldn't say we were surprised with our play or disappointed with the first half of the season. We are the youngest team in the CCC so we knew we would continue to improve," said men's hockey head coach Chris Glionna.
The men have benefited from the hot play of seniors like forward Shawn Montgomery.
"It was good to come back and have a strong start," Montgomery said. Montgomery added that the team's record before the break didn't reflect the team's play and that they were often on the losing side of close games.
"Our schedule is one of the hardest in the nation so we are playing the top team every night," Glionna said.
The men most recently beat nationally ranked No. 14 Endicott on the heels of a shootout win at Western New England.
The Rams narrowly won their game against Endicott, closing out the back and forth battle with a late game goal from Junior forward, Nick Lachaine, to close out the 3-2 victory.
"With the rankings it doesn't really bother us," Montgomery said. "I think that our team can play with anyone in NCAA DIII."
The Rams' stretch was reflected in their recent accolades, with junior goalie Cal Wilcox winning CCC goalie of the week honors for his play and sophomore defenseman Sam Rand winning CCC rookie of the week.
Lachaine won CCC player of the week honors as well, the first Ram to do so since 2018.
"We're playing the right way," Wilcox said. "I'm a product of the team in front of me and am feeling great."
Men's hockey went on to win 4-2 over Western New England Tuesday.
The women's team will play next at Curry College on Friday, with a home game Saturday against Salve Regina at 7 p.m. at the Emmons Horrigan O'Neil Memorial Rink in Charlestown.The women's team's next game will be against Curry College at 6 p.m. Friday in East Boston at the Louis E. Porrazzo Memorial Skating Rink.