Spring semester brings changes to COVID-19 testing protocol
Amidst another wave of COVID-19 cases slowing down and the start of a new semester, new testing guidelines are taking shape on campus. 
Residential students are no longer required to participate in weekly surveillance testing, according to an email sent to Suffolk University's community Jan. 19.
The email outlined changes being made to Suffolk's testing protocols, including stricter testing on unvaccinated students and expanded testing hours. 
As of Monday, the voluntary testing program will be open Monday through Wednesday from 7 a.m. to 8 p.m., coming just in time for the return of in-person classes.
Testing sites located in the residence halls will still be open for students living on campus, and the testing site in the Amenities Room at 73 Tremont will continue to function as voluntary testing for all students, staff and faculty. 
Residential students were required to test upon their return to campus for the Spring 2022 semester and did not need to isolate while waiting for their results. All student-athletes and unvaccinated students and staff are required to be tested twice a week. 
Isolation and quarantine protocols have also changed for the new semester. The university is now advising COVID-positive residential students to return to their homes for the duration of their isolation period.
Connor Madsen, a sophomore studying public relations, said he wouldn't feel comfortable traveling while COVID-positive.
"I wouldn't want to put my family at risk and go home. I wouldn't want to cross state borders and infect someone else. I just think it's too risky," Madsen said.
Previously, the university had designated isolation rooms for residential students who tested positive for COVID-19 so they could safely isolate. With the new protocol, students are being asked to stay in their current rooms if they can't go home.
"Both of my parents are nearly 60. I'd be worried bringing COVID to them," Madsen said.
Students unable to return home are required to isolate themselves in their room for five days following their positive test and until they are no longer symptomatic according to the new protocols. For students living in residence halls with communal bathrooms, this makes total isolation virtually impossible.
The university will be providing pre-ordered food and KN95 masks for any students that are COVID-positive. These items will not be delivered directly to students' rooms, however; infected residents will have to pick them up in their dorm's designated areas. 
Students can submit "emergency" meal requests by texting 857-763-5518 if they are in isolation or quarantine and haven't been able to order a meal ahead of time.
These changes follow a spike in positive cases over winter break. The majority of these cases were reported outside of Suffolk's testing program, meaning students and faculty self-reported their positive tests to Counseling Health and Wellness.
Madsen said he was frustrated with the updated testing policy and the two-week virtual period. 
"They should have made everyone come back at the normal time," he said.
Kim Castle, a sophomore, also lives in 10 West. She said regular testing for residential students was an important part of keeping campus safe. 
"I feel it's a bit too soon to stop having residential students testing only because it could cause another spike on campus," Castle said. "I [did] like having that extra measure of testing to reassure [me] that I don't have it, and that the people around me don't have it."
A follow-up to Kelly's announcement was sent out Jan. 28 from Laura Ferrari, acting-vice president for Student Affairs and Dean of Students. In it she reiterated the changes being made, and stressed the importance of community members getting their booster shot as soon as they are eligible.
"The vast majority of our community members are very well protected against severe illness from COVID-19. Booster shots, as well as recent COVID infection, provide a significant boost to one's immune system which makes our community that much safer," Ferrari wrote.
The university is requiring all students and faculty who do not have a medical or religious exemption to get the booster shot by March 1.
For COVID-19 campus updates and frequently asked questions, visit the university's COVID webpage.
Leave a Comment
About the Writer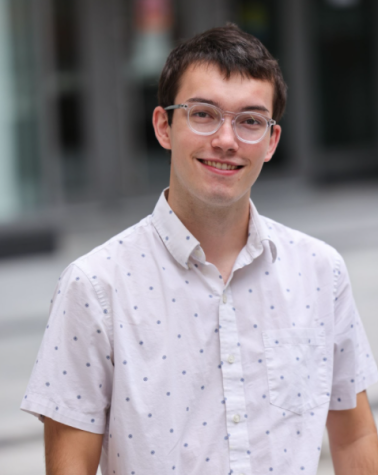 Jacob Murphy, Meteorologist/Staff Writer | he/him
Jacob is a senior studying broadcast journalism with a recently added environmental science minor. Growing up in Old Orchard Beach, Maine, Jacob got his start on the journalism track with his passion for weather forecasting and storm chasing. He ended up falling in love with the newsroom and hopes to one day become a weatherman. Outside of The Journal, Jacob spends a lot of his time acting as the President of Suffolk Volleyball Club; a club which he founded his freshman year.
Follow Jacob on Twitter: @jafreese02