'Midnight Mass' brings religious horror to Netflix
This article contains spoilers. 
October welcomed in a host of spooky TV shows and movies to lay the groundwork for a good Halloween season. Mike Flanagan continued his horror takeover at Netflix for a third year with the release of his new horror miniseries, "Midnight Mass."
Flanagan is known by fans largely for his previous work in the genre, including sibling shows "The Haunting of Hill House" and "The Haunting of Bly Manor."
Actors such as Kate Siegel (Flanagan's wife), Victoria Pedretti and Rahul Kohli played roles that stretch across multiple series, keeping all of them somehow connected in the same twisted universe. 
"Midnight Mass" dropped audiences right into a small fishing town. The island seemed as though it was frozen in time, looking every bit like it could be the 1980s despite cultural mentions of events such as 9/11, proving it isn't. 
Flanagan keeps the timeframe vague, as well as the setting, to show that this could be anytime, anywhere. 
Religion, namely Catholicism, is the major tone of the entire series. A single small church tied everyone on the island together, whether they wanted it to or not, and that is where the trouble started.
At the center of that church was a missing-in-action priest, whose new replacement brings more questions than he does answers. The priest, played by Hamish Linklater, easily won over most of the town with his young, good looks and charming nature. 
"Midnight Mass" has a slower start to the major plotline than one would expect from a seven-episode show. 
The first three episodes are used to mostly show strange things that are happening around the town, and only when the fourth episode hits do we get to understand what is really going on. Even so, the pacing of the end of the show feels natural and well done. 
Tying together religion and horror is something that has been done countless times before, but Flanagan does it in a new and interesting way. 
Instead of shying away from combining Catholicism and supernatural beasts, he married them together. 
The believers of this town think they have been visited and touched by an angel and have a duty to fulfill for God. In actuality, the "angel" is a vampire that fed on the town's priest before sending him back three decades younger with a job to do. 
One of the most riveting performances in the entire show is given by Linklater, the priest himself, where he tells the story of how he met the "angel." The entire monologue is filmed inside of a church confessional with a profile view of Linklater lit up only through the lattice panel in front of him. 
This show has a more tangible killer than either of "The Haunting" shows, with plenty of jump scares to keep a traditional horror fan interested. The added religious lens gives the series a philosophical horror spin that sets it apart from its Netflix miniseries siblings. 
"Midnight Mass" tackles the idea of struggling with religion, battling alcoholism and the question of "what if a small island population turned into cannibals?" It is a must-watch if you aren't ready to give up on the Halloween spirit just yet. 
Follow Hailey on Twitter @haiIeycampbell.
Leave a Comment
About the Writer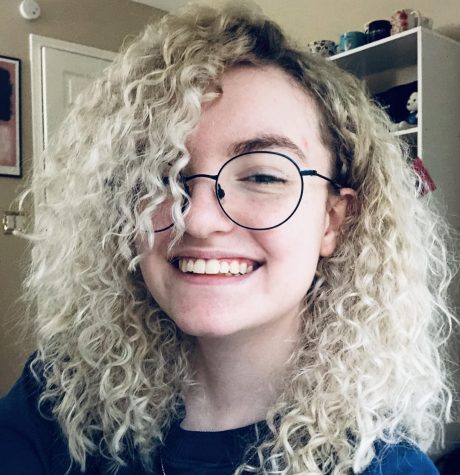 Hailey Campbell, Staff Writer | she/they
Hailey is a sophomore from Houston, Texas, and is a political science major. She enjoys spending her free time collecting coffee mugs, catching flights and wandering museums. She has moved around the country a ton and will happily talk your ear off about it. After graduation, she wants to be a lawyer in a big city.
Follow Hailey on Twitter
@haiIeycampbell