Red Sox ALCS preview
After winning the American League Division Series in four games, the Red Sox have moved on to the American League Championship Series to face the Houston Astros. 
The Red Sox will go into this series as underdogs, just as they did against the Tampa Bay Rays during the Division Series. 
In this series, the Red Sox pitching, including their often-unreliable relievers, will need to step up as the Houston Astros batting is nothing to take lightly. 
The Astros led the league this year in hits, runs, runs batted in and batting average, according to stats logged by FOX Sports. On top of this, the Astros came second in on-base plus slugging, a stat which the MLB's website says is "meant to combine how well a hitter can reach base, with how well he can hit for average and for power." 
However, if the Red Sox' offense can remain hot in this series, they have what it takes to match the Astros. Although Boston has played one more game than the Astros this postseason, the Red Sox have scored one more run, have hit seven more home runs and lead the Astros in every major batting percentage so far in the playoffs. 
Multiple Red Sox batters have stepped up so far this postseason, including catcher Christian Vasquez, utility player Kiké Hernandez and first baseman Kyle Schwarber. 
"Kyle Schwarber seems built for the playoffs. He was a playoff hero for (his former team) the Cubs, and he's been really great so far," said Sean Moriarty, a marketing major and Red Sox fan at Suffolk. 
"I don't know how stable the Kiké Hernandez hype train is, but he also looked really great. It's been a team effort, but I think it's gonna come down to Schwarber and maybe [Xander] Bogaerts," Moriarty continued.
Due to the skill of both offenses, pitching in this series will likely decide who moves on to the World Series. 
There's hope for the Red Sox' pitching, as there's still an x-factor in the pitching staff that could help the Red Sox keep the series competitive: left-hander Chris Sale. 
"I really hope he can put together a good performance against one of the best offenses in the league, because he has to or else this season's gonna end next Tuesday," said Moriarty.
Chris Sale, often regarded as one of the best pitchers in the MLB when healthy, didn't do well in his start against Tampa Bay, only lasting a single inning in that game. If Sale can put it together in this upcoming series, the Red Sox will certainly have a chance of going to the World Series. 
Part of a good pitching performance is the ability of the coach to choose the right time when to pull pitchers from the game. 
Alex Cora will need to have a stellar performance himself if he wants to win the series against his former team. 
The Red Sox certainly trust Cora, as the organization previously made the decision to fly to Puerto Rico to meet with Cora in hopes of him re-signing with the team, even after the fallout of the Houston Astros cheating scandal which he was involved with.
So far, Cora has a stellar postseason record of 15-4. While Astros coach Dusty Baker doesn't have as stellar of a postseason record, he's a very experienced head coach who's been coaching in the Majors since 1993 for various teams. 
This will likely be a well-coached series all-around, and it's up to the players to step up and show how much they want to make it to the World Series. 
On paper, the Houston Astros are the better team, but the good news for the Red Sox is that baseball games aren't decided on paper, they're decided on the field.
The Red Sox are certainly an underdog coming into this series, but they're not a lowly underdog.  
This is a team that was once predicted to not make the playoffs that's now one of four teams remaining.
If the Red Sox offensive hot streak can be maintained and the pitching regains their ability to maintain a lead, they will certainly have a chance to prove everyone who doubted them wrong and make it to the World Series. 
Game 1 will take place Friday in Houston at 8:00 p.m.
Leave a Comment
About the Writer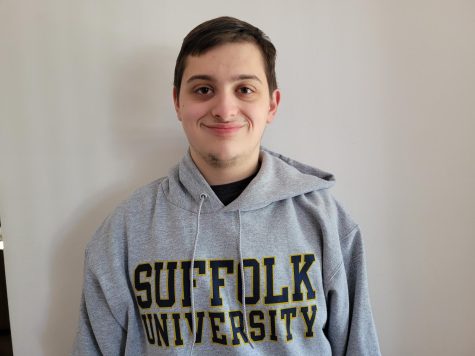 Joseph Dimino, Staff Writer | he/him
Joe is a junior journalism major from Revere, Mass. When he has free time, he can be found in Suffolk's VGA room or watching Boston sports. He's particularly a fan of the Celtics, Patriots, and Red Sox! When he graduates, he hopes to become a sports journalist covering Boston sports.