The new season of 'Sex Education' tackles difficult issues
The third installment of the Netflix original series, "Sex Education," hit the streaming platform mid-September. Known for its fearlessness in bringing up and handling difficult subject matters, the show remained true to its original two seasons. 
Unlike many other high-school based shows, "Sex Education" takes place in a world where teenagers are owning their sexuality, along with the issues that come with it, and work together to create a safe space for one another. The characters continue to grow, making way for new plot lines and issues. 
Even the adults in the show are realistic, with such attuned, real-world problems that older audience members can relate to. This includes one woman balancing a pregnancy with her estranged boyfriend while being almost 50, and another discussing infertility and the toll it can take on women's psyche. 
This season also features teacher abuse toward students, coming to terms with death and struggling with depression after having an identity crisis. 
The two main characters, Otis (played by Asa Butterfield) and Maeve (played by Emma Mackey) explore new relationships this season. Their love triangles, as always, are entertaining and truthful. 
Two of the most interesting story lines stemmed from previous seasons, as side characters emerge with their own plot lines. These characters, Aimee (portrayed by Aimee Lou Woods), who was sexually assaulted last season, Eric (played by Ncuti Gatwa) and Adam (played by Conner Swindells) are the ones to watch. 
Aimee, in an unfortunately relatable story arc, struggles months later with her feelings about her assault. Though she hilariously tries to salvage her relationship with her boyfriend, even going so far as to get a "therapy goat," she still feels the impact of her experience. 
Speaking to Otis' mother Jean, a sex therapist, the audience sees one of the more beautiful moments of the series. As Aimee worries that she feels at fault for her attack, Jean steps in and tells her "What that man did to you on the bus has nothing to do with your smile or your personality and is only about him. And it is absolutely not your fault." 
Aimee laments that she just wants to feel like her old self. That's when Jean says an even more important truth: "You may never be the old you, Aimee. But that's OK."
These words are so impactful and heartbreaking, especially considering how many sexual assault survivors blame themselves. These words are what those survivors need to hear and having it on an influential show is a step in the right direction. Survivors need to know they can still grow and move forward after their attacks.
One of the LGBTQ+ couples on the show, Eric and Adam, are the epitome of what the show is about. From enemies to friends to lovers, the growth of their relationship and their character development is something rarely seen on television. 
As Adam struggles to come to terms with his sexuality, Eric struggles with his boyfriend being in the position he has just gotten away from. Eric is secure and happy in his sexuality and worries that Adam isn't as invested in their relationship. 
From one of the most upsetting character interactions to watch, to the most playful and loving couple in the show, Eric and Adam steal hearts this season.
This series should be commended. Its humor, realism, inclusivity and both teen and adult struggles makes "Sex Education" one of the best shows out there.
Follow Ashley on twitter @Ashleyfairchi14.
Leave a Comment
About the Writer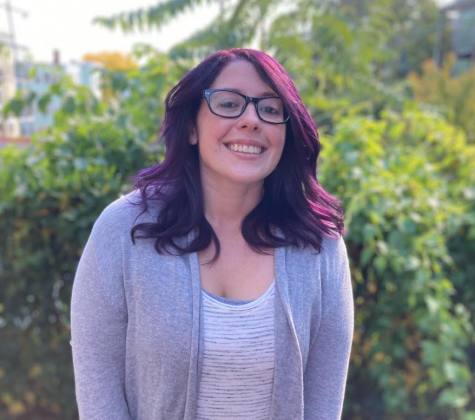 Ashley Fairchild, Asst. Copy Editor | she/her
Ashley
is a senior majoring in print/web Journalism. Outside of Suffolk, she can typically still be found with her nose in a book and her hand wrapped around a coffee mug. She enjoys lifting weights, finding new cafes and most importantly, playing with her dog, Pepper.
Follow Ashley on Twitter @AshleyFairchi14