Back to school, back to music: September 2021 wrapped
Summer is over and fall is here, happy October and welcome back Rams! With cooler weather and spooky season creeping in, grab a mug of hot apple cider and take some time to listen to the best new releases from September of 2021! 
Listen to my September Wrapped playlist on Spotify, featuring some of the songs listed here as well as others I've had on repeat this month. 
"Certified Lover Boy" by Drake 
Drake's highly-anticipated "Certified Lover Boy" dropped on Sept. 3, after being pushed back from its original January release date. The album cover quickly became a popular image across social media platforms, with many artists making their own version both as a joke and in support of the Canadian rapper. The album dropped only days after Drake's longtime rival Kanye West released his new album "Donda," which was met with mixed reviews by critics and fans, but did top the Billboard 200 albums chart. 
The album opens with a track titled "Champagne Poetry," and it's one of the best on the album: the beat is fantastic and meshes perfectly with Drake's rhythm. The sampling is incredibly well done, and as a whole the song is a form of poetry. The album features many other hip-hop artists, including Lil Baby, JAY-Z, Travis Scott and Future as well as a handful of others. Songs such as "Way 2 Sexy" and "Girls Want Girls" have already been turned into TikTok sounds, and are currently taking the app by storm. Overall, the album is a true representation of Drake as an artist and producer, but nothing particularly revolutionary for the rapper.
"I Still Have Faith in You" and "Don't Shut Me Down" by ABBA 
ABBA is back! After 40 years of being separated, the Swedish pop group has returned with two new singles, and the hint of another album and virtual concert on the way.​ They shot to fame in the 70s with hits such as "Dancing Queen" and "Fernando," and have been iconic ever since. The band's discography also provides the soundtrack to the jukebox musical "Mamma Mia!," which was popularized by the film version starring Meryl Streep and Amanda Seyfried.
As for the new singles, the band sounds the same as it did 25 years ago. The first track, "I Still Have Faith in You," is reminiscent of their older ballads, and "Don't Shut Me Down" is a slightly newer sound for them. Both tracks are produced spectacularly, but the instrumentals are nothing new. Though the lyrics and rhythms are very similar to tracks we have already heard from ABBA, they still have fans counting down the days until the album release, which is set for November. 
"MONTERO" by Lil Nas X 
Arguably one of the best albums this year, Lil Nas X has dropped his debut album and it is racking up the credit it deserves. After teasing with singles such as "MONTERO (Call Me By Your Name)" and "INDUSTRY BABY (feat. Jack Harlow)," Lil Nas X released the 15-track album on Sept. 17. 
In order to build anticipation with fans and the press, Lil Nas staged a full-blown pregnancy, with the 'due date' being the release date. The PR stunt was detailed, with pictures, "homemade" family videos and even a People Magazine exclusive story. 
The album itself is genuinely a masterpiece. Lil Nas X had much to live up to after his single "Old Town Road" topped charts and broke records in 2019, and he outdid himself. Where "Old Town Road" is fun, catchy and a great pop single, "MONTERO" shows an entirely different side of the pop-rapper. The vocals alone make this album worth listening to, but the lyrical writing and production value is out of this world for a debut album. On top of Nas's own talent, the star brought in powerhouse artists like Megan thee Stallion, Miley Cyrus and Elton John as features to amplify the value. Lil Nas X does a phenomenal job at creating a fun pop album, but touches on intensely personal and important topics such as his sexuailty and isolation in the later tracks. 
"star-crossed" by Kacey Musgraves 
After her recent and public divorce from Ruston Kelly, country artist Kacey Musgraves has released her fifth studio album: "star-crossed." Released on Sept. 10, the album details Musgraves' recent relationship troubles and sheds light on an important side of breakup songs: divorce songs. 
The content of the album came as a shock to some, as Musgraves' fourth album "Golden Hour," had many love songs about the singer's relationship with her then-husband. The artist cleared up any suspected hate towards her former partner on NPR, saying "you can easily say ["star-crossed"] is a post-divorce album, which yes, it is factually on paper. But this album is full of a lot of love and gratitude for that person, for Ruston, for my life and my ability to explore all the emotions as a songwriter."
The album tells a story. The title track opens the album, and the composition is whimsical and sets the listener up through a "Romeo and Juliet" and Greek tragedy sort-of theme, where Musgraves got her inspiration. The instrumentals are fantastic, and Musgraves writing is another level. The personal aspect of the album makes it so interesting and intimate to listen to, and the vocals are heartbreaking. Songs such as "good wife" and "cherry blossom" have an interesting harmony pattern, and the production shows how seasoned Musgraves is within this industry.
"Wildest Dreams (Taylor's Version)" by Taylor Swift 
Taylor Swift, who is in the middle of promoting the re-release of her fourth studio album "Red," surprised fans and dropped the "Wildest Dreams (Taylor's Version)" single. The track, which topped the charts in 2015 after its original release, is off of Swift's fifth studio album, "1989." 
Fans were confused at the drop, but it seems Swift chose to release the song after a TikTok trend featured the original version, in order to claim all profits and funds that came from the exposure. Swift has been re-recording and re-releasing her first six studio albums as her original label, Big Machine Records, and Scooter Braun (a popular artist manager) have ownership of her masters and retain any profit from them. Swift is credited as a writer on each of her first six albums, and it is suspected she is attempting to reclaim her life's work.
"Wildest Dreams (Taylor's Version)" is nearly identical to the original release, however the fact that Swift owns it makes it a hundred times better to listen to. Swift's actual heartbeat provides the beat to the song, which is one of the coolest techniques used in a pop track to date. Swift's voice has clearly changed over the last few years, and her overall tone is much lower. Despite the lower harmonies and notes, Swift manages to still hit the high notes flawlessly. Swift also makes the choice to isolate the first of the range of the bridge in this version, showing off her striking vocals. This surprise drop was a welcome one for fans, who hadn't heard anything from the star since her release of "Fearless (Taylor's Version)" back in April.
Follow Emily on Twitter @emilyhbeatty_.
Leave a Comment
About the Writer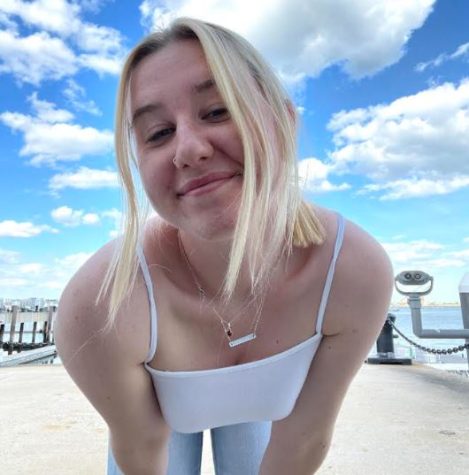 Emily Beatty, Arts & Entertainment Editor | she/they
Emily is a senior English literature and print/web journalism double-major from Canton, Mass. After joining The Journal amidst a pandemic, Emily can be found writing about all things music and pop culture. When not writing, she can be found working, listening to music (probably Taylor Swift) and with a half empty cup of iced coffee in hand. After graduation, Emily hopes to continue to cover music for local publishers in Boston.