Career Center rebrands to promote equity
Suffolk University's Career Center underwent a rebrand, becoming the Center for Career Equity, Development and Success. Dave Merry, the Associate Provost and Executive Director, said the change of name came to reflect the growth that the center has made recently.
"Over the last year we have been growing the Career Center, it is four times as big now… We thought it was important for our students, faculty and employers to know that this is a different place." Merry said.
The Career Center found that equity was the main focus in their rebranding. By including equity directly into the name of the center, it brings forward the Career Center's support for students that are underrepresented in the workplace. 
 The Career Center changed how they reach out to students. Previously, the staff was brought on as general career specialists. 
With the new setup, there are now nine Career Community Advisors where students can get specific guidance on their desired industry, both based on their major and outside of their degree field. 
Students with majors are automatically tagged to a Career Community, and have the option to join others outside of their major. These communities connect students to alumni, employers and other students that are interested in the same types of careers and ensuring correct career advising.  
New opportunities for students have grown from these specialty communities. The Career Center is now breaking in more employers for casual talks, more mentoring programs with alumni and separate LinkedIn groups for each Career Community. 
The Career Center had an easy time adjusting from a fully online existence to a hybrid, more in-person world.
Merry mentioned that "one of the unique things about our team is that three quarters of [the Career Center team] joined during the pandemic. A lot of people, including myself, interviewed and started at Suffolk remotely."
Because of this, the center recognizes how important in-person events are to students now. 
Merry said, "There is something about meeting an alumni or employer in person that you cannot replicate virtually." 
"We're keeping the things that work really well in a virtual environment. We know students might want to have a quick meeting with us virtually, so we have virtual appointments still available but we are just as excited as every student to be doing things in-person too," Merry continued.
"Truly what we are is the Career Center, with a name that really speaks to our values." Merry said on behalf of the entire Center for Career Equity, Development and Success when asked if there was anything he wanted students to know.
The Center for Career Equity, Development and Success launched a podcast  on Sept. 26 called Ramplify. The podcast is a collection of stories, interviews with students, alumni and employers about the world of work, and resources that Suffolk can provide for students. 
JAKE Small is the Assistant Director of Career Communities, and the project manager, creative director and overall the one who organized the podcast's creation. 
The choice to create a podcast came with the rebranding of the Career Center as a whole, and a podcast was the medium that lent itself best to the storytelling that the center wanted to share with students.
"The modality of using a podcast is allowing us to be really conversational and really authentic to our approach, so that students are able to hear… stories." Small said.
A goal that the Career Center had when conjuring up a podcast was to add a new service to the list that the center offers, that was a more asynchronous option for students. 
When it came to naming the podcast, the overall mission of it was to amplify the voices of the Ram family at Suffolk University. Thus, Ramplify was born. 
"In terms of the future, I think that students can look forward to hearing from a really diverse and representative population of professionals at every level. Current students have been featured and will continue to be featured, CEOs and founders of small start ups and midsized companies will be featured. Faculty, staff members, we're hoping to have a range of voices." Small said, when asked what he was most excited about.
The Career Center can be found on the 9th floor of 73 Tremont St., and can be reached at their email [email protected] or their phone number 617-573-8480.
For more information about the Center for Career Equity, Development and Success, and to make appointments, students can visit https://www.suffolk.edu/career-center. 
Follow Hailey on Twitter @haiIeycampbell
View Comments (1)
About the Contributor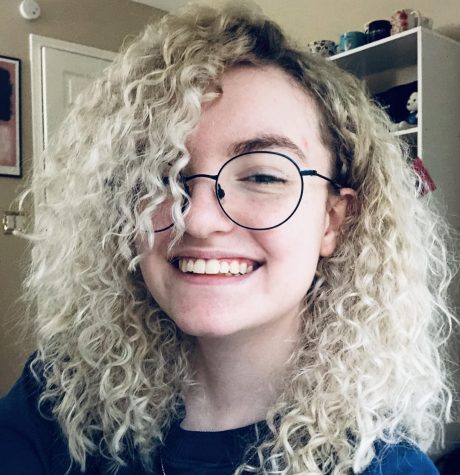 Hailey Campbell, Staff Writer | she/they
Hailey is a sophomore from Houston, Texas, and is a political science major. She enjoys spending her free time collecting coffee mugs, catching flights and wandering museums. She has moved around the country a ton and will happily talk your ear off about it. After graduation, she wants to be a lawyer in a big city.
Follow Hailey on Twitter
@haiIeycampbell