Beacon Hill Art Walk brings charm to the historic neighborhood
The annual Beacon Hill Art Walk, which features local and regional artists, took place for the first time in nearly 3 years on Sept. 26, after being postponed due to the COVID-19 pandemic. 
Residents of Beacon Hill invited artists into their gardens and alleys to display and sell their work for the event, which usually takes place on the first Sunday of June. 
Jen Matson, an organizer of the event, has been participating in the Beacon Hill Art Walk as an artist since 1999. After the event was at risk of no longer happening during the pandemic, she decided to join the committee to help organize it. 
"It's been a struggle," Matson said. "We did it online last year, which was interesting. We tried to put a little bit of work from everybody online, but we're very happy to be able to be back out now." 
The great thing about this event is that those who attend get to not only see the beauty of the artists' work, but they get to experience the charm of Beacon Hill at the same time. 
"Residents open up their gardens, their courtyards, their private alleyways, and we put artists in them," Matson said. "People get a map and walk around Beacon Hill and they get to see art in the pretty gardens and locations."
According to Matson, the event this year was smaller than usual, featuring about half of the artists. Some locations also couldn't be used this year because they were too small to allow for proper social distancing. 
Despite the downsizing of the event, there were many talented artists in attendance who displayed a wide variety of mediums. 
"It's all original, it's all handmade. It's mostly paintings, there's some glass sculpture, block prints, photos and there's usually music, but we didn't do the music this year," Matson said.
Eli Portman, a Boston-based fine artist, was one of the featured artists at the event. His work focuses on historic sites and architecture. 
"I love architecture and I love the way that we view the environment," Portman said. "When you see something, you're seeing it through your own lens very specifically, and so I think that artists can sort of harness that, kind of play with that, and make something that speaks to people in different ways." 
Among the featured artists at the art walk was Debra Grubbs, a fine artist who focuses on contemporary skyscape paintings. 
"I really like that I am showing off what nature can bring to us, and I really want to pursue that more than anything else because nature is so beautiful," Grubbs said. 
The Beacon Hill Art Walk is a not-for-profit event and is run by volunteers. Those interested in supporting the Beacon Hill Art Walk can donate to the event on its website.
Follow Grace on Twitter @gracedreher_.
Leave a Comment
About the Writer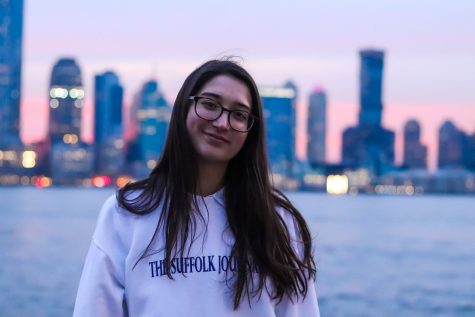 Grace Dreher, World News Editor | she/her
Grace is a junior journalism major with a Print/Web concentration from Lanoka Harbor, New Jersey. When she isn't writing, you can find her at track practice, exploring Boston or listening to music. Grace is also very passionate about politics and after college she hopes to work as a journalist and travel. 
Follow Grace on Twitter
@egracedreher