Suffolk University held its first full in-person Involvement Fair since the beginning of the pandemic on Thursday, where students got the chance to meet over 75 clubs and offices that operate on campus.
"It definitely wasn't the easiest Involvement Fair that we've ever put together, but certainly I think a lot of folks came together and were really flexible around how we could have people in the space and do a live event, but do it in a safe manner," said Associate Director of Student Leadership and Involvement (SLI) Casey Mulcare.
The clubs were spread out in Roemer Plaza and the Ashburton parking lot and students were asked to wear masks while attending. SLI also assigned time slots for students to arrive based on alphabetical order, in an effort to reduce crowds.
First-year students, like Jaylee Colon-Smith and Kaelyn Thomas, found the Involvement Fair to be an inclusive and fun way to get to know other students and find new activities on campus.
"I'm glad that we have this opportunity to branch out and figure out what we're comfortable with and what makes us who we are, especially as students," said Thomas. She added that she was interested in clubs like Black Student Union and Queer Student Union to get more involved in the push for inclusivity on campus.
"It opens up some inclusivity, you can find new people to hang out with," said Colon-Smith. "It was a great idea to do this."
Students were not the only ones who enjoyed being in person.
"We're so excited to be in person, especially our club, we do a lot better in person," said Kate Ishchenko, a member of the Computer Science Club executive board.
Last year, many clubs were restricted by COVID-19 precautions and were unable to meet or host events in person. Involvement was also difficult, with a majority of students being online.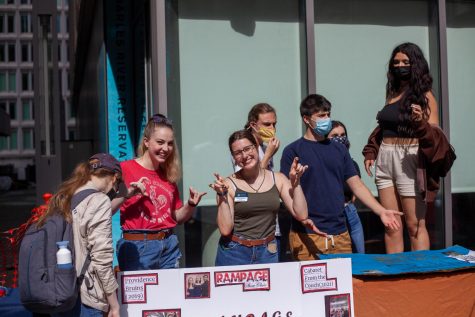 "Involvement was tough. It was really hard to find people, I think people were less motivated to go online," said the President of Rampage, Morgan Mitcheson. "I think the students are really excited to be back on campus."
With the Involvement Fair being the first event to be fully in-person again, club leaders are hopeful that there will be more opportunities to branch out and engage with students.
"We want to do more involving the entire school, rather than just sticking to our club," said the President of Healthy Minds, Kayli Kurker.
"[Last year] was tough with the restrictions on how many people could come to meetings. We're excited for this semester and being able to have everyone back in person," said Kurker.
Even with the domestic travel ban potentially limiting what trips some clubs can take, leaders like Mitcheson are hopeful that their club will still be able to have in-person experiences this semester.
"A lot of the events we were trying to do off-campus have been canceled, so we're trying to find other ways to go out of state if we're allowed to," she said.
For many new clubs, the Involvement Fair is vital to spreading their message. Despite the advantages social media offers, new clubs like the Women's Advocacy Club said that nothing can beat being in person.
"It was pretty hard with Zoom and everything to try and get our message across and events that we wanted to do," said President Alison Hartshorn. "To me [the Involvement Fair] means a new opportunity to meet lots of new people and have them get involved in our cause, which we're really excited about."
Mulcare, along with club leaders, emphasized the importance of the involvement fair, whether it's in person or online.
"I think that's what folks are most excited about doing: finding that community, whatever that means for them," said Mulcare.
Follow Shea on Twitter @ShealaghS