Suffolk student's new theatre company redefines performing in a pandemic
A new theatre company is bringing the Suffolk community together with students from colleges across New England to perform unique shows.
Suffolk junior Justin Lahue, who is majoring in theatre, started the Lost and Found Theatre Project in early 2020 by planning a production of Annie Baker's "The Flick." 
"The Flick" is set in an old movie theater. Rather than building a set on stage to resemble a theater, Lahue wanted to perform the play in an actual old theater.
"As a director and designer, I am incredibly drawn toward the way that different spaces can shape our relationship with stories, and found a fascination with the concept of site-specific theater in non-traditional spaces," Lahue said. "I wanted to create a company that provided opportunities for these concepts to thrive."
When the pandemic brought the production of "The Flick" to a halt, Lahue focused on finding ways for film and virtual production to enhance theatrical experiences.
"We're all eager to get back into theaters again, but I believe that this [pandemic] creates unique opportunities for real stories using some of the most intricate practical sets we'll ever be in our homes," Lahue said.
Thus, the concept for their upcoming production, "Through the Panes," was born. Lahue wanted to put on a performance where the environment in which the piece takes place plays a pivotal role in the story.
Thirteen artists have come together to put on this production, which Lahue said is a collection of short films, theater, dance and gallery work on a diverse range of subjects. They hold bi-weekly meetings to check in with each other and share their progress. 
Suffolk junior Lily Ayotte is creating and performing her own short film, "Noted," as part of the production.
"I was given complete control over the piece that I wanted to create and the story I wanted to tell, and that has been the most amazing part of the company," Ayotte said.
The show will run from May 14-16, and tickets can be purchased on the Lost and Found Theatre Company website. Audience members can reserve free tickets to the show, and if they choose, can donate to charities that were hand-picked by the performing artists.
"We wanted to do our small part in giving back to the organizations and charities that have helped so many through this year and beyond," Lahue said.
The Lost and Found Theatre Company seeks to help artists experiment in their storytelling. Things have looked a little different because of the pandemic, but the company is excited to see what the future holds.
"I have a lot of faith that Lost and Found Theatre will continue to grow and thrive after their debut," Ayotte said.
For anyone who is interested in joining the Lost and Found Theatre Company, you can contact them on their website or find them on Instagram and Facebook.
Follow Grace on Twitter @GraceM123456.
Leave a Comment
About the Writer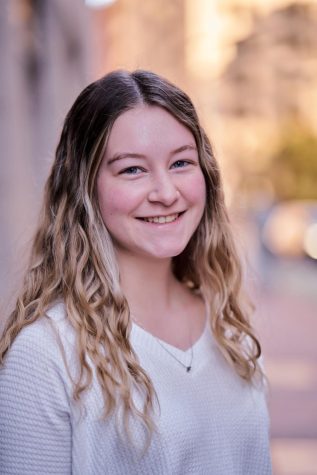 Grace MacDonald, Copy Editor, Asst. Social Media Manager | she/her
Grace is a sophomore from Seekonk, Massachusetts, majoring in public relations. Besides having a passion for writing, she also enjoys listening to Taylor Swift, watching movies, and exploring the city. She also loves to travel. After graduating, she wants to work for a PR firm or in social media management.
Follow Grace on Twitter
@GraceM123456