These are surely some of the worst comedies
Here is another list about comedies! I know what you are thinking: "Surely you can't be serious on making another list about comedy films?" and all I can say is "Yes, I'm serious…and don't call me Shirley."
But this list is about "comedies" that missed the mark on being funny and just hit the dry dock. Hollywood never liked them, fans who love comedy films didn't like them, half of the world didn't like them. And trust me, you won't like them either. So without further ado, sit back and hate along with me as I dive into these awful films.
"Dracula: Dead and Loving It" (1995)
Yes, I know you are saying to yourself "Didn't you put a Mel Brooks film in the last list?" or "Who is Mel Brooks again?" Well, please hear me out. Brooks did have a good hit during the '90s with "Robin Hood: Men in Tights." But Brooks thought he could jump on the vampire trend and make his own film about Dracula, especially since Francis Ford Coppola's created  "Bram Stoker's Dracula," which became a huge box office hit.
Brooks wanted to make a spoof of Dracula with Leslie Nielsen as the main villain. But as hard Brooks was trying to make some jokes stick, they just landed flat. Now don't get me wrong, it's ok for some people who grew up in the '90s and found some jokes funny back then, sort of. However, if you watch the movie now, it seems very dated. The jokes were a little lame and this film was not one of Brook's finest works, but it could have been a lot worse. 
"Scary Movie 4″ and Scary Movie 5" (2006 & 2013)
Part one and two of "Scary Movie" was spot on funny and I personally thought part three was ok. But my dear lord, these two films from the series sucked! I know I don't use those words to describe a movie often, but the film barely had a plot for the audience. This film was trying for something funny but had jokes that were repeated throughout the series, and that trick ran its course once we entered into part four and five.  
The main characters of this series, Cindy Campbell and her friend Brenda Meeks, played by Anna Faris and Regina King, are the only saving grace in the series. But they couldn't keep these two movies afloat at the box office and it's just a big joke with a very weak punchline that left everyone booing or scratching their heads. And I think the booing is too much of a complement to these two films.
These two films from the franchise only used what was popular in the early 2000s. From trying to use elements of horror films like the American remake of  "The Ring" and "The Grunge,"  with a touch of "8 Mile" and "Honey Boo Boo," it just fell flat.
"Son of the Mask" (2005)
Poor Jamie Kennedy. He was very famous for his role as the horror movie-obsessed historian Randy Meeks from the 1996 "Scream." But he was killed off in part two, which sucked completely, and his career then stayed at a standstill in the early 2000s when he did the sequel to the 1994 Jim Carrey classic "The Mask." But if there is one rule in Hollywood, the original always reigns supreme. 
The story of "Son of the Mask" is about an animator named Tim Avery, played by Kennedy, finding the magical mask that made him this invincible, bizarre creature. He ended up making out with his wife, Tonya, which caused him to give birth to his son, who has bizarre powers from the mask that was created by Loki, the God of Mischief. 
The plot is just cynical and created the term "box office poison." Kennedy was so beaten up by the poor reviews that he created a movie called "Heckler," a documentary film about why people mock particular films and performers. Look, I've seen this film for myself, and nothing in this world could change my mind on how bad it is.
"Gigli" (2003)
Jennifer Lopez and her then boyfriend and fiancé Ben Affleck were in this terrible movie together. It was so bad that even I was shocked that this trainwreck of a film was made. I have to say, 2003 was a tough year for comedy and this film was so bad, it questioned the fact if rom-com films could survive. The director of "Gigli," Martin Brest, gave up on directing after this film was released. That's how bad it was. 
This movie made fun of people with disabilities, which was passed off as just jokes, and I use the term "joke" very loosely. It loses the audience's attention or any last bit of care. Late night hosts during the late 2000s burned and made jokes about this film so bad, they would make spoofs of it on their show.
The film's plot was an insult to viewers and critics. Anytime a film stinks so bad, it becomes something of a verb on how bad the film is. When your movie is so bad to the point that the public uses your movie as a verb to describe a bad film, you failed in the biggest way possible. 
For example how this film was used as a verb:  "Cats" is also bad; it makes "Gigli" look like "Gone with the Wind." 
"Repossessed" (1990)
Look, I have nothing against anyone that would want to make a comedy film that is based on one of the very best horror films, "The Exorcist," but just make sure it's funny and that your jokes don't fall flat like this movie did in the box office in the late '80s. 
Linda Blair made fun of herself for her iconic role as Regan MacNeil, the young girl who was possessed by the devil in the 1973 horror classic. Yes, it's great that she can make fun of herself, but Bob Logan overdid it with the gags. 
I found myself laughing at some jokes and then trying to find something funny about it, and that's not a good sign. The film tried too hard with trying to make people laugh. It was more cringy than funny. It's more of a car crash and I think people would rather watch that then the film, and that's not a good look. 
The cast of the film were so confused and they were overacting in this film just to make it look funny. I just kept looking at the clock to see how long this film is and how many  "The Exorcist" references I could count.  This film is a lost classic, but trust me, you would wish this film would disappear forever once you watched it.
Follow Imani on Twitter @MsImaniEHill1.
Leave a Comment
About the Writer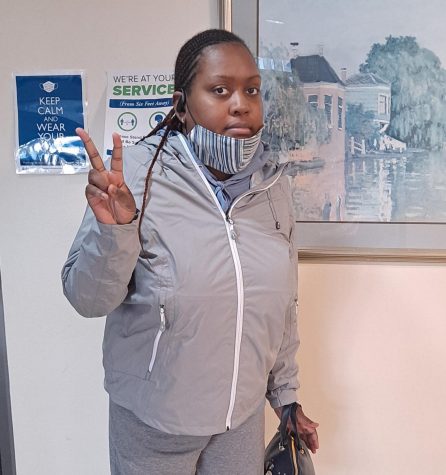 Imani Hill, Graduate Contributor | she/her
Imani Hill is a blogger, YouTuber, Instagramer and a wannabe comedian. She is very passionate about theater, films and TV shows. Imani is in Suffolk's master program with a major in global public policy (dual degree). She loves to travel and try new things, and she is living her life one day at a time.
Follow her on Twitter
@Joyqueen
.