The best comedies to watch this April Fools' Day
It's that time of the year again! We are now entering into April, which is considered to be awards season. But to some like myself, April 1 is considered to be April Fools' Day, so let's celebrate the day of mischief, laughter and jokes by looking at some of the best films that will make you LOL. Here are the top five best comedy films ever made.
"Monty Python and The Holy Grail" (1975) 
If you want to see a movie that is so crazy, but is clever at the same time, this film is one of them. To make fun of the tale about King Arthur and the knights of the round table, and the quest to find the Holy Grail is just stuff of legends. I could even make a list out of the movie's top jokes alone. Eric Idle, John Cleese, Terry Jones, Graham Chapman, Terry Gilliam and Michael Palin put on a great film that is just downright hilarious. 
The sketches that they wrote throughout this film were silly and confusing, but still done very well. The film was so good that years later it was made into the Tony Award-winning musical "Spamalot." If you've never seen "Monty Python" or the musical, Google it and you can thank me later.
Overall, this film is a classic in British comedy and is cemented in history as one of the best comedy films. I'd say it's even up there with the likes of some of Mel Brook's best films and Monty Python's second film "Life of Brian." This film is amazing and if you ever come across it, do yourself a favor and watch it. There is a reason why it's so popular!
"This is Spinal Tap" (1984)
"This Is Spinal Tap" is one of the movies that introduced the world to the idea of a mockumentary, a spoof on documentary films. Rob Reiner took that term and flipped it on its head when he directed this film. It's a nice nod to the rock 'n' roll documentaries during the late '80s. This film holds no punches with its hilarious take on a heavy metal rock band and their on-the-road antics. This film is a grade-A on this work. I wish I could give this 11 stars, but it could only go up to 10.  
From Christopher Guest to Michael McKean, everyone is at their finest moment in comedy. This film has some great moments that go from the Pod freezing during the performance to them trying to find their way to the stage. I could go on about how good this film is. Even real rockers tell their own "Spinal Tap"  stories and how they found it to be far from the truth. It's just that good.
"Young Frankenstein" (1974)
Mel Brooks was on his A-Game when he made this film and it was something that also made a huge influence on other comedic writers and directors. "Young Frankenstein" is mostly a spoof of Universal Studios' monster star Frankenstein. From Gene Wilder's hilarious performance as the decedent Dr. Frederick Frankenstein to Marty Feldman's wonderful performance as Igor, the characters and cast are pure gold. Frankenstein's monster, played by Peter Boyle, is the one who really stole the show. His performance is just purely funny and he would chew up every screen time he had.
The film was so good that it was nominated for two Academy Awards for Best Screenplay and Best Sound. This film was just ahead of the game compared to other comedies in the 1970s. It's still considered to be one of Brooks' best works and is still mentioned to this day, especially the famous performance that Wilder and Boyle give at a show. All in all, this film is on every list that the American Film Institute has and it deserves to be there. 
Fun Fact: This movie was also made into a musical and also won several Tony Awards. It also makes it the second Brooks' film that was made into a musical. The first one was "The Producers," which was nominated for 15 Tony Awards, and won 12 in 2001. The only musical that came close to it was "Hamilton" with 12 wins.
"The Naked Gun" Trilogy (1988-1994)
Leslie Nielsen was in full force for being a comedic genius by just trying to act serious in situations, but stumbled throughout the entire film to hilarious outcomes. The movies have a great history of it being a comedic TV show, to a classic comedy film trilogy that is one of the best that the Zucker brothers made.
Nielsen's performance as Sergeant Frank Drebin is one of the best characters that he ever played in his career. Priscilla Presley plays Jane, who is Frank's love interest throughout the series. Her performance is just as good when she is paired with Nielsen. 
From trying to save the queen from being assassinated in part one to trying to prevent a bomb from going off at the Academy Awards, the entire series is just too funny not to see it together. You know the film is so good that it is better and funnier than the first. It's hard not to put all three of the films together. The film series is a classic and if you have seen one, you have to see the other two.  I could go on and on, with how good this film is, but you just have to see it first.
"Airplane!" (1980)
"Airplane!" is just one of those films that you just have to bust out laughing to the point of tears. It's hard to describe this film without laughing and if you see it for yourself, it would probably be hard for you to explain this story to someone else. 
This film is a spoof of airplane disaster movies in the late 1970s, and it's one of those films that would be difficult to describe without giving away so much.
Leslie Nielsen played Dr. Rumack, a somewhat straight-laced man who is supposed to be the doctor, but fails to keep everyone calm as the plane and its passengers go out of control. Along with Nielsen, Robert Hays has a hysterical performance as Ted Striker, a troubled air pilot with a dark past that is haunting him..or anyone who listens to him.
To make matters even worse for our hero Ted, his long-lost love, Elaine Dickinson, played by Julie Hagerty, in her first starring role, is now on the flight as a flight attendant, who is trying her best to move past Ted and start her new future. It may sound like a serious action drama film, but when you have director David Zucker, who is known for making wacky and insane comedy films, chances are that this film is a long way from being serious.
From a group of strange passengers and their stories to the very intense moment of trying to land the plane on the runway, this movie is one for the books. It is on the AFI list as one of the best comedy films and it was No. 1 on the Writers Guild of America's best comedy films of all time. It was also inducted into the National Film Registry by the Library of Congress. "Airplane!" is timelessly funny and I think the nation got a good taste of comedy. 
Many of these comedic classics can be viewed on Amazon Prime and Hulu. Happy April Fools!
Leave a Comment
About the Contributor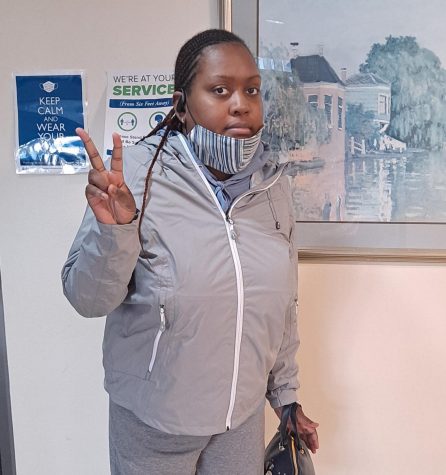 Imani Hill, Graduate Contributor | she/her
Imani Hill is a blogger, YouTuber, Instagramer and a wannabe comedian. She is very passionate about theater, films and TV shows. Imani is in Suffolk's master program with a major in global public policy (dual degree). She loves to travel and try new things, and she is living her life one day at a time.
Follow her on Twitter
@Joyqueen
.